"It was heartbreaking to see animals suffer, and when one of the kittens that we rescued passed away in my arms, I realized that having a kind heart was not enough," said Lin. "I decided to become a veterinarian so I could apply my knowledge and experience to treat animals."

Lin and her family had previously lived in Vancouver for several years, so once she completed high school in Hong Kong, she decided to return to Canada and pursue her dream. She set her sights on being accepted into the Western College of Veterinary Medicine (WCVM) at the University of Saskatchewan.

"I made my decision in one night," Lin recalled. "I booked my flight, looked for accommodation and within two weeks I said goodbye to my family in Hong Kong and began to chase my dream. After six years, here I am at the WCVM."

She's now one of 79 first-year students who began the Doctor of Veterinary Medicine (DVM) program in mid-August at the WCVM.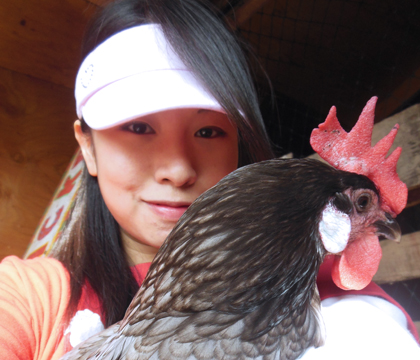 Lin and her classmates received an official welcome to the WCVM on Friday, September 27, during a white coat ceremony in Saskatoon, Sask. All first-year students received personalized white lab coats and stethoscopes from representatives of national and provincial veterinary medical associations during the evening ceremony.

The new students, who will graduate in 2017, come from communities across Western Canada and the northern territories.

Before coming to Saskatoon, Lin completed a Bachelor of Science degree in agroecology at the University of British Columbia and gained experience with a variety of animals by seizing every opportunity to volunteer and work at different facilities.

"I think that being constantly exposed to new people and new environments has enabled me to keep an open mind," said Lin. "Having an open mind is so important for a veterinary student and a veterinarian because we're constantly going to be exposed to new information, new clients and new technology."

She particularly enjoyed her research assistant job with Canadian Poultry Consultants Ltd. where she worked with Dr. Stewart Ritchie (WCVM '87) and his team on research projects related to the production and management of commercial broiler chickens.

"I'd always thought that I would become a small animal vet, but after working in the animal production sector, I really want to explore more about this industry, particularly in poultry veterinary medicine," Lin said. "I love chickens and I truly appreciate the chicken species – they make a great contribution to human welfare."

While Lin acquired a wealth of hands-on knowledge over the years, she also developed many friendships.

"I was 19 when I left home. In the beginning, leaving my family and living by myself was challenging, but I received so much support from my co-workers and mentors along with my family and friends."

That support continues at the WCVM. Although it's early days, she particularly enjoys the hands-on learning in the animal production lab and the chance to meet new people who come from different backgrounds and share the same career goal as she does.

Lin still vividly remembers the moment when she opened her acceptance letter from the WCVM.

"I burst into tears and was jumping and screaming around the house. I kept opening the letter and reading it through again to make sure I hadn't made a mistake," said Lin.

"It took me an entire week to realize that this was not a dream. My dream of becoming a veterinarian really is coming true."