However, instead of running across the pasture to feed our calves, I'm driving out to a farm as a researcher on Canada's first nationwide dairy study project, a Canadian version of the United States National Animal Health Monitoring Studies (NAHMS).
While our southern neighbors have been conducting national dairy studies for years, 2015 is the first year that Canada is performing similar monitoring research, which will provide researchers with uniquely Canadian information.
"For Canada, often when we refer to certain ... management practices that might affect disease [presence], we have to refer to the studies performed in the States," says Dr. Fabienne Uehlinger, a board-certified large animal medicine specialist at the Western College of Veterinary Medicine (WCVM) who is part of the national project.
The study will allow Canadian dairy farmers to be compared to a more accurate baseline, one based on data from their own country and their dairy industry system.
"The data that we will get from this study will help us with finding solutions to some of the big problems that are currently battling the dairy industry," says Uehlinger.
As a summer research student, I'm collecting information that will be used to determine welfare issues in Canada's dairy industry. I'm also collecting a variety of samples to determine the presence of zoonotic pathogens – illness-causing bacteria, for example, which humans can get from animals – and antimicrobial-resistant bacteria.
For the welfare evaluation, cows are graded on their cleanliness and their body condition. For example, we check to see if the cows are unacceptably thin and whether they have rub sores on their hocks, an area prone to rubbing if not enough bedding material is used. We also observe the cows to check for limps indicating pain.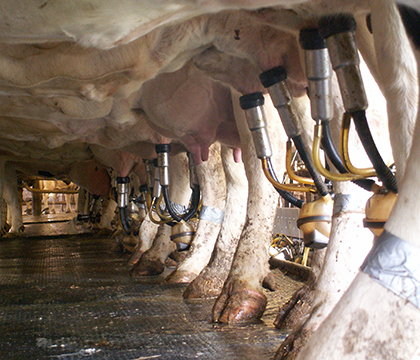 In addition to collecting data for welfare and antimicrobial resistance, I'm gathering information about milking procedures that are important for several reasons. One key point is that improper milking procedure practices greatly increase the spread of disease from one cow to another.
I'm also reviewing biosecurity measures — a means to prevent disease from entering a farm, as well as to prevent illness from spreading from one animal to another within a farm. For example, on-farm biosecurity practices include restricting visitors to certain areas because they may unsuspectingly bring disease-causing organisms to the cows, and milking sick cows last so there's less chance of spreading disease to the healthy cows.
As part of the study we're collecting manure samples that will be analyzed for Johne's disease
,
caused by the bacteria
Mycobacterium avium paratuberculosis
. This disease causes loss of substances from the cow's blood. It also prevents cows from absorbing the normal amount of nutrients and water from their feed, leading to diarrhea and weight loss — and eventually death.
One southern Saskatchewan farmer told me he knew his farm tested positive for Johne's disease, so he must have brought it into his herd with a cow purchase. He's interested in getting the results back from our testing to see if the management practices he has implemented on his farm are working to decrease the presence of the disease in his herd.
We're investigating the presence of parasitic worms in the farms' dairy cows, which can result in fewer nutrients being absorbed by the cow. We're also taking blood samples to evaluate management effectiveness in the feeding of newborn calves on dairy farms.
As one farmer mentioned to me while I was collecting samples, most dairy farmers are individually minded and tend to focus on their individual farms and practices versus focusing on the national herd.
Not only will this study be a means of collecting vital data, it will encourage Canadian dairy farmers to think more as a community.
"[This study] will help to give farmers across the country a sense of how they are doing as an industry, and help them tackle issues of national concern," says Uehlinger.
Rochelle Braun of Landmark, Man., is a third-year veterinary student who was part of the WCVM's Undergraduate Summer Research and Leadership program in 2015. Rochelle's story is part of a series of stories written by WCVM summer research students.