We lived in the city of Mbarara and spent our time attending meetings to assess problems in each of the 17 rural communities we worked with — collecting blood from goats, running tests for brucellosis, organizing vaccination campaigns and training days, and so much more. The summer wrapped up with a paraveterinary refresher training day, followed by a goat pass-out to new beneficiaries.   
 This article provides a glimpse into the busy days we spent working on the project.
July 15, 2015
The days leading up to the paravet refresher training day were nothing short of chaotic and frantic as we all ran around the city hurrying to get supplies, making posters and buying goats. None of us made it home before dark and I doubt any of us managed to get much sleep before morning.
Paravets are community members who have been selected to receive special veterinary training, allowing them to provide very basic medical care to livestock. Each year we provide refresher training to go over some of the basics and answer their questions. Along with Dr. Claire Card (WCVM professor and founder of the goat pass-on program), we spent the morning of the training day discussing pig, cattle, chicken and goat health issues and husbandry.
The hands-on training section began after lunch. First up was the physical exam station where paravets learned how to properly restrain a goat, check its body condition score (BCS) take its temperature, estimate its age and check its FAMACHA score (a system used to identify anemic goats and sheep). To complete this test, paravets must examine the animal's conjunctiva, or mucous membrane covering the front of the eye and lining the inside of the eyelid. Pale conjunctiva indicates anemia due to a high blood-sucking parasite burden likely from the 
Haemonchus contortus 
worm.
Following this station, they learned how to properly vaccinate against 
Brucella melitensis 
and
Clostridium
(or what the locals call "sudden death"), and how to deworm the goats. Next, they visited the ID and ear tag station, and then learned how to spray the goats to repel ticks.
The day was a huge success! The paravets were all very eager to learn and asked a lot of questions, and it was great to see them so excited and passionate about being an educated paravet. It was obvious how much this day meant to them as we are teaching them how to make a living and improve their livelihood. For some, this is a means of survival.
The next day was our most important day of the summer — the goat pass-out to new beneficiaries.
We managed to find 38 healthy goats that we could pass out, but unfortunately, this number wasn't enough. We narrowed down our list to those people who seemed the most vulnerable and in most need of help. We focused on women — single mothers or widows —or families that had members with physical or mental disabilities.
Before we gave out the goats, I gave a little speech (read: lecture) to the new beneficiaries about the five basic steps to raising healthy goats: proper pen, the right food and zero grazing, water, vaccinations and deworming, and human hygiene when cleaning the pens. Finally it was the moment everyone was waiting for — passing out the goats. Maybe it was because I was wrestling with goats the whole time, but the afternoon flew by. In a couple of hours it was over: the photos were taken and we were saying our goodbyes to the beneficiaries as they strapped screaming goats to the backs of motorcycles and made their way home.
We cross our fingers and hope they care for the goats properly and take our advice seriously as this is a business opportunity that can — and does — work with a little bit of patience and effort.
Worldwide women are suppressed by dated rules and patriarchal traditions that prevent them from accessing the same privileges as men. I truly believe the most important factor to improving lives of all people around the world is educating and empowering women.
Particularly in rural Uganda, men often spend the family's money on alcohol, prostitutes or buying other wives. Some men abandon their families for newer, younger females, leaving their wives struggling to provide for their families and trying to raise enough money to send children to school. When women have the money and power, they put it all back into their home and their children — not needless vices for themselves.
"Loaning" goats to the most impoverished women gives them a chance at having a micro business. It allows them to have some control over their finances, ultimately empowering them and giving them some control over their lives and livelihoods.
One thing I've learned this year – and I have no idea how many times I've said this out loud over the last two months – is that development work is a slow and sometimes painful process. Often all your hard work brings seemingly little or no change, and efforts bring no reward, but even being able to help improve the life of one person makes it all worth it.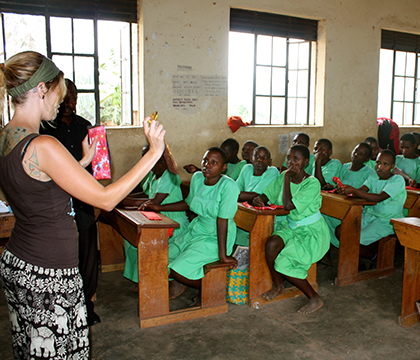 July 20, 2015  
Most people think that we worked strictly with goats and livestock all summer, but this isn't true! The point of the whole project is to empower women, so why not start empowering them when they're young? This year we started up a side project teaching school-aged girls how to sew reusable menstrual pads.  
Early in the summer, while visiting a local primary school, I learned that many girls are forced to miss school when they have their monthly periods because they cannot afford menstrual products. Over time this can obviously have a significant impact on their grades, and in many cases, girls eventually drop out of school entirely.
After having no luck finding reusable pads in Mbarara, I contacted my mother back in Canada to see if she could locate some at home. At $8 to $12 a pad, it would have been far too expensive for us to buy enough to really help the school, so my mom suggested we buy fabric and she could sew some pads.
In an effort to make as many pads as possible, I asked on Facebook if anyone wanted to help sew some of the pads for us. I got an amazing response, so my mom made several templates, bought more fabric and distributed the material and patterns to anyone interested in lending a hand. Within two weeks, volunteers had sewed almost 100 pads. Dr. Card, who was flying to Uganda early in July, brought them all with her.
We contacted Rose, a seamstress and the wife of one of our paravets, who offered to do a training day at Kihwa Primary School. After weeks of planning, the big day finally came and I was actually quite nervous (excited, but very nervous). This day meant so much to me. When we arrived at the school, I gave a brief introduction and then Rose had the floor. I assisted her when she needed it and added a few things here and there, but for the most part, she ran with it and did an incredible job. The girls and the teachers paid such close attention the entire time and were so excited about the pads.
By the end of the day, we taught 87 girls in Grades 5 to 7 how to make reusable, washable pad liners, and we gave each girl a pad set made by my family and friends back home.
When the training was done, the head teacher gave us one of the most heartfelt thank you messages I may have ever heard. She told us they would not be selfish and would spread what they learned that day to as many communities as they can so they can have a bigger role in helping girls stay in school and get an education.
She believes projects like this will eventually change the dynamics of the country. Women and girls raise the families and pass on their knowledge to the next generation of the population; empowered mothers will empower their daughters.
In the words of the head teacher, "When you teach girls, you don't teach an individual. You teach the nation."
I couldn't agree more.
Sarah Zelinski is a member of the WCVM Class of 2017. This was her second year volunteering in Uganda with Veterinarians Without Borders/Vétérinaires sans Frontières. For more information on the goat pass-on project,
visit the VWB-VSF website
.