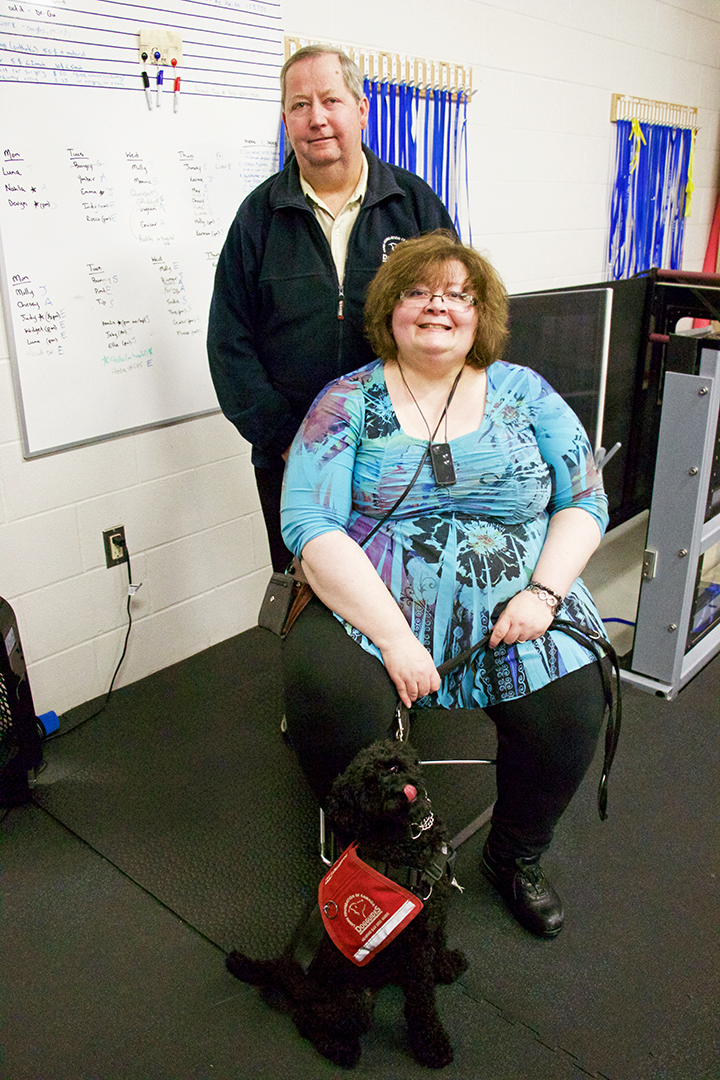 For Rosin, who became deaf after a childhood illness, dogs have always been part of her life – giving her independence and protection. Growing up on her family's farm, Rosin's dog Lady accompanied her on bike rides and adventures, alerting her to oncoming traffic or other dangers.  
"I always felt safe and independent. It was an early thing," she says.
Now Rosin works with a specially-trained hearing ear dog — a miniature poodle named Pint — who has been with her since 2014. Pint gives Rosin freedom. He can alert her at home to phone calls, or if someone comes to the door, make physical contact and lead her towards the noise. He accompanies her on walks, to work and while travelling.
While Pint assists her with hearing-related tasks, Rosin is also in service to Pint, who suffers from mild seizures and back pain.
"I'm always on the alert. I know the signs that he'll do, and I pay really close to attention to that," says Rosin. "He's really in tune with me as well."
Pint first experienced a grand mal seizure in March 2017. His owners brought him to the Western College of Veterinary Medicine's Veterinary Medical Centre (VMC) for diagnosis and treatment.
Since then, Rosin and her partner Allan Potter have brought Pint for regular swimming and treadmill sessions in the college's underwater treadmill, where he can be watched carefully by staff at the rehabilitation centre.
Clinicians also work with Pint to manage back pain using laser therapy, acupuncture, massage and stretching. But before they do that, Pint has to go for his session in the treadmill.
"He loves the water so much. So much that we actually have to do the treadmill first before we can do anything else because he can't focus until after he's been in the treadmill," says Dr. Romany Pinto, clinical associate in the VMC's rehabilitation centre.
"It's a really great way for him to exercise, and he loves it."
While the treadmill has been a great addition to the rehabilitation centre, Pinto hopes one day the college will be able to expand the centre to include a larger pool. That resource would enable clinicians to fully implement swimming therapy and accommodate larger dogs.
"A lot of dogs that have had back surgery, and might not be able to walk on their own yet, will often start their therapy in the water," says Pinto. A larger aquatic space would allow the rehabilitation team to do more floating and swimming with larger dogs.  It would also allow the addition of a second underwater treadmill, which would be useful during busy appointment times.
For Pint, a smaller dog, the treadmill is working well and helping him with his pain while also allowing him to get some exercise. And he loves coming to his appointments, says Rosin.
"If I let go of his leash, he would know his way to get here," says Rosin. "He loves the water. It's very therapeutic."
Rosin says she feels "very lucky" that the WCVM's small animal clinic is located in Saskatoon, enabling them to regularly access specialists and services that they wouldn't otherwise be able to in other centres.
Rosin was paired with Pint through the support of the Lions Foundation of Canada Dog Guides, and she keeps in touch with the group to ensure he is able to continue to work. A dog as specially trained as Pint can cost more than $25,000, and despite getting no government funding, the foundation covered 100 per cent of the cost. Rosin travelled to Oakville, Ont. to take part in a 10-day training program to learn how to work with her dog. On the second day of training, she was matched with Pint.
"He was pushing my buttons, but he still came home with me," says Rosin. "He's very feisty, he's very smart. I just love him to pieces."
Pinto is impressed by the relationship that Pint has with his owners and their commitment to his health. She hopes that the treatment he receives at the VMC will help him to stay healthy and hard at work.
"I think he's a really amazing dog. He has a job that not a lot of people know about," says Pinto. "Working dogs are really satisfying because they have such a specific goal of what they need to do. It's really nice to be able to help them do that, and hopefully in Pint's case to keep him able to do that for as long as possible."