Snap!
The lid of my formalin jar seals and I complete my final rat autopsy. It's the end of July and for the last three months, I've been dissecting wild, urban rats to document their natural diseases.
Despite their remarkably close association with human habitats, scientists know relatively little about the diseases that rats carry and can transmit to people. As a wildlife species in its own right, no one has looked extensively at the burden of natural disease in rat populations.
Enter Dr. Chelsea Himworth (WCVM '07), a PhD candidate at the University of British Columbia's School of Population and Public Heath. Her ambitious research project, the
Vancouver Rat Project
, aims to better understand urban wild rats, their diseases and the frequency of human exposure to these diseases.
The rats of interest are black and Norway rats (
Rattus rattus and Rattus norvegicus
respectively) in Vancouver's notorious
Downtown Eastside
.
My role in this larger project is to characterize the rats' natural diseases
. In May 2012, I arrived at the
Animal Health Centre
in Abbotsford, B.C, where a freezerful of rats — all requiring autopsy and sample collection — greeted me.
At last count, 725 rats were trapped for this study and all have undergone dissection and sample collection. The work was conducted by Chelsea, her research assistant Victoria Chang (a student at the University of Guelph's Ontario Veterinary College) or me during the summer months.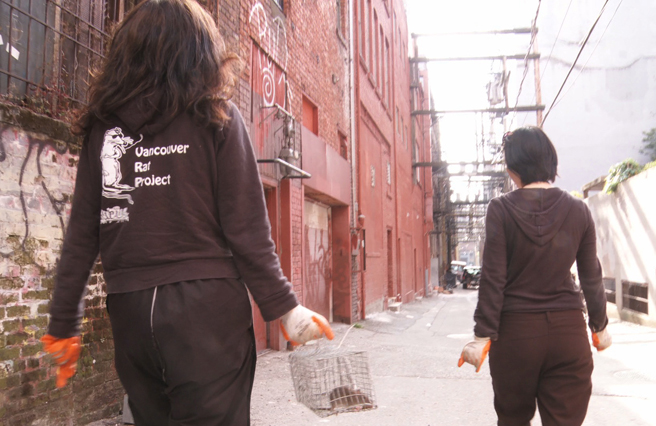 Early on, we selected smaller rats that were younger and had far less natural disease. I was worried that signs of acute trauma were all I would find wrong with these furry rodents. But once we began examining the larger, older animals, all sorts of diseases became apparent and the challenging work began. These pathological findings will be the focus of my Master of Veterinary Science research project.
Each rat autopsy takes at least 45 minutes. Efficiency is crucial. After about the 50th rat, I had a system that minimized the number of times I switched hands on my instruments and how often I opened the formalin jar. I like to think of this as
lean
rat dissection. On my best rat day, the stars aligned and I did 10.
I vigorously brush each rat for fleas and lice, then take its picture. For the autopsy, I move to a biosafety cabinet that's equipped with a filter system to minimize my exposure to viruses and bacteria. Only my hands and forearms enter the cabinet. As an extra precaution, I wear dedicated lab "scrubs" a disposable outer smock, a face mask, eye safety glasses and gloves.
The tail is the first part to go. Like a jockey flips his whip, I deftly turn my curved scissors and the cutting begins. I complete a full autopsy, evaluating all major organs for signs of disease. When I find an abnormality, I take photographs and extra samples. I delight in finding pockets of pus which is green in rats!
Tissue samples that are collected during the autopsy have to be trimmed into small pieces and then processed to make microscope slides. Once my role in the study's autopsy phase ended, I've begun the next phase: looking for microscopic signs of  disease in hundreds of slides.
During the next year, the rat samples will be tested for several infectious pathogens carried by rats. Screening for
leptospirosis
, which causes Weil's syndrome in people, is already underway. Additionally, rats will be tested for antibiotic-resistant bacteria, Seoul hantavirus (a virus that causes hemorrhagic fever with renal syndrome) and
Streptobacillus monilliforme
that can lead to rat bite fever.
The sheer size of this study is unique. It's not often that hundreds of wild animals of the same species are subject to such rigorous disease testing. By studying the previously neglected wild rat in this way, I hope to shed new light on the natural diseases of this species and any implications this may have for human health.
Urban rats may be among the most scorned of mammal species, but I have found this research project to be remarkably interesting and rewarding. An unexpected side effect is the vast improvement of my short-term memory, gained from repeatedly copying the 11-digit rat ID number onto the 27 sample bags required for each rat.
Did I mention that there are 725 rats in this study?
Vancouver Rat Project in numbers
725: Number of rats trapped from Vancouver's Downtown Eastside
50: Average number of minutes it takes to complete a rat's autopsy
27: Number of individual samples collected, bagged and labelled for each rat
25: Number of samples collected per rat for microscopic examination
4: Average number of microscope slides per rat
2: Sets of gloves used per rat
10: Number of doors that must be opened to enter or leave the secure lab autopsy area