"My wife and I both gave up stable jobs in B.C. to move to Saskatoon so I could study veterinary medicine," says Kyle Clarke, a first-year WCVM student. "The change in lifestyle has created a significant financial adjustment, and this award will help considerably."
That's exactly what
Dr. David Stark
intended when he created the award which will be presented annually to a mature student who has left a previous career to pursue a new one in veterinary medicine.
More than 25 years ago, Stark left an established career in radio and television to enrol in the University of Saskatchewan's College of Dentistry. Stark's personal experience has made him well aware of the struggle that mature students face, and he points out that even without kids of his own, he can imagine that family responsibilities often make the transition even more difficult.
"I know how bold a move it is to just quit a reasonable career and say, 'This is not what I want to do for the rest of my life. I'm going to get back on track, quit and even undertake some financial hardships to pursue my dream.'"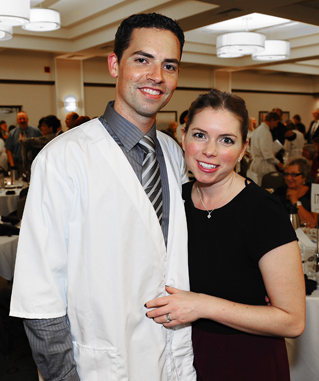 As for Clarke, his life-changing decision came when he recognized that his career as a research associate at Pfizer Animal Health didn't quite fulfil his passion for improving animal health. After volunteering at numerous clinics and hospitals and exploring the opportunities available in the veterinary field, he knew what he had to do.
"I resolved to pursue a career in veterinary medicine," says Clarke. "I realized that veterinary medicine allows me the opportunity to make a difference in the lives of both animals and humans, whether it's through research focused on the humane treatment of animals or by developing vaccinations involved in preventive medicine or by helping entire families in a clinical setting."
As he attends his classes at the WCVM, Clarke faces the challenge of balancing school work with family time and responsibilities around the home, but he points out that there are advantages to being a mature student.
"Taking several years off before returning to school has helped me to see the bigger picture. It's helped me to take in what we're learning in class and know how it will be applied in life outside the classroom."
Although Stark's decision to pursue his dream led to a career in dentistry, the well-respected endodontics specialist has always had a soft spot for animals and has had a connection with the WCVM  that began in the 1990s when he taught dentistry seminars and provided occasional root canal therapy.
Stark really enjoyed the chance to work with "the critters" and developed an appreciation for the acuity of the veterinary students.
"Veterinary students just seem to have a better feel for the needs of their patients," he explains. "Their patients can't communicate, so they're much more attuned. They're really on top of all systems and are really perceptive – it was fun working with them for that reason."
Now that the WCVM has its own veterinary dentistry program, Stark is no longer involved in teaching at the veterinary college — but he still looks back fondly on his work with the students and the veterinary patients.
He's dedicated to contributing to the college through the annual mature student scholarship as well as through regular financial contributions such as his recent $20,000 donation that helped to purchase vital equipment for the WCVM Veterinary Medical Centre.
"I have such a soft spot for the doggies in my life and animals in general," says Stark, who has three standard poodles as companions. "And I feel fortunate that I'm in a position where I can give money away. It's that simple. I think our veterinary school is a great institution doing great work for these critters that can't take care of themselves."