You can learn more about these topics by talking to the knowledgeable people who are manning the Western College of Veterinary Medicine (WCVM) booths this week at
Agribition 2012
in Regina, Sask.
This year for the first time, the WCVM is involved with Agribition's newly named Family Ag Pavilion (formerly known as Agri-Ed Showcase), a venue that provides a chance for local school children as well as families to learn more about agriculture.
Throughout the week, more than 7,000 students from kindergarten to Grade 6 have had the opportunity to visit the pavilion and gather information about crops and grain farming, livestock production – beef cattle, dairy cattle, sheep, poultry, goats and pigs – as well as specialized livestock such as alpacas and bison.
At the WCVM booth, a team of resource people have helped school kids and families learn more about pet and animal health by answering their questions and helping them to participate in several activities: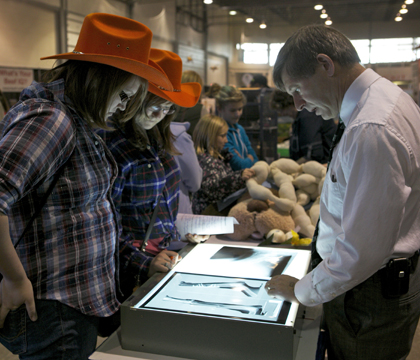 • Scrubbing in for surgery
. Youngsters get a chance to don a surgical gown, mask, bonnet and gloves as they take part in a mock abdominal surgery using a large stuffed dog.
• What's the diagnosis?
Veterinarians use a portable lightbox to show a variety of veterinary X-ray images to students and ask them questions about what they can see in the pictures.
• What's poisonous to your pet?
Visitors can view a range of common household articles that are toxic to pets. The display includes dark chocolate, raisins, sugar-free gum, tinsel, a Teflon pan, Easter lilies, onions and garlic.
In addition to these popular activities, veterinarians have been answering questions about the farm animals on display and providing information for older students who are interested in a career in veterinary medicine.
Sharing the booth with the WCVM are volunteers from the Regina Humane Society who have brought kittens from the shelter that are available for adoption.
The veterinary college is also collaborating with the University of Saskatchewan's College of Agriculture and Bioresources at another Agribition booth in the Ag-Ex Pavilion. WCVM representatives are on hand to answer questions and provide information about cattle and horse anatomy as well as the various parasites that can affect cattle, horses, dogs and people.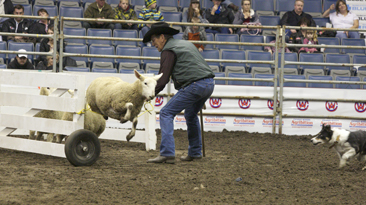 According to the WCVM's veterinary team, it's been an extremely busy week with a variety of questions from students who are interested in learning more about animal health and pet care.
This week's WCVM team has included Regina veterinarians Drs. Greg and Karen Harasen and Dr. Steve Kruzeniski; White City veterinarian Dr. Al Choquer; WCVM veterinarians Drs. Andy Allen, David Wilson, Gregg Adams, Murray Jelinski and Dallas New; and Nicole Wood, an anatomy technician at the veterinary college.
Several Regina pre-veterinary students — Danica Schous, Kyra Yeo and Evelyn Muma — have assisted the veterinarians along with Craven high school student April Reiter. Another key member of the team has been Kim Moats, a local horseowner from Riceton, Sask.
During the weekend, third-year veterinary students Brittany Wiese, Jenny Soucy, Jordan Bremmekamp and Emily Wilson will be managing the WCVM booths.
If you're in Regina during Agribition's final two days, be sure to drop by and say hi to the veterinary team!