Veterinary pathology awards:
In mid-November, senior veterinary pathology residents
Drs. Steve Mills
and
Jamie Rothenburger
were award recipients at the 2013 American College of Veterinary Pathologists (ACVP) and American Society for Veterinary Clinical Pathology (ASVCP) annual meeting in Montréal, Que.
Mills earned third place in the Young Investigator Award (Natural Diseases category) for his poster, "Prognostic value of histologic grading for feline mammary carcinoma: a retrospective survival analysis." The ACVP's Young Investigator Awards are given to young researchers with the highest quality abstracts and poster presentations on experimental or naturally occurring disease.
Mills, who completed his Master of Veterinary Science degree this summer, is supervised by Drs. Elimir Simko and Beverly Kidney in the WCVM's Department of Veterinary Pathology.
Rothenburger earned second place in the Natural Diseases category of the Young Investigator Award for her poster entitled, "Survey of respiratory pathology in wild urban
Rattus norvegicus
and
Rattus rattus
." She also received the ACVP/AAVLD (American Association of Veterinary Laboratory Diagnosticians) Diagnostic Pathologic Travel Award for her poster, "Lesions associated with
Capillaria sp.
in the forestomach of wild urban
Rattus norvegicus
and
Rattus rattus
."
The award will pay for Rothenburger's travel to Kansas City, Mo., where she will present at the 2014 AAVLD/USAHA (United States Animal Health Association) annual meeting in October 2014. As the focus of her graduate research, Rothenburger worked as a team member on the
Vancouver Rat Project
, a study evaluating the health of wild rats in Vancouver, B.C. Her graduate supervisor is veterinary pathologist Dr. Ted Leighton in the WCVM's Department of Veterinary Pathology.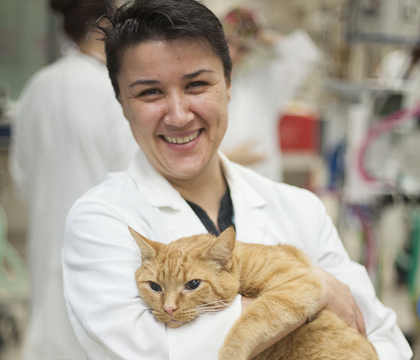 Board certification: Dr. Carolina Palacios,
a clinical associate in veterinary anesthesiology, recently passed her board examination and achieved diplomate status in the European College of Veterinary Anaesthesia and Analgesia (ECVAA).
SETAC honours: Dr. John Giesy
, Canada Research Chair in Environmental Toxicology at the University of Saskatchewan, recently received the Global Capacity Building Award from the Society of Environmental Toxicology and Chemistry (SETAC).
The award was presented to Giesy during the organization's annual meeting in Nashville, Tenn. The honour recognizes Giesy's involvement in confronting the environmental challenges that accompany China's rapid economic growth.
Giesy has worked with universities in Hong Kong and the People's Republic of China, and his efforts have contributed to the development of criteria for measuring water quality and for protecting wild birds. He has also collaborated in research involving the release of dioxins from municipal waste incinerators as well as research into the cause of malformed sturgeon from the Yangtze River.