That sense of curiosity is what drew him to biochemistry — a discipline he grew interested in while studying agriculture at the University of Manitoba.
"The profs I had there would tell us what happened but they would never seem to tell us why it happened or what the basis was," says Forsyth, who is retiring on June 30 after 41 years as a WCVM faculty member.
"I figured this will not do, we've got to understand why."
Raised on a farm just south of Pipestone, Man., Forsyth attended Belses School No. 501, a one-room country school that is now an official Historic Site of Manitoba.
"In those days before diesel locomotives, the whistles of the trains' steam engines on the CPR line could be heard over five miles away on a calm day," recalls Forsyth, who completed Grade 11 in Pipestone. The 15-year-old then headed to Winnipeg to enrol in first-year arts and sciences at the University of Manitoba (U of M).
Forsyth completed a BSA and MSc in animal science at the U of M before moving to the University of Illinois where he began his PhD studies in nutritional biochemistry. But one year later, when his supervisor relocated to the University of Oklahoma for a new job, Forsyth followed him and completed his PhD program in the heart of "Tornado Alley."
After doing post-doctoral training at North Carolina State University, Forsyth made the University of Minnesota's Department of Medicine the home of his second post-doctoral position.
Forsyth says these connections between animal science and human medicine shaped his career and are reflected in his long-term research interests. Those links are also the reason why he ultimately ended up at the WCVM.
"The WCVM was searching for someone with a background in animal science and biochemistry, and the recruiters found a rare match in me — a raw Manitoba farm boy."
In his 41 years at the university, Forsyth has served under five department heads, six deans, six university presidents and two department name changes. He's taught biochemistry to hundreds of veterinary students as well as undergraduate students in the University of Saskatchewan's arts and science and health science programs. He's also supervised about a dozen graduate students — two of whom are now WCVM faculty members.
"One of my former graduate students once said that my laboratory was the best place he'd ever worked, and I thought that was kind of a nice thing to say," Forsyth says. "That stood out for me."
What Forsyth has enjoyed most about teaching is the students — especially veterinary students who are particularly motivated and interested in understanding the underlying concepts of why things happen.
Forsyth was recognized as the U of S Preclinical Teacher of the Year in 2010 and 2011 along with his former graduate student Dr. Matthew Loewen. They were responsible for restructuring the first-year biochemistry course to make the subject material more clinically relevant and intriguing for students.
"If you can try to show some relevance in basic science, the students are interested," Forsyth says. "They come with questions about why things are happening, why does it work this way."
Those types of questions have kept Forsyth motivated about research. During his career, the main focus of Forsyth's work has been epithelial fluid secretion – studying bacteria-produced toxins that cause diarrhea. His team has been researching how these bacteria are able to affect certain types of channels that line the gut, leading to increased water secretion and diarrhea.
About a decade ago, this research led to collaborations with ophthalmologists at the WCVM who are studying the issue of retinal detachment in dogs — particularly in the miniature schnauzer breed.
"You don't think of this, but the retinal pigment epithelial layer in the eye (a layer of cells at the back of the eye which is responsible for vision) is involved in secreting fluid," Forsyth says.
As he explains, fluid from the front of the eye will travel through the organ and be pumped out the back. If this process is blocked, the retinal layer can become detached — causing blindness.
Forsyth has also collaborated with other researchers from across North America: he's part of a team studying congenital stationary night blindness (CSNB) in Appaloosa horses. The breed's coat colour is linked to this condition that's caused by a genetic mutation.
"You get into some interesting areas of research just by total happenstance," says Forsyth. An intriguing aside about CSNB is that recent findings suggest this condition has been affecting horses for thousands of years.
Cave paintings in Europe show spotted, Appaloosa-like horses, and equine bones that have been discovered along with these paintings date back to 13,000 BC.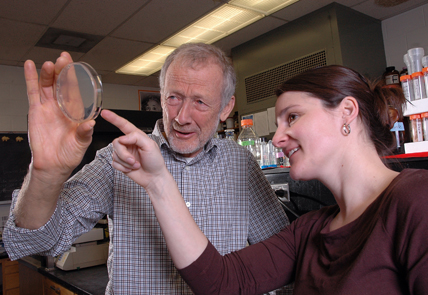 "There's enough DNA left in the bones that you can sequence it and determine that the [genetic] mutation was there," says Forsyth. "This night blindness trait has been around in horses for at least 15,000 years."
After retirement, Forsyth plans to continue farming at his home in Aberdeen, Sask. He'll remain involved with the CSNB research and will continue teaching at the veterinary college until his position is filled.
Why has Forsyth remained at the WCVM for most of his career? "It's been a good place to work, it's a good environment," he says. "It's a good group of people. It's also been really good to do these clinical research collaborations — it's been rewarding."
Melissa Cavanagh of Winnipeg, Man., is a second-year veterinary student and is the WCVM's research communications intern for the summer of 2013.