Now the fifth member of his immediate family to graduate from the WCVM
, Eric joins brothers Collin (WCVM '05) and Robert (WCVM '08) as well as Robert's wife Jolene (WCVM '08) in their commitment to the veterinary profession.
Eric's extended family also includes two additional WCVM graduates – his uncle Dennis McCartney (WCVM '75) and cousin Clair McCartney Ainsworth (WCVM '05).
It's a profession that Eric and his brothers grew up with, and they all have good memories surrounding their dad's work at the Westlock Veterinary Centre, a busy mixed practice in Westlock, Alta.
"Dad was always happy doing his job," recalls Eric. "He was a very popular man in the area, and we boys all wanted to be just like dad."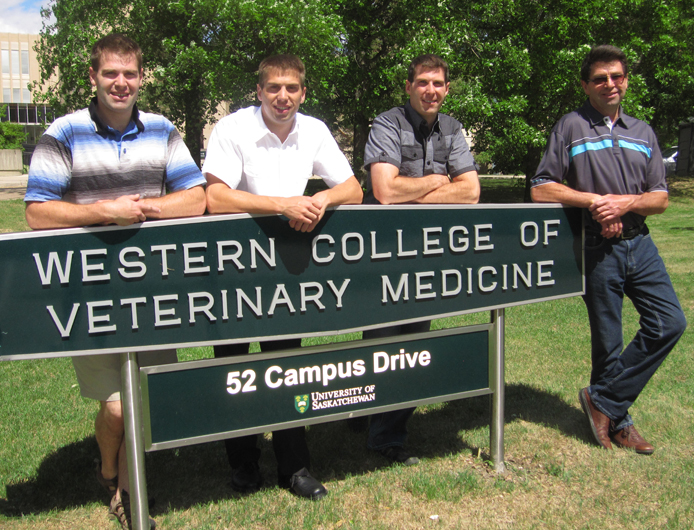 In turn, Jim is gratified that his three sons have chosen veterinary medicine as a career and is pleased that Collin, Robert and Jolene have joined his Westlock practice. During the summer of 2012, Jim got an extra bonus when Eric worked with them as a summer student.
As Eric reflects on his experiences at the WCVM, he's grateful that he had the opportunity to work in Uganda through WCVM Global Vets. He's also satisfied by his performance during his final year when he practised the skills and knowledge he'd acquired.
"I'm proud of the positive feedback that I received on my fourth-year clinical rotations reviews," says Eric. "The clinicians always commented on my attitude, my willingness to learn and my hard-working mentality."
He's also thankful that he attended the college's first social event during his third year in 2011 and met Deanna White — a first-year student at the time. Deanna is now his fiancée and will continue the Lawrence family's veterinary tradition when she graduates in 2015.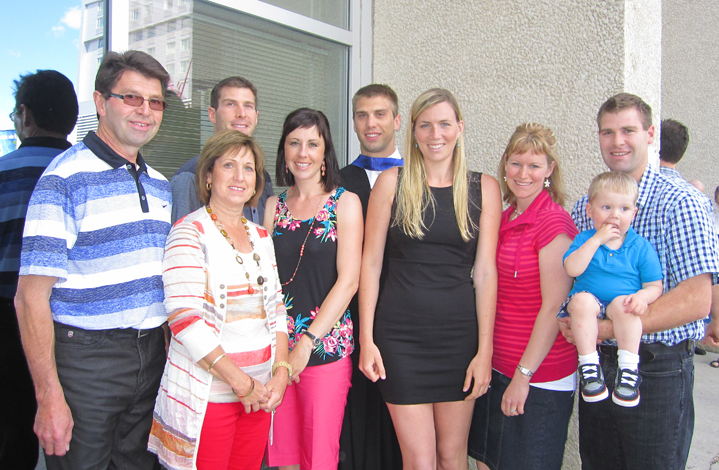 Eric hopes that one day he and Deanna will work together at their own clinic. "My long-term goal is to own a veterinary practice. I enjoy the managerial aspect of the business ownership, and we're not opposed to working together."
Now that he's officially Dr. Lawrence, Eric is enjoying his work at Saskatoon's Central Animal Hospital, particularly the chance to interact with clients, staff and colleagues at the small animal clinic.
As he looks back on his years at school, Eric appreciates the encouragement that he received from his family – his dad and brothers as well as his mom Roxane who was always there to nurture and support him.
"It was really hard work, but I know it was worth it in the long run. My most positive attribute is perseverance. When I want something, I keep going until I get it."