"I was working closely with research animals during my PhD, and I became interested in understanding more about animal welfare, disease and treatments," Figley recalled. "I decided to pursue a degree in veterinary medicine."
In November 2013, she'll officially receive her post-graduate degree from the University of Toronto (U of T), but Figley is already back in the classroom and looking forward to her next four years attending the Western College of Veterinary Medicine (WCVM) at the University of Saskatchewan.
She's now one of 79 first-year students who began the Doctor of Veterinary Medicine (DVM) program in mid-August at the WCVM.
Figley and her classmates received an official welcome to the WCVM on Friday, September 27, during a white coat ceremony in Saskatoon, Sask. All first-year students received personalized white lab coats and stethoscopes from representatives of national and provincial veterinary medical associations during the evening ceremony.
The new students, who will graduate in 2017, come from communities across Western Canada and the northern territories.
Figley's interest in research dates back to her high school science fair at Saskatoon's Aden Bowman Collegiate. But her fascination with medicine and the workings of the body go back even further – and that's what led to her interest in neuroscience and her research involving spinal cord injury (SCI).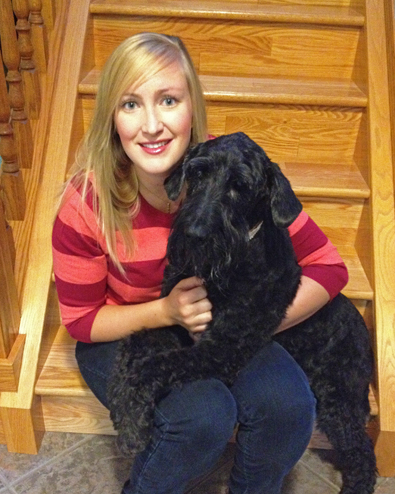 "I find the nervous system amazing," Figley said. "Don't you think it's amazing that you can see, walk, talk and breathe without having to think about it? I also think that the best research projects are those focused on improving the quality
of life of people."
After completing a Bachelor of Science (honours) degree in biochemistry at the U of S in 2007, Figley enrolled in the U of T's Institute of Medical Science.
There she undertook a research project aimed at investigating vasculature damage following SCI. She examined a novel treatment for the damage, a gene therapy that activates a gene involved in blood vessel development and repair.
For Figley, graduate school and the opportunity for hands-on learning provided the perfect environment. She particularly enjoyed performing the surgeries and giving post-operative care to the adult rats used in the research.
That's experience she believes will be helpful if she chooses to specialize in laboratory animal medicine once she completes her veterinary degree.
"I think my previous education and research experience will be strong assets when practising veterinary medicine in this area since I've been involved with research animals, ethics protocols and both basic science and translational research," said Figley.
She also thinks that a specialization in surgery would be another good fit for her – especially since she enjoys the hands-on aspect and views surgery as an exciting and rewarding job.
For now, Figley is happy to be back in Saskatoon after five years away from friends and family, and she's continuing her involvement with two of her favorite pastimes – cycling and triathlon.
She's also enjoying her classes at the WCVM —especially anatomy, even though she admits that she's not very good at it.
"It's all about the challenge," said Figley. "I grew up as a 'city kid,' so I also think that any lab involving cows, horses, chickens and pigs is fun because it exposes me to animals that I haven't had much experience with. Anytime we get to play with farm animals is always exciting."