While Young enjoyed working with sheep on his family's farm near Yorkton, Sask., he also became frustrated when he couldn't fix their health issues.

"There were many times that I just felt devastated because I had neither the time, knowledge nor resources to help an animal that had a short or troubled future," said Young. "Those were the moments that defined my future as a veterinarian."

Young's work with sheep began at the age of nine when he convinced his parents to buy him a single ewe. It wasn't long before that initial investment turned into a flock of sheep and enough income to pay for a university education.

"My initial plan was to get an animal science degree, and I planned to rely on my sheep to make enough money to pay for the degree," said Young, who has completed two years at the University of Saskatchewan's College of Agriculture and Bioresources.

"However, the more I worked with my animals, the more curious I got about their bodily functions and processes, and I wanted an explanation for their problems and conditions."

Knowing that a veterinary career would help satisfy that curiosity, Young applied to the Western College of Veterinary Medicine (WCVM) at the U of S.

Now he's one of 79 first-year students who began the Doctor of Veterinary Medicine (DVM) program in mid-August at the WCVM.

Young and his classmates received an official welcome to the WCVM on September 27 during a white coat ceremony in Saskatoon, Sask. All first-year students received personalized white lab coats and stethoscopes from representatives of national and provincial veterinary medical associations during the evening ceremony.

The new students, who will graduate in 2017, come from communities across Western Canada and the northern territories.

While Young's sheep are still a major source of his funding for university, he's also branched out into work as a custom shearer – a perfect summer job that has him travelling throughout southeastern Saskatchewan and parts of Manitoba.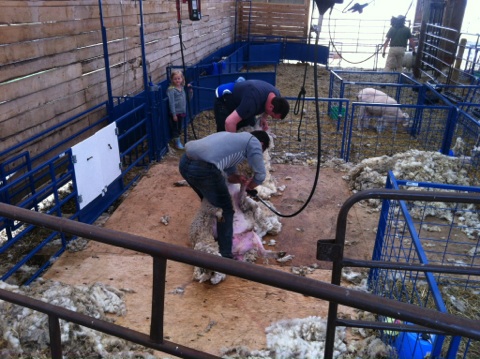 "A mentor and good friend of mine taught me how to shear, and it turns out that not many people want to learn," said Young. "There are about a dozen shearers in Saskatchewan that need to shear 60,000 sheep. The demand is so high that I was whisked into custom shearing almost without any choice."

Through his work with sheep, Young has also gained an appreciation for the value of a good working dog, and he's learned a great deal from his own stock dog, Bear, whom he credits with saving dozens of lambs.

"I bought Bear trained, and I had a steep learning curve to understand how he worked and what to expect," Young said. "Soon I was comfortable with working him anywhere, from moving between paddocks to the shearing chute.

"My experience with a working dog has proven that a dog is more effective than multiple people."

Now as a veterinary student, Young is grateful for all of the experience that he gained on the farm. He also appreciates his training in piano and the hours of memorization and paying attention to detail that it required – skills that will come in handy for classes like anatomy and biochemistry.

Young doesn't have a definite goal yet, but he's considering mixed animal practice after he graduates. His curiosity about animal physiology as well as behaviour may even lead to research in an area involving food animal behaviour.

While his younger sister is taking care of the sheep right now, Young plans to reduce his flock but hopes to stay involved with them, especially during lambing season.

"I love lambing season when all of my sheep knowledge is challenged, and I can see my own effort paying off. I started off working with sheep early in my life, and I developed a love for them. I will always be involved with them, even if I can't own any myself."