During the evening, WCVM Dean Dr. Douglas Freeman announced the winners of
more than $104,000 in scholarships and prizes.
While the majority of awards were handed out to students in the Doctor of Veterinary Medicine (DVM) and graduate programs, the awards evening also included several awards for faculty and staff:
Jane Rathgeber: Veterinary Technologist Teaching Award
Dr. Matthew Loewen: WCVSA Pre-Clinical Professor of the Year Award
Dr. Albert Barth: SCVMA Professor of the Year Award
Cindy Toy: WCVSA Honorary President Award
Dr. Emily Jenkins: Zoetis Animal Health Award for Research Excellence
Dr. Matthew Loewen: Zoetis Carl J. Norden Distinguished Teacher Award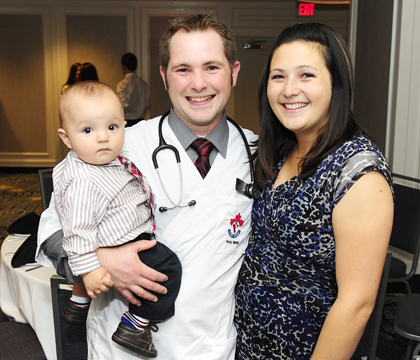 As the evening's finale, the 79 members of the WCVM's Class of 2017 lined up to officially receive their personalized white lab coats and stethoscopes from representatives of national and provincial veterinary medical associations. The annual White Coat Ceremony is an official welcome to the WCVM and to the veterinary profession for the veterinary college's first-year students.
The new students, who will graduate in 2017, come from communities across Western Canada and the northern territories.
A commemorative booklet
was also distributed to the students and their families as a memento of the special occasion.
Photography (Flickr sets)

2013 WCVM Fall Awards and White Coat Ceremony
http://flickr.com/gp/wcvmtoday/m8EvET/
2013 WCVM Fall Awards presentations
http://flickr.com/gp/wcvmtoday/8Pz134/
WCVM Class of 2017 — group photos
http://flickr.com/gp/wcvmtoday/iCB49Z/