"I was taking the elephant (Lucy) for her afternoon stroll on a grassy hill at the zoo," Mandrusiak recalls. "I was so incredibly excited. I think it was the happiest point of my life. I remember Dr. Grahn (WCVM's associate dean academic) asked me what I was up to, so I said, 'Oh, walking an elephant.'"
Walking Lucy —
the 37-year-old Asian elephant whose health has garnered a lot of public and media attention in the past few years
— was just part of Mandrusiak's routine work as a zoo keeper at the Edmonton Valley Zoo. It's one of the many volunteer and work experiences that the Alberta student undertook in preparation for a veterinary career.
He's now one of 79 first-year students who began the Doctor of Veterinary Medicine (DVM) program in mid-August at the WCVM. Mandrusiak and his classmates received an official welcome to the WCVM on Friday, September 27, during a white coat ceremony in Saskatoon, Sask. All first-year students received personalized white lab coats and stethoscopes from representatives of national and provincial veterinary medical associations during the evening ceremony.
The new students, who will graduate in 2017, come from communities across Western Canada and the northern territories. Mandrusiak's goal of becoming a veterinarian began with a Grade 11 work experience class that had him working with Drs. Craig Hellquist (WCVM '89) and Tim Nickel (WCVM '96) at the St. Paul Veterinary Clinic in his hometown of St. Paul, Alta.
"After that work term, I started volunteering weekends at the clinic with Craig," says Mandrusiak. "He puts a lot of effort into the students that he takes into the clinic and eventually became my mentor. I can credit him for piquing my interest in veterinary medicine." Mandrusiak eventually enrolled in the University of Alberta's animal health program.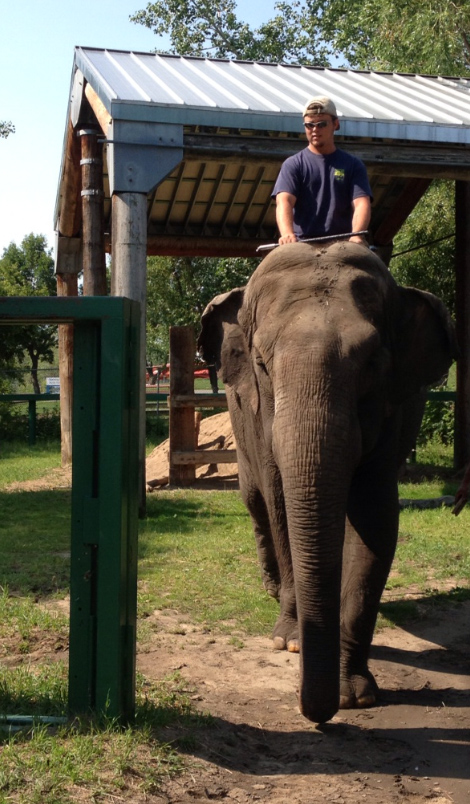 During his three years at the U of A, he volunteered to work with dairy cattle, poultry and hogs and helped to establish the U of A Poultry Research Centre Student Club. Mandrusiak also volunteered at the Edmonton Humane Society and at Elk Island National Park. But eventually his love of nature and wildlife led him to apply as a volunteer at the Edmonton Valley Zoo. That opportunity led to a summer job and to his work as elephant keeper and hoof stock keeper. He loved the job and continued working part time after the summer was over.
"Walking and riding the elephant, feeding the tigers, training the takins and walking the wolves is a totally different feeling. You are essentially building relationships and becoming friends with these animals."
Mandrusiak had to learn about many aspects of animal care including diet preparation, health checks and grooming. He also had to read up on elephant training and keeping and took several safety and training courses. Today Mandrusiak draws on those past experiences as he tackles the WCVM's challenging course load.
"I've learned a lot from the people I've met, from my experiences at university and from my volunteer and work experiences," he explains. "It's the perspective and understanding that I've gained from those experiences that will hopefully make me into a good, understanding, reasonable veterinarian one day."
Mandrusiak is still unsure whether he'll eventually opt for mixed practice or pursue further education with a specialty in zoo and wildlife medicine or in equine medicine. Whatever path his career takes, Mandrusiak is grateful for his past experiences, and particularly for the chance to work with animals like Lucy.
"There's no feeling like walking into an enclosure with an 8,700-pound elephant that's nine feet tall, and she grabs your hand with her trunk and puts it into her mouth and purrs like a kitten. Being able to do that at least once in my life is something I'm very happy about."