CAMRT Award of Excellence:
Radiation therapy technologist
Rachel Bloomfield
of the WCVM Veterinary Medical Centre recently earned the 2013 Canadian Association of Medical Radiation Technologists (CAMRT) Award of Excellence for Radiation Therapy. The award is presented annually to the student who earns the highest mark in Canada on the national certification exam.
Bloomfield, who works in the VMC's veterinary radiation oncology service, uses the department's newly acquired linear accelerator to provide cancer treatments. She will receive her award at the CAMRT's 72nd Annual General Conference which will be held in Edmonton, Alta., from May 29 to June 1.
Swine research funding:
Saskatchewan's Agriculture Development Fund (ADF) has awarded a grant worth more than $390,000 to
Drs. Marko Kryworuckho, Volker Gerdts and Alexander Zakhartchouk
of the WCVM's Department of Veterinary Microbiology.
The researchers are co-principal investigators on a project entitled, "Development of novel therapeutics and a next generation of PRRSV vaccine." Porcine reproductive and respiratory syndrome virus (PRRSV) causes reproductive failure in breeding stock and respiratory tract illness in young pigs. It's recognized as one of the most important diseases in the swine industry worldwide.
WCVM people at Québec conference:
In March,
Dr. Marko Kryworuchko
of the WCVM's Department of Veterinary Microbiology attended the 27th Annual Spring Meeting of the Canadian Society for Immunology (CSI) in Quebec City, Que. In addition to helping organize the conference, the WCVM assistant professor chaired a symposium titled, "Autophagy: survival, quality and infection control, or out of control," and he presented a seminar titled, "Life or death decisions of autophagy."
MSc candidate
Rylan Bridge,
who is co-supervised by Kryworuchko and Dr. Suresh Tikoo, attended the CSI annual meeting and presented a poster entitled, "Dual and opposing role of the autophagy pathway in human monocyte survival." The CSI is an organization that promotes and supports immunology research throughout Canada.
Bridge
also earned the Department of Veterinary Microbiology's Summer Research Award for 2012-2013. He will receive the award at the 2014 WCVM Fall Awards and White Coat Ceremony later this fall. Bridge worked as a summer student in the WCVM department for two summers before entering the MSc program in August 2013. Along with other award competitors
Kirk Johns, Lisa Johnson and Nolan Rau
, Bridge was required to present a seminar as well as submit a manuscript describing his work.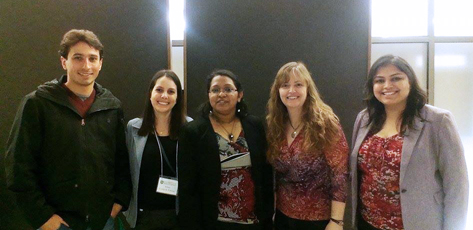 Annual U of S Health and Sciences Research Day awards
: In mid-March, graduate students
Rui Zhang, Aline Costa de Frietas
,
George Hall, Rohini Sachdva and Isha Katyal
received awards for their poster presentations at the University of Saskatchewan (U of S) College of Medicine's Annual Health and Sciences Research Day.
Zhang, Costa de Frietas, Sachdva and Katyal are all students from the WCVM Department of Veterinary Microbiology. Zhang, who is a PhD candidate supervised by Dr. Vikram Misra, earned first place for her presentation regarding cell signalling.
PhD candidate Costa de Frietas was awarded first place for her poster presentation relating to microbiology – infectious diseases. She works with supervisor Dr. Janet Hill.
Sachdva received second place for her poster regarding microbiology – virology. She is also a PhD candidate and works with supervisor Dr. Volker Gerdts.
Katyal earned the People's Choice Award for her poster concerning molecular biology. She is supervised by Dr. Janet Hill.
Hall is a Master of Science candidate who works in the WCVM Department of Veterinary Biomedical Sciences and is supervised by Dr. Carl Lessard. He earned first place honours for his poster regarding reproductive biology.
The annual research day features abstract submissions and poster presentations from U of S students who are involved in scientific research involving the life and health sciences.
Aboriginal award:
In March, PhD candidate
Janna Schurer
received the Research Excellence in Aboriginal Research award from the U of S Graduate Students' Association (GSA). The award, which was presented at the annual GSA Gala, is aimed at honouring a graduate student who has made a significant impact in his/her field of study and has conducted research that positively contributes to the Aboriginal community.
Schurer's research has involved collaboration with remote and Aboriginal northern communities as she works to determine the prevalence of parasites in pets and wildlife along with the exposure risk to humans. She is supervised by Dr. Emily Jenkins of the WCVM Department of Veterinary Microbiology.
Theriogenologist of the Year award: Dr. Gregg Adams
, a professor in the WCVM Department of Veterinary Biomedical Sciences, was recently selected by the American College of Theriogenologists (ACT) to receive the ACT 2014 Theriogenologist of the Year Award.
The award includes a $1,500 cash award as well as travel expenses to the 2014 Therio Conference in Portland, Ore., which will take place in August.
The annual award recognizes Adams' numerous accomplishments in the field of theriogenology as well as his contributions to the ACT and the Society for Theriogenology.
Triple diplomate: Dr. James Carmalt
, a professor of surgery in the WCVM's Department of Large Animal Clinical Sciences, was recently recognized as a Charter Diplomate of the American Veterinary Dental College (AVDC) in the equine category.
The designation, which requires specialist knowledge and expertise in veterinary dentistry, involves completion of AVDC training requirements as well as the AVDC examination. This is the third diplomate designation for Carmalt, who already achieved diplomate status with the American Board of Veterinary Practitioners (Equine) as well as the American College of Veterinary Surgeons (Large Animal).
Carmalt
has also been invited to speak at the University of Veterinary Medicine, Vienna. e will present information regarding temporomandibular joint disease in the horse as well as performance horse dentistry.
OIE workshop:
In March, the World Organization for Animal Health (OIE) invited
Drs. Maria Mejia-Salazar
and
Rodolfo Nallar Gutierrez
to instruct at the OIE Regional Workshop: Training of OIE National Focal Points for Wildlife from the Americas. The event was held in Guelph, Ont.
Mejia-Salazar, a PhD candidate in the WCVM's Department of Veterinary Pathology, and Gutierrez who recently completed a MSc degree, presented information on wildlife health risk assessment at the three-day conference.
The OIE is committed to overseeing improvements to animal health, animal welfare and food safety of animal origin products throughout the world. The regional workshop provided valuable information on topics such as diagnostic tests applicable to wildlife and the system used for monitoring diseases in wild animals.
CIHR "Researcher of the Month" profile:
The Canadian Institutes of Health Research (CIHR) profiled
Dr. Suraj Unniappan
as the "researcher of the month" in the March issue of the CIHR-Institute of Nutrition Metabolism and Diseases newsletter. The WCVM associate professor was also named as associate editor for the scientific journal
General and Comparative Endocrinology. 
He had one further publication-related achievement: the Society for the Study of Reproduction (SSR) chose an image from Unniappan's publication in the prestigious journal,
Biology of Reproduction,
as the cover image for its 2014 calendar.
Several other members of Unniappan's lab received recognition earlier this year.
Dr. Azadeh Hatef
, a Saskatchewan Health Research Foundation (SHRF) postdoctoral fellow, received the North American Society of Comparative Endocrinology Research Fellowship He was the only postdoctoral fellow to receive this award in 2014.
In addition, veterinary student
Katie Morton
, PhD student
Haneesha Mohan
and postdoctoral fellows
Edward Narayan
and
Hatef
were selected to give platform presentations at the Canadian Association of Zoologists annual meeting that will be held in Montreal, Que., from May 25-29.