The long-time professor has been at WCVM for 48 of the 49 years that the college has been open, and he has participated in the college in almost every capacity — as a student, graduate student, researcher, faculty member, teacher and a department head.
"I've always said that three important things happened in my life," says Hamilton. "One was that my mother made sure that all her sons went to university. Second, I met my wife-to-be while there, and the third was that I got into veterinary medicine.
"After that, the rest is history."
Hamilton's own history began "on the northeast quarter of Section 5, Township 34, Range 19, West of 2nd" — the precise location of his family's farm. Born in 1944, he attended a one-room schoolhouse for primary school and went to high school in LeRoy, Sask., the closest town.
Hamilton moved to Saskatoon in 1963 to start an undergraduate degree in wildlife biology at the University of Saskatchewan (U of S). After spending a summer studying the migration of barren ground wolves with Ernie Kuyt, a Canadian Wildlife Service (CWS) biologist, he met Dr. Laurent Choquette – the only CWS veterinarian at the time – and Hamilton began to consider veterinary medicine as a career.
What finally convinced Hamilton to apply to the brand new veterinary college was a lunch talk during his fourth year of university. The speaker was WCVM professor Dr. John Allen who explained the immunology of mosquito bites.
"As a farm kid, I had had access to mosquitoes all my life and was always curious why some people reacted and some people didn't. Dr. Allen essentially laid it all out, and I found that quite interesting," Hamilton recalls.
"I probably would have gone on to do a master's degree in biology, or I was considering medicine, but my girlfriend at the time – now wife – suggested I apply to veterinary medicine."
Hamilton, who is known for his repertoire of fascinating stories, has an interesting tale about his own admission to the WCVM. After finishing his last exam in the spring of 1966, Hamilton walked over to the college's admissions office, which was located in Kirk Hall back then.
"After I submitted my application, the dean's secretary asked, 'Do you have a minute?' I said, 'Yes, why?' and she said, 'The dean would like to see you.'"
Hamilton vividly remembers his on-the-spot interview with Dr. Larry Smith — the WCVM's first dean. A few months later, he received a letter in the mail offering him one of the 34 spots available for the WCVM's second class of students.
After graduating from the WCVM in 1970, Hamilton received a Medical Research Council fellowship. He could have pursued a residency program, but since Hamilton was interested in research, he enrolled as a master's student and later transferred into a PhD program.
Hamilton split up his research between two universities. While he studied enterotoxin physiology at the WCVM, he also spent time at Ontario's Queens University that had an exceptional gastrointestinal research department. This arrangement allowed him to conduct some pioneer research work that focused on heavy metal metabolism relating to mineral deficiencies.
These investigations gave Hamilton the confidence, experience and motivation to build a successful career in academia with 45 peer-reviewed articles in top-tier journals.
When Hamilton was hired as a WCVM faculty member in 1975, lecturing wasn't high on his list of priorities — but not only did he excel at teaching, he enjoyed it. His dedication to teaching has been unfailing, and even with two knee replacements in the past year, Hamilton prides himself on never missing a lecture in his 39-year career at the college. .
Compared to most modern university classrooms, Hamilton's lectures are unconventional: instead of PowerPoint presentations and online tools, he relies on 35 millimetre slides and overhead transparencies. However, his enthusiasm, knowledge and genuine interest for students are the best qualities that a professor can have.
Hamilton has assumed various roles on the advisory committees for 52 graduate students, offering his expertise in veterinary medicine and digestive physiology. He has also been an active member on over 100 committees and councils within the college, university and the Saskatchewan Veterinary Medical Association (SVMA).
As such, Hamilton has played a key role in advocating for the rights of students, faculty and veterinarians. In 2008, he received the U of S Alumni Service Award and in 2013, he was awarded the Peter C. Dooley Legacy award to recognize his efforts in preserving collegial self-governance at the University of Saskatchewan.
Another job that Hamilton has excelled at for almost 20 years is his role as an equine endurance veterinarian. His family had horses on the farm – he took a horse-driven caboose to and from school in the winter – but he wasn't particularly interested in the species while growing up. That changed when he met Dr. Trish Dowling who joined the WCVM's faculty in 1993: a passionate horse enthusiast, Dowling competes in endurance riding.
Their friendship and professional relationship led Hamilton to become one of Canada's most distinguished equine endurance veterinarians who has worked across North America.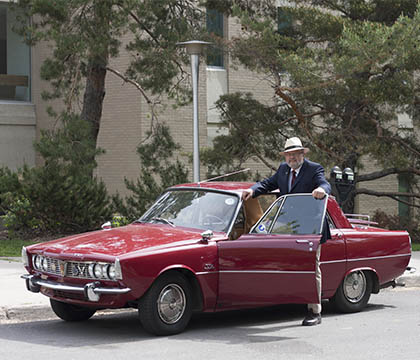 Hamilton's involvement in endurance riding will continue in his retirement. He also looks forward to reading and being an active member of the Saskatoon British Car Club. One of Hamilton's most prized possessions is his red 1967 Rover 2000 TC, a car model that was produced in England from 1963 to 1977. Hamilton's family has owned a Rover sedan since 1970, and they have travelled across Canada in these cars – visiting the West coast once and the East coast twice.
Over the past 48 years at the WCVM, Hamilton has had many adventures and memorable experiences with his former students — but this past year will definitely stand out for him. He bonded with many students in the Class of 2017 who shared his love of music, so as a final gift to the WCVM, he acquired a small upright piano that now permanently resides in the college.
"There have been a lot of great memories, but this year was the best teaching experience and the most rewarding that I've ever had."
Sarah Figley is a second-year veterinary student from Saskatoon, Sask., and is the WCVM's research communications intern for the summer of 2014.