The raptor posed for pictures while his handlers helped educate children and adults on birds of prey. The public appearance also raised awareness about the
Wildlife and Exotic Animal Medicine Society
(WEAMS) — a student-run wildlife organization at the veterinary college.
"My favourite part about working with Jasmine is education. Absolutely," says Daren Mandrusiak, a second-year veterinary student and WEAMS member who assisted Jasmine during the Cabela's event.
"The whole point [of these public events] is to inspire people and change their opinions about wildlife."
Twelve years ago, Jasmine was a young hawk that was brought to the WCVM's Veterinary Medical Centre (VMC) because of his injuries. WEAMS members helped to rehabilitate him and several attempts were made to release the bird into the wild, but he kept returning to people. As a result, Jasmine now lives at the WCVM and is cared for by a team of students.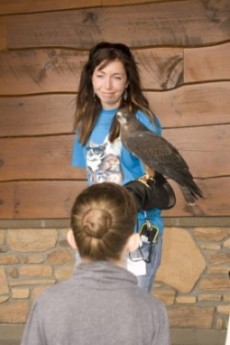 Part of Jasmine's job as the WEAMS education bird is to teach children about birds of prey and stewardship of wildlife. He does this through several outings during the year to schools, wildlife conferences and other local events. The students who care for Jasmine tell his story and answer any questions about Swainson's hawks and wildlife rehabilitation.
WEAMS provides long-term care and rehabilitation for wildlife treated at the VMC. While most of the wildlife they care for are birds, patients range from owls to beavers to black bears.
Any sick or injured wildlife can be brought to the VMC for treatment and rehabilitation. Recovered patients are released back into the wild or spend the rest of their days at a zoo or conservation centre
Hayley Kosolofski is a third-year veterinary student from Sherwood Park, Alta., who is the undergraduate student representative for the WCVM's Equine Health Research Fund.