The competitors, who are members of the Western College of Veterinary Medicine's Production Animal Club, recently submitted a video to a university video contest offered by BCF Technology, an international firm that manufactures medical imaging equipment.
Inspiration for their video came from
The Magic School Bus
, an animated television series from the 1990s.
"I think most of us were pretty big fans of
The Magic School Bus
growing up," says third-year veterinary student Devon Wilson, one of the video participants. "When someone threw out the idea of going on a magic school bus ride to tour a cow's reproductive tract, we just went with it."
Wilson first learned about the contest from the administrator at the Western Canadian Association of Bovine Practitioners who had been contacted by BCF Technology. The company was looking for Canadian entries to its annual video competition.
"I mentioned the contest in our palpation class, and everyone was pretty enthusiastic, so we decided to go for it," says Wilson, who played the television series' well known "Ms. Frizzle" in the video.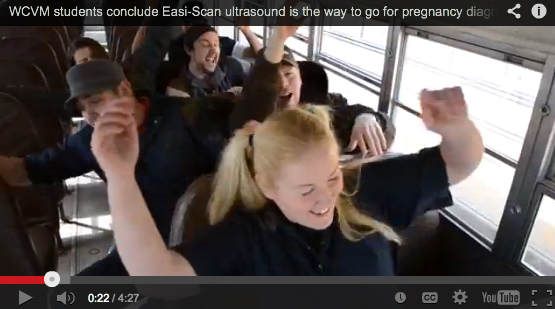 Along with submitting three articles on topics related to veterinary medicine, the students had to create a two- to four-minute video showing why their school needs the ultrasound machine.
The WCVM video—the only Canadian entry out of 13 submissions—is now
one of five finalist videos that are posted for viewing and voting on the contest website
. Voting ends at midnight on April 27, and the winning school will be announced on May 1.
Wilson emphasizes the contributions of all the group members including her fellow actors and classmates Elad Ben-Ezra, Marshall McDonald, Colin Taylor, Denise Kileywegt, Lisa Misener and Zac Waddington.
Graham Ellingson filmed the tour scenes, Aaron Hughes supplied the all-important "green screen" and Wilson edited the video. A bus used by a local bar for pub crawls served as the students' "Magic School Bus."
The WCVM team hopes they can garner enough votes to win the Easi-Scan™ ultrasound machine—an essential tool that third-year veterinary students regularly use as they learn how to palpate cows and other production animals in their labs.
"Our instructors can only help so many students at a time, so learning to use an ultrasound machine to help with identification would make a huge difference," says Wilson, adding that the WCVM has two older machines for the student labs. A new ultrasound unit's value is more than US$12,000.
"When I was first learning to palpate, I felt like my hand was in a squishy, wet garbage bag. But once I started identifying structures, I really wanted to be able to confirm what I thought I was feeling."
Students would also benefit greatly from having more opportunities to practise operating the ultrasound machine, a common tool used by veterinarians for reproductive work in production animals.
Wilson adds that the machine would be valuable for diagnosing other conditions such as umbilical cord infections and certain types of lung disease.
Wilson hopes everyone will spread the word about the WCVM video and inspire as many votes as possible for her team's entry.
"It's pretty cool to be competing against such well known veterinary schools. Some of them are quite large, and the winner last year received over 6,100 votes, so we still have a lot of work to do if we're going to win!"
Visit the BCF Technology North America web site to view the WCVM video. Spread the word on Facebook or on Twitter to support the WCVM team.