The new Livestock and Forage Centre of Excellence (LFCE) will be a real-time production field laboratory for U of S researchers and students as well as Saskatchewan producers and the public.

Gerry Ritz and Lyle Stewart, ministers of agriculture for Canada and Saskatchewan, announced a joint commitment of $10 million to the unique centre during an announcement at the U of S on July 30.

Components of the $25-million centre, which will be located in two different locations east of Saskatoon near the communities of Clavet and Floral, are expected to be in operation by 2018.

The project's leaders say the new facilities will allow the province to make major gains in research and industry – conducting large projects with hundreds of cattle and building on the pre-existing strengths of the project's partners.

"We're building on our research strengths — absolutely. But we're going to catapult them to a whole other level," says Mary Buhr, dean of the U of S College of Agriculture and Bioresources.

She describes the project as "an holistic, 'whole picture' approach to every aspect of what drives improved production of high quality protein and environmental sustainability."

The centre's development is the result of nearly a decade of discussions, two years of intensive planning and several strategic partnerships between the provincial and federal governments, the university's  College of Agriculture and Bioresources, the Western College of Veterinary Medicine (WCVM) and numerous producer groups representing all aspects of the forage and cattle industries.

"These partnerships are very critical," says Baljit Singh, WCVM's associate dean of research.

In addition to the governments' $10-million contribution, the U of S has committed $7 million and will provide existing and new land for the centre's units. The Saskatchewan Cattlemen's Association has contributed $1 million with further funds to come from industry partnerships, research grants and sponsorships.

The centre will connect agricultural, environment and veterinary researchers with producers and industry. Students, researchers, clients, producers and trainees will benefit from the hands-on demonstration and training facilities in the LFCE.

"Finding various strategic partners with whom we can develop better programs, share resources and even provide facilities to them and share their facilities is a better use of taxpayers' money – and this is also better for the training of students because it provide them with more opportunities than our college can offer on its own," says Singh.

He adds that agriculture and veterinary students will have access to the newest technologies, better handling facilities and a larger number of animals at locations close to Saskatoon.

The plan for the centre builds upon two of the university's existing facilities — the College of Agriculture and Bioresources' beef cattle research and teaching unit in Saskatoon and the WCVM's research farm near Floral, Sask. — plus the provincial government's Western Beef Development Centre (Termuende Farm) near Lanigan, Sask.

These three operations will be combined into two new hubs — one site that concentrates on intensive beef cattle production and a second unit that focuses on cow-calf production.  Forage, pasture, rangeland and grazing research will expand from established labs and plots to include lands of various soils and climate types owned or leased by the partners and be integrated throughout the LFCE activities.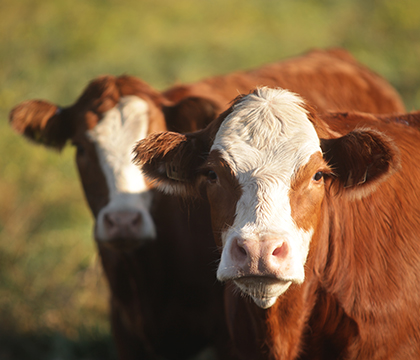 The new Beef Cattle Research and Teaching Unit will be located on about 1,760 acres near Clavet, Sask. The site will have a capacity for up to 2,000 cattle as well as new laboratory facilities.

The location will also allow researchers to focus on environmental stewardship. About 700 acres of the site has never been used for intensive livestock handling, and researchers will be able to use this "green field" site to make environmental assessments before and after cattle move on to the land.

Through collaboration with the U of S Global Institute for Water Security, the research team will continually monitor the impact of intensive animal production on the site's groundwater, soil and other environmental factors. .

"There is no other place in North America and probably the world where this is going on," says Buhr.

The second facility — the Forage and Cow-calf Research and Teaching Unit — will be located at the WCVM's existing research farm near the community of Floral, east of Saskatoon. A breeding herd of up to 500 cows will live at the 2,367-acre site that will also serve as an experimental station for various studies that focus on forage crop production.

Work at the LFCE will include soil and water monitoring, range land management, pasturing work, reproduction, nutrition and metabolism research, cow-calf management and rearing, animal health and welfare as well as economic and policy work that will allow the research to be useful to the public.

"We want to be able to reach out and be relevant to everybody — and be of good use to everybody," says Buhr.

The new facilities — including two new chute systems, calving pens and monitoring areas, research laboratories and meeting rooms — will vastly improve research and teaching opportunities for students. There will even be a place for students to stay overnight at the unit during calving season.

Overall, the LFCE will allow for unique partnerships with industry including food producers, biotechnology and pharmaceutical companies.

"[It] brings the industry right close to us – to work with our researchers to solve the problems that industry is facing.  And this will allow us to more responsive to the needs of the industry in providing technologies to increase the competitiveness of Canadian agriculture sector," says Singh.

Buhr acknowledges that the centre's development is extremely complex and involves many people who all see the project from very different backgrounds and perspectives.

"But the cool thing is that everybody believes that this centre could be amazing — and everybody wants to make it happen," says Buhr.