Birds' extra-sensitive lungs make aerosol a feasible method to deliver a synthetic (non-infectious) bacterial DNA that triggers the immune system response of newly-hatched chicks, explains University of Saskatchewan veterinary researcher Dr. Susantha Gomis.
The chicks' immune response helps to guard them against deadly bacterial infections, such as
E. coli
, in the critical first days of life. At the same time, the aerosol-based technology will help to protect poultry producers against the devastating economic losses caused by early mortality.
"It is industry feasible and we can do it [the treatment] in the hatchery before birds are put into the truck," says Gomis, a professor of veterinary pathology at the Western College of Veterinary Medicine (WCVM).
With the help of $400,000 in funding from
Western Economic Diversification Canada
(WD), Gomis and his team will continue developing this novel, non-antibiotic, non-vaccine immunity-boosting treatment for chickens.
The need for an alternative to antibiotics became more pressing after the poultry industry voluntarily withdrew its use of antibiotics in May 2014.
For a typical broiler chicken, whose life span is between 35 and 40 days, the first week of life is critical. They are especially susceptible to infection in the first few days when the birds are usually handled and transported to a new location.
"They're going through lots of stress," says Gomis.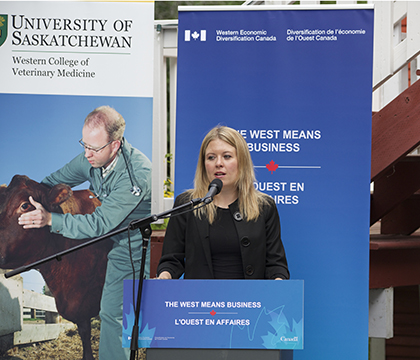 Bacterial infections cause the highest economic losses to producers and processing plants, and even if birds survive, they are often unfit for consumption. For consumers, the result is higher prices for poultry in grocery stores.
While the birds are born with immunity, the response often isn't strong enough to combat an infection right after hatching, says Gomis. When a bird contracts an infection, the body recognizes danger signals from bacterial DNA. By exposing chicks to a synthetic, non-infectious bacterial DNA (CpG-ODN), researchers will help activate the birds' immune system, protecting them against common disease-causing agents.
Gomis has studied CpG-ODN for more than a decade. Early on in his research, he discovered the synthetic DNA works "phenomenally" in birds as a means to activate the immune system without causing infection.
Early attempts to deliver the DNA were done by injection, which presents too high a cost for producers. The aerosol delivery method is promising, and if successful, it will allow researchers to create a unique product unlike anything that currently exists in the $6.5-billion Canadian poultry industry.
"It's non-toxic, safe and feasible," says Gomis. The method also works without compromising growth and feed efficiency.
His collaborators include researchers at the U of S School of Public Health and College of Engineering as well as the University of Waterloo. The research team will begin conducting trials in partnership with poultry farms in Saskatchewan and British Columbia. The project involves personnel in Saskatchewan, Alberta, and B.C., as well as poultry funding agencies in Alberta and Saskatchewan.
While there's no definite timeline for a commercially available product, Gomis is confident that it's time to test the new technology with larger numbers of birds. His work in small trials has shown the method as a viable alternative to antibiotics.
"We can't recreate a field situation unless we have thousands of birds. We need to get in the field and test this," he says.
Click here to view the Western Economic Diversification Canada news release. 
RESEARCH SUMMARY
Researchers to develop novel innate immunity-boosting tool for chickens
Funding:
$400,000 over three years (Western Economic Diversification Canada)

Principal investigator:
Dr. Susantha Gomis, Western College of Veterinary Medicine, University of Saskatchewan

Collaborators:
Dr. Suresh Tikoo, School of Public Health, U of S; Marianna Foldvari, University of Waterloo; and Carey Simonson, College of Engineering, U of S
Investigations into alternatives to antibiotics are a critical priority for the Canadian poultry industry. The May 2014 ban on antibiotic use in hatcheries created the need for alternative methods to control early mortality in broiler chickens. Bacterial infections in neonatal chickens cause high economic losses to producers and processing plants.
A team of researchers, led by U of S poultry veterinary specialist Dr. Susantha Gomis, has developed a novel technology that delivers an innate, non-vaccine induced immunity-boosting aerosol protectant to shield chicks against lethal bacterial infections. This additional defense is vital in the chicks' first weeks of life when they are exposed to multitude of environmental pathogens.
The chick's immune system detects an infection by recognizing characteristics of infectious organisms and send "danger" signals to the immune system to eradicate pathogens. One of these danger signals is initiated by recognizing bacterial DNA . We will use this innate ability of the chicks' immune system by exposing young chicks to synthetic, non-infectious (CpG-ODN) bacterial DNA to activate their innate immune system against pathogens. This will lead to protection of young chicks against common pathogens.
Dr. Gomis and his collaborators have studied the effects and delivery of CpG-ODN in poultry for more than a decade, and they have demonstrated its efficacy as an immunostimulant and alternative to antibiotics. This next phase of their research will provide poultry producers with an applicable tool that protects the health and profitability of their flocks.