"I thought we were just going to play with animals," says Benjamin, 17, from Turnor Lake, Sask., about 590 km northwest of Saskatoon.
"When you think of vets you think of the one that's saving animals but there's actually different kinds of vets," says Mitsuing.
The two students are part of the
Verna J. Kirkness Science and Engineering program
, designed to increase the number of First Nations, Métis and Inuit students graduating from science and engineering programs in Canada.
This is the first year the U of S has participated, with 10 students from Saskatchewan and British Columbia taking part in the program at the end of May. The students stayed in residence on campus for the week and chose the research area they wanted to focus on.
Mitsuing and Benjamin chose to study at the Western College of Veterinary Medicine (WCVM) because of their interest in veterinary medicine. They were matched up with Le Khanh and Yadu Balachandran, two PhD students who guided the high school students as they spent the week in Dr. Baljit Singh's laboratory studying the lungs of pigs and rats.
Singh heads a large research program that focuses on cell and molecular biology of lung inflammation, and he's also the college's associate dean of research. He says the WCVM's participation in the Verna Kirkness program is aligned with the college and university's priorities to grow the number of Aboriginal students at the U of S — especially in the areas of science, technology, engineering and mathematics.
"My graduate students and I were delighted to have them work with us over five days," says Singh. He adds that the students received a well-rounded look at the college.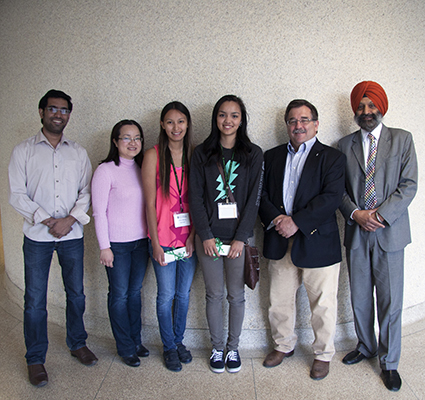 They toured diagnostic laboratories with veterinary pathologist Dr. Andy Allen and saw the rest of the college with Dr. Bruce Grahn, WCM's associate dean academic. Dr. Jasmine Dhillon, a WCVM graduate student, talked to them about One Health — a global movement that encourages collaboration among all health disciplines. They also met briefly with WCVM Dean Dr. Douglas Freeman as well as Heather Mandeville, manager of admissions and recruitment, to learn about the college's admission process. On their final day at the U of S, the students gave a presentation about their research to the rest of the program's participants.
Mitsuing, 16,described her week at the college as a "once in a lifetime." The high school student from Saskatoon is passionate about science because of the many diverse areas of study possible. She's always wanted to become a veterinarian and says the week reinforced her goals.
"I think I will come here. I've always had my mind set that I'm going to become a vet and this program has definitely helped me take one step closer to that dream," she says.
Jeanette Stewart of Rockglen, Sask., is a graduate of the University of Regina's School of Journalism program and a 2015 WCVM research communications intern.