"It's a great opportunity to meet other future health care professionals and learn more about how you can actually advocate for people and get involved with the community in a global health-type atmosphere," says O'Brien, a first-year medical student at the University of Saskatchewan (U of S).

"It means collaboration and a focus on not just an individual pursuit of medicine, but a collective pursuit of community, national and global health."

More than 130 U of S students in medicine, nursing, dentistry, pharmacy and nutrition, public health, veterinary medicine and physical therapy gathered in Saskatoon from Aug. 21 to 23 to take part in the fourth annual conference, which included presentations, small group sessions and networking focused on the concept of One Health – a global initiative promoting collaboration between health professionals in the area of human, animal and environmental health.

While One Health is a global movement, the U of S conference is unique in its focus on health science students – those who will eventually become the leaders of their fields.

"People at my stage of career have been working toward One Health, working to build teams, working to promote collaborative practice. The students are going to take the baton from us. They are the change agents who will continue to move One Health forward" says Dr. Douglas Freeman, dean of the Western College of Veterinary Medicine (WCVM) and director of the One Health conference.

The WCVM, along with Zoetis and the U of S Council of Health Science Deans, sponsored this year's event.

The conference offers students the opportunity to build leadership skills, equipping a future generation of health care professionals and policy makers with the ability to see problems from a diverse perspective.

"Coming from different angles helps the patient," says Dwip Parekh, a U of S medical student and vice president of the university's One Health Club, created by students who attended the first One Health conference in 2012.

The weekend's activities encouraged participants to meet and team up with students from different disciplines — with the goal of setting a foundation for long-term relationships.

"It's a great opportunity to network with people," says Amanda Geradts, who is studying nutrition at the U of S College of Pharmacy and Nutrition. "If you form those connections while you're learning and growing together, then once you get out into practice it will be second nature to reach out and work together."

The small group sessions and informal networking opportunities also gave students a chance to interact with the conference's speakers — health professionals who are internationally renowned for their expertise in the One Health field.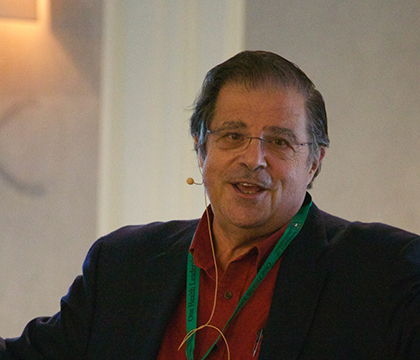 Speakers included ADM Judith Bossé of Natural Resources Canada, Peter Rabinowitz of the University of Washington's Schools of Medicine and of Public Health and director of the Centre for One Health Research, Frank Cerra, a University of Minnesota professor emeritus and senior advisor to the National Centre for Interprofessional Practice and Education, Colin Basler of the U.S. Centers for Disease Control and Prevention, Epidemic Intelligence Service, and the Mayo Clinic's animal-assisted activities program co-ordinator, Jessica Smidt, who brought her service dog Alta.

The speakers commended the U of S conference for its emphasis on the future professionals who will someday work to change the health care system.

"You're all essential to the future," Cerra told students during his talk. "It's all about creating a culture of health."