Schmidt had her sights set on a veterinary career since she was a young child growing up on a mixed farm near Wetaskiwin, Alta. Attending Vetavision in 2012 during her final year of high school helped affirm her decision.
Talking to veterinary students about the admissions process reassured her, and the variety of demonstrations opened her eyes to the different areas of study and specialization available to veterinarians.
"It was encouraging," she says. Three years later, Schmidt is helping out with plans for Vetavision 2015 as a first-year WCVM student.
Similar stories of Vetavision-inspired careers abound – and span decades.
The event began in November 1970 as a means to showcase Western Canada's brand new veterinary college and the work veterinarians do at the forefront of animal medicine. After 45 years, students are still excited to show off their school and celebrate its 50th anniversary in 2015.
"The students this year have put so much time and effort to make this Vetavision the best one yet," says Kayla Bilsborrow, co-president of Vetavision 2015 and a fourth-year WCVM student.
"Vetavision has a little something for everyone. It's an educational opportunity to learn about animals, how they work, how they behave and how they interact with them," says Bilsborrow. "But it's also a chance to learn about the veterinary profession — what we do, how we treat animals and what sort of changes we are trying to make in the world."
Highlights include sheep herding, dairy cow milking and RCMP police dog demonstrations as well as informative animal health talks by "some of the most amazing professors veterinary medicine has to offer."
The event is family-friendly and geared toward animal enthusiasts young and old. "The event targets every age group from small children to pre-vet hopefuls to adults," says Bilsborrow.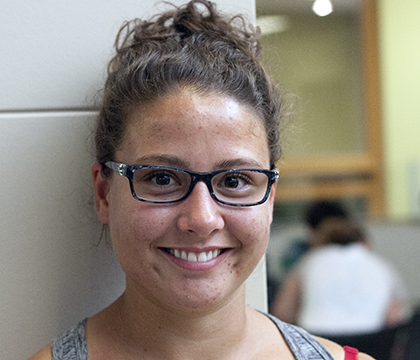 For Schmidt, who will be helping out with the swine booth, Vetavision presents an opportunity to share her experiences with pre-veterinary students and others who are excited to learn more about veterinary medicine.
"Before it was a dream to be on the other side of it. Now it's here and it came so fast. I'm really excited," she says.
Vetavision 2015 runs from 8 a.m. to 8 p.m., Oct. 2-3, at the WCVM. A pre-veterinary night will be held on Saturday, Oct. 3, for high school and university students who registered in advance.
Admission for Vetavision 2015 is $10 for adults; $8 for students with a valid ID; $5 for children and $25 for families.
For more information, visit
vetavision.ca
, or follow the event on Twitter (@Vetavision) or Facebook at WCVM Vetavision.