"Part of the job is to actually help," says Wasson, the Western College of Veterinary Medicine's (WCVM) first social worker.
Wasson is part of the Veterinary Social Work Initiative — the first of its kind in Canada. It's a groundbreaking program that provides social work support to a range of people at the regional veterinary college and its veterinary medical centre: animal owners, clinical faculty and staff, and veterinary students.
In short, Wasson is there to ensure people get the support they need. Her days can be as varied as counselling an overworked clinician or helping a family deal with the death of a beloved pet. She's been called in to help manage cases that include incidences of traumatic grief, surprising deaths, end-of-life decision-making and even domestic violence.
A registered social worker since 2009, Wasson has worked in crisis intervention, emergency housing, mental health and addictions, medical social work as well as a number of other human service areas. But this is the first time she's applied her skills to help improve the welfare of animals and those who care for them.
As a University of Regina master of social work student embedded at the college, Wasson helped to build the program while completing her practicum requirements. She was officially hired as a clinical associate and the WCVM's first social worker in June 2015.
The job is a dream for Wasson, who describes herself as an "animal lover" with two cats and two horses of her own.
Wasson's social work training — combined with her understanding of the bond between human beings and animals and a concern for their welfare — gives her the unique ability to truly empathize with her clients.
"It's the culmination of every single job I've had," she says.
The Veterinary Social Work Initiative began two years ago when leaders of both institutions — U of R Faculty of Social Work Dean Judy White and WCVM Dean Doug Freeman — met to discuss the potential for partnering to develop a veterinary social work program at the WCVM.
While two veterinary social work training programs are available at the University of Tennessee and Michigan State University, there is no similar program in Canada.
"Based on that first conversation, we struck a joint committee whose members represented both of our faculties and asked them to explore the possibilities of working together," says Freeman. This committee included faculty at the WCVM, the U of R Faculty of Social Work and the University of Saskatchewan's Department of Sociology.
"After two years of work, the result is a hands-on training program that expands education opportunities for the U of R Faculty of Social Work and provides significant support to our WCVM clients, students, faculty and staff.  It has been an exciting and successful partnership with more to come," says Freeman.
Dr. Darlene Chalmers is an assistant professor with the Faculty of Social Work at the U of R. She supervised Wasson for the academic portion of her master's degree and is the co-chair of the joint committee.
Chalmers commends the committee for their work to ensure that this innovative program came to fruition while simultaneously involving a wide range of partners and serving a great need in the community. The program's partners include the two universities and the Saskatoon Health Region's Mental Health and Addictions Services that provided clinical supervision and support.
"As we're learning, veterinarians work in a world that is high stress," says Chalmers.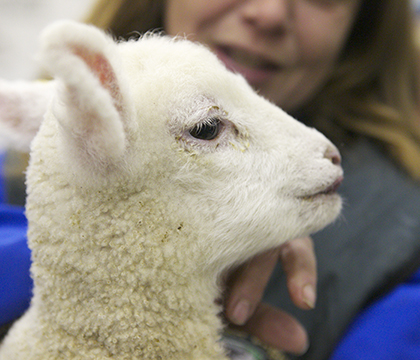 She says there is a need to help veterinarians deal with these stressors by supporting them in the work they do with clients as well in their own health and well-being through managing their occupational stress.
Wasson is even more frank about the need to support veterinarians, who take on a lot of stress in their jobs.
"Vets hold themselves to impossibly high standards," Wasson says. Part of her goal with the program is to provide self-care tools for veterinarians who may be dealing with undue levels of anxiety and stress through their work.
For veterinary students, interns and residents in training, this partnership will teach them how to incorporate social workers into their practice. It will also give them access to the services they need to deal with issues that aren't part of traditional veterinary training.
When veterinarians are faced with crises such as a herd of starving cattle, many are at a loss for how to cope with all aspects of the situation.
"When we go out there, we're dealing with the animals. We don't even have a clue how to deal with the mental health issues that brought this to happen. [Social workers] know what to do. They know who to call. They know how to help us debrief," says Dr. Trisha Dowling, a professor of veterinary clinical pharmacology at WCVM and co-chair of the joint committee alongside Chalmers.
Wasson's success with the project has prompted the WCVM and the U of R to continue growing the program. The long-term goal is to create a permanent veterinary social work service that offers research opportunities as well as practicum placements for social work students.
"I think the WCVM is a leader," says Chalmers. "We're working not only across disciplines or professions, but also across institutions and academic faculties."
For WCVM faculty, Wasson's work has already proved to be invaluable.
"She's amazing. She knows resources and she knows how to direct people very, very efficiently," says Dowling. "There have been many days this year where I've been 'I don't know how we'd be doing this without Erin around.'"
For more information, visit
www.usask.ca/vmc/services/social-work.php
or contact Erin Wasson (306-966-2852).
Jeanette Stewart of Rockglen, Sask., is a graduate of the University of Regina's School of Journalism program and a 2015 WCVM research communications intern.