The inaugural conference took place in Toronto from Sept. 29 to Oct. 1, 2016, at The International Centre.
More than 475 veterinary clinicians from across Canada attended the newest option for a low-cost, high-quality continuing education (CE) conference. Affordable conference fees, free parking, convenient location, relevant content and excellent networking all contributed to the overall success of the conference.
"The feedback we are getting from delegates is overwhelmingly positive," says Dr. Duncan Hockley, director of the Western College of Veterinary Medicine's (WCVM) Veterinary Medical Centre and planning committee chair for VET.
"Hundreds of delegates made a point of thanking us for creating this conference and delivering world-class, practical CE for our industry, and they are already asking when registration will open for next year."
More than 80 per cent of delegates rated the WCVM's CE program as "very good" to "excellent," and more than 90 per cent agreed that the education was relevant to their practice.
Conference delegates had 30 different CE sessions to choose from. Sessions were tailored to companion animal, bovine and equine tracks. Attendees could earn up to 12 CE credit hours that were approved by the veterinary profession's Registry of Approved Continuing Education (RACE).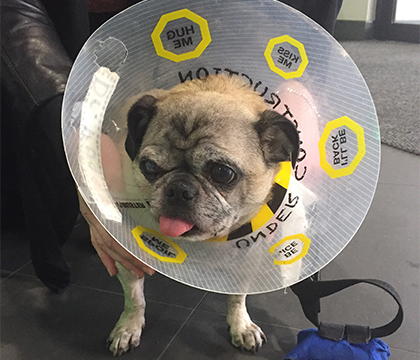 Optional pre-conference workshops offered small groups of participants the chance to advance their skills through seminars on wellness, social media, medical imaging and pet rehabilitation.
Neil Pasricha,
The New York Times
bestselling author, set the tone for the conference with his engaging opening keynote presentation on workplace happiness.
The exhibit area featured more than 60 companies representing all aspects of the industry from equipment to food to the latest technology. At the wellness lounge delegates received complimentary massages, relaxed and recharged their energy.
"We wanted VET to deliver a unique experience for both delegates and exhibitors," says Steve Dempsey, senior vice president of Diversified Communications Canada, organizers of VET.
"Without a doubt we exceeded expectations. Planning has already started for 2017, and we are forecasting VET to grow significantly based on the feedback we've been receiving so far. When we hear comments such as 'Keep doing what you are doing and you will become the number one meeting in Canada to attend,' … we know we are headed in the right direction."
The next VET conference and medical exposition is scheduled for Nov. 2 to 4, 2017, in Toronto at The International Centre.