Simply put, One Health is the integration of human, animal and environmental health. By working together between disciplines, professionals can work to build a healthier world.
Some of the most pressing health issues of the day have been "One Health" in nature – from the Zika virus carried by mosquitoes, to rabies outbreaks in New York City's Central Park.
The University of Saskatchewan's
One Health Leadership Experience
(OHLE) offers students a chance to explore these issues and more.
From Aug. 26 to 28, students will have the opportunity to participate in networking opportunities, listen to global One Health leaders and take part in case studies that approach problem solving from a cross-disciplinary perspective.
"You can learn so much. More than what I thought was possible," says Amanda Geradts, a conference attendee in 2015 and a nutrition student in the U of S College of Pharmacy and Nutrition. "It's also a great opportunity to network with people. If you form those connections when you're learning and growing together, then when you get out into practice, it will just be second nature to reach out for help."
Now in its fifth year, the Saskatoon-based conference includes students in the health sciences and related disciplines such as social work, psychology, environmental health, agriculture and law.
By developing leadership skills through programs like the OHLE, these students will have the skills they need to make a real difference in the health of people, animals and the environment, says Dr. Douglas Freeman, dean of the Western College of Veterinary Medicine (WCVM).
"It's going to affect them in one way or another. For example, the data around the accidents, injuries and even deaths related to a lack of co-ordination or communication between the professions is staggering. No matter what that number is, it's too many," says Freeman.
"It is important for nurses, physicians, pharmacists and other health professionals to be able to co-ordinate and co-operate in their daily practice."
The conference also allows students to network with and learn from some of the brightest minds in One Health from around the world.
This year's list of speakers includes: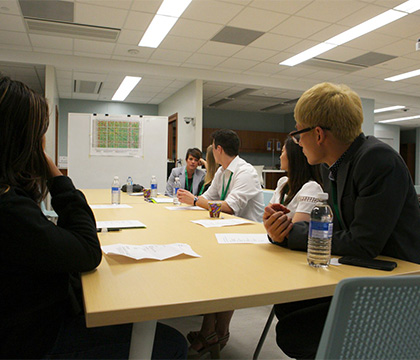 William Hueston, DVM, PhD, MS
College of Veterinary Medicine and School of Public Health, University of Minnesota
Dr. William Hueston's research interests include the epidemiology of diseases affecting both animals and humans (zoonoses), foodborne disease and food safety, animal health monitoring, and animal and public health policy formulation. He also has an interest in risk assessment, management and communication. He gained international recognition for his work with the emerging disease, bovine spongiform encephalopathy (BSE), while working at the United States Department of Agriculture's Animal and Plant Health Inspection Service. Hueston advises governments, industry and non-governmental organizations on public health and policy issues involving people, animals and the environment. He has published more than 55 scientific papers and delivered several hundred presentations nationally and internationally.
Elizabeth Mumford, DVM
World Health Organization
Dr. Elizabeth Mumford began her career in veterinary practice then returned to academia where she worked on field epidemiology projects involving infectious equine diseases, BSE and other foodborne zoonotic diseases. Since 2006, Mumford has been working at the World Health Organization in Geneva, Switzerland. Her current activities include the integrated assessment of influenza risks at the human-animal interface and rapid risk assessment for zoonotic diseases. She also aids with the facilitation of cross-institutional collaborations and networks, as well as the development and implementation of cross-sectoral approaches to address health risks at the human-animal interface.
David Fisman, MD, MPH
Dalla Lana School of Public Health, University of Toronto
Dr. David Fisman is a professor in the division of epidemiology at the University of Toronto, with cross-appointments in the university's Institute of Health Policy, Management and Evaluation, and the U of T Department of Medicine, Faculty of Medicine. His research focuses on the dynamics and economics of sexually transmitted infections including chlamydia, gonorrhea, syphilis, and genital herpes. He focuses on how environmental change, such as the degradation of water sources and global climate change, affects the distribution of infectious diseases in high-, middle- and low-income countries. Fisman also has an interest in mathematical modelling and decision analysis and cost-effectiveness analysis.
Stacy Holzbauer, DVM,
U.S. Centers for Disease Control and Prevention and Minnesota Department of Health
Dr. Stacy Holzbauer works as a career epidemiology field officer for the U.S. Centers for Disease Control and Prevention (CDC) as well as the Minnesota Department of Health. Her areas of research include zoonoses, infection disease surveillance and veterinary public health.
Donna Jenkins
Zachary's Paws for Healing
Donna Jenkins is the founder of Zachary's Paws for Healing – a foundation that helps to unite patients with their pets during hospital stays. Jenkins has worked with hospital executives, medical staff, infection control and volunteer services to set up procedures and policies that facilitate these visits at Juravinski Hospital. Located in Hamilton, Ont., this organization is the first of its kind in Canada.
Visit the conference website for more information and to register for the 2016 OHLE. Please register on or before Monday, Aug. 22.