The event is a collaboration between the Western College of Veterinary Medicine (WCVM)'s Townsend Equine Health Research Fund, the Saskatchewan Horse Federation (SHF) and Prairieland Park. This year's event takes place in Saskatoon from Feb. 12-14, 2016.

"You're going to learn something. You're going to be amazed," says Shirley Brodsky, president-elect of the SHF and a member of the Equine Expo planning committee. "Whether you have a horse or have an interest, you're going to have a new appreciation of what people do with their horses."

Expo offers events for all ages including the popular "trainer challenge," cowboy dressage and hunter jumper clinics, and a trade show. In addition to Expo's regular attractions, organizers have turned their focus to the youth in attendance by offering a new educational component with interactive displays and demonstrations that cover everything about the horse.

The exhibit will also highlight three pillars of equine health: the digestive system, the equine limb and general herd health.

"What's unique about horses is that they're the one livestock group also owned by city people. They play a really special role in linking urban kids to the country," says Brodsky. She thinks the youth-focused portions of the event will be informative for both knowledgeable riders, while also basic enough to interest a total beginner.

Youth will have a chance to learn more about different breeds of horses, then check them out live in the "Battle of the Breeds." They'll also have a chance to learn about everything from saddles, fitting tack, blankets and harness to bandaging a leg, basic feeding and health care information. Those in the know will be able to test their knowledge with the "Horse Bits" trivia challenge.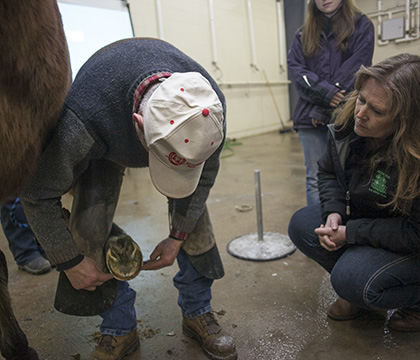 On Saturday and Sunday, WCVM students and veterinarians will also offer horse health talks and hands-on demonstrations of ultrasound,, acupuncture and farrier techniques, as well as a new technology called the lameness locator. Demonstrations will take place in the wash rack facilities in the Prairieland Park Ag Centre.

Lecture topics by WCVM veterinarians include proper nutrition for performance horses, regenerative therapy, and equine infectious anemia (EIA). Lectures will be held in the information theatre in Prairieland Park Hall B. Audience members will also have a chance to play "Veterinary Jeopardy" – an equine-focused trivia game.

Brodsky is looking forward to the event, because after five years, it's become a "meeting ground" for the equine community – a diverse group of people heavily invested in the health and well-being of horses.

"The horse is the common thread that ties us all together," she says.
Day and weekend passes for the Saskatchewan Equine Expo can be purchased online or at the door. A full schedule can also be found online at http://www.saskatchewanequineexpo.com.

Saskatchewan Equine Expo 2016

WCVM Demonstration Schedule

Saturday, February 13, 2016


11:00 – 11:45 a.m. Endoscopy Demonstration
12:45 – 1:30 p.m. Ultrasound Demonstration
1:30 – 2:15 p.m. Physical Exam/Anatomy Demonstration
2:15 – 3:00 p.m. Acupuncture Demonstration
2:00 – 3:45 p.m. Farrier Demonstration
2:45 – 4:30 p.m. Lameness Locator Demonstration (Round Pen)
Sunday, February 14, 2016
10:30 – 11:15 a.m. Rehab/Shockwave  Demonstration
11:15 a.m. – 12:00 p.m. First Aid Demonstration
12:00 – 12:45 p.m. Endoscopy Demonstration
2:15 – 3:00 p.m. Ultrasound Demonstration
3:00 – 3:45 p.m. Farrier Demonstration
WCVM Seminar Schedule 2016
Saturday, February 13, 2016
12:30-1:15 p.m.   Veterinary Jeopardy! (Audience participation required-test your equine knowledge!)
1:30-2:15 p.m.     Equine Infectious Anemia (Swamp Fever) and Coggins Testing: Dr. Katharina Lohmann
2:30-3:15 p.m.     So you want to be a vet?  WCVM Students
2:30 p.m.              The Art & Science of Hoof Care: Norm Kohle, Saskatoon farrier (Information Theatre)
3:30-4:15 p.m.     Biosecurity at the Stable and the Horseshow: Dr. Chris Clark
4:30-5:15 p.m.     Preventative Health Strategies for the Performance Horse: Dr. Julia Montgomery
Sunday, February 14, 2016
11:30 a.m. -12:15 p.m. Conformation: Form to Function: Dr. Trisha Dowling,
12:30-1:15 p.m. Veterinary Jeopardy! (Audience participation required-test your equine knowledge!)
1:30-2:15 p.m.  Drugs in Performance Horses: Dr. Trisha Dowling
2:30-3:15 p.m. Regenerative Therapies in Performance Horses:  Dr. Angela MacKay
3:30-4:15 p.m. Feeding the Performance Horse: Dr. Steve Manning