A member of the public found the male German shepherd puppy by the side of the road in the northern community of La Loche, Sask. He was clearly injured and having trouble breathing, so he was flown to Prince Albert to receive veterinary care.
From there he was rushed to Saskatoon where veterinary specialists at the WCVM quickly decided the pup needed expensive, lifesaving surgery to repair a diaphragmatic hernia. This serious injury had caused the dog's internal organs to push against his lungs, making it extremely difficult for the puppy to breathe.
The WCVM's Good Samaritan Fund covered all of the dog's medical expenses and care. This fund, which is supported 100 per cent by public donations, covers veterinary fees at the WCVM's Veterinary Medical Centre for ownerless animals. It also allows the veterinary college to assist families during difficult situations when they can't afford critical health care services for their pets.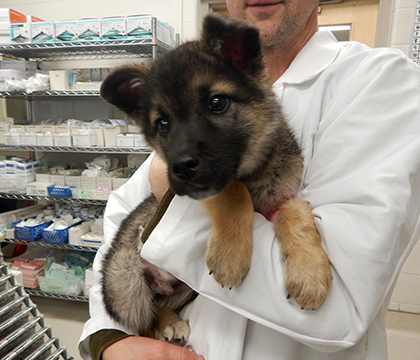 "The fund really recognizes the important role animals play in our lives. Not all decisions can and should be based on financial reasons. Having the Good Samaritan Fund available for those in need really allows people to make the best decision for their family member," says Jennifer Molloy, the WCVM's director of development.
After a few more days in care, the puppy – who had been named "Chance" in the hopes he'd survive – returned to the Prince Albert SPCA where one of the group's workers fostered him for three weeks. The healthy pup was quickly adopted by a family in Prince Albert.
"It's nice to think that a life was saved and this puppy was adopted into a home by a family," says Molloy. "The hope with the Good Samaritan Fund is always that we can turn a really bad situation into a really happy one."
Visit the
WCVM's website
for more information or
visit the U of S Giving web site
to make a donation to the Good Samaritan Fund.