For Dr. Douglas Freeman, then department head of Veterinary Diagnostic Services and Veterinary Microbiological Sciences at North Dakota State University, this meant taking a critical look at the livestock industry.
With the highest volume of livestock imported into the U.S. moving between Emerson, Man., and Pembina, N.D., those concerns about food safety hit close to home. There was concern over the potential use of biological agents such as anthrax as a weapon or foot and mouth disease to attack the livestock industry. Discussions around defending the food supply against biological threats also became a public health issue.
Suddenly animal and human health seemed more closely tied than ever.
"After 9/11 everyone was looking at what their role could be in the response moving forward, and for us, that was infectious disease, food safety and biosecurity.  Our department had interdisciplinary, multi-year grants focusing on biosurveillance and on food safety. That really is a huge piece of One Health," says Freeman, now dean of the Western College of Veterinary Medicine (WCVM) at the University of Saskatchewan (U of S).
This was the catalyst that sparked Freeman's interest in the area of One Health – a growing global initiative that focuses on the intersection of human, animal and environmental health. Professionals across the spectrum of health care fields are increasingly recognizing the importance of interprofessional collaboration.
In the mid-2000s, Freeman was part of a public health task force organized by the Association of American Veterinary Medical Colleges (AAVMC). One outcome was greater collaboration with public health, and a greater focus on veterinary public health topics. As a result, a number of universities in the U.S. and Canada established combined Doctor of Veterinary Medicine and Master of Public Health programs.
"Since then, I've continued to grow in my own interests and contributions to the area of One Health. Coming to the U of S proved to be a great fit. We are the only university in Canada with all of the health professions on one campus, and one of our signature areas is One Health — it's a perfect place to advance One Health. Certainly the student initiatives that we try to champion have been an important part of that," he says.
As dean of Western Canada's regional veterinary college, Freeman led the creation of the
One Health Leadership Experience
at the U of S. The annual three-day conference chiefly targets first- and second- year students in health science programs, but over the past five years, its audience has expanded to include students in other related disciplines such as social work, psychology, environmental health, agriculture and law.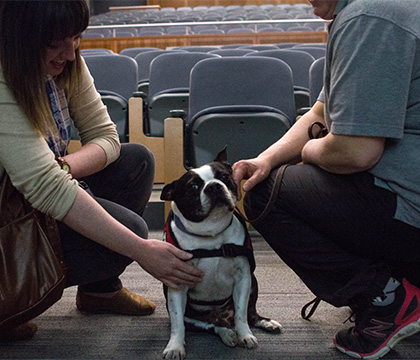 During the event, students participate in networking opportunities, listen to global leaders who are part of the One Health movement, and take part in case studies that approach problem solving from a cross-disciplinary perspective.
Freeman says it's important to inform students about One Health as they begin their professional careers.
By reaching students at the beginning of their careers, Freeman says they can begin to work together while in school and grow to become One Health change agents in their professions. And by developing leadership skills through programs like the One Health Leadership Experience, these students will have the skills they need to make a real difference in the health of people, animals and the environment.
"It's going to affect them in one way or another. For example, the data around the accidents, injuries and even deaths related to a lack of co-ordination or communication between the professions is staggering. No matter what that number is, it's too many," he says.
"It is important for nurses, physicians, pharmacists and other health professionals to be able to co-ordinate and co-operate in their daily practice."
Veterinarians play a vital role in food security and public health, but pet health and collaboration with human health care professionals is also important. For example, physicians and veterinarians need to work together to achieve optimal health for pet owners who may have compromised immune systems. Freeman also points to the myriad of ways in which animals are used in health care, from cancer diagnosis to therapy dogs.
Furthermore, pets are not only valuable companions – they can also have positive impacts on human health. "Improvements in blood pressure, cardiac disease, obesity and even the isolation of chronic disease can all be positively affected by pet ownership," he says. And with today's increasing health care costs, having a clearly identified way to decrease human health risk factors benefits the entire population, adds Freeman.
Veterinary professionals must also strive to develop leadership skills that enable them to make changes, such as the shift towards a One Health mindset.
"Because outcomes related to One Health are important to animal owners — the clients — it should be an opportunity for veterinarians to serve their clients better. And serving their clients better should lead to a stronger, more robust practice."
Freeman will discuss leadership development as well as One Health and its importance to primary care veterinarians and practice managers during his keynote address at the inaugural Veterinary Education Today conference that takes place in Toronto from Sept. 29 to Oct. 1. Visit veterinaryeducationtoday.ca for more details.