Dwane McLaren calls his dog Jango a "firecracker."

The three-year-old blue heeler is an expert cattle herder, and when McLaren found himself cornered by 14 angry bulls, Jango came to his rescue.

The small dog took on the bulls, and Jango didn't stop protecting McLaren even after suffering a broken jaw.

"The bulls were 2,200 pounds — and he's 40," says McLaren, who hauls cattle for a living. "One [bull] decided he didn't like me very much, and he started coming after me … [Jango] grabbed onto the back of his ankle and distracted him enough that I could get over the fence."

McLaren says he's amazed at Jango's protective nature.

"For him to know to come and do that — I didn't call him or anything. The natural instinct to help in a dog is unbelievable," he says.

After a three-hour struggle, McLaren finally got the bulls loaded in his semi-trailer. That's when he noticed Jango was bleeding from his mouth. Despite being injured, the dog hadn't stopped helping his owner the entire time.

"He's tougher than nails, this fellow," he says of his dog.

The pair drove their load of bulls from Brooks, Alta., to Swift Current, Sask., where a local veterinarian referred Jango to the Western College of Veterinary Medicine's (WCVM) Veterinary Medical Centre.

McLaren's parents drove out to Swift Current and took Jango – who wasn't happy to see his owner get back in the truck's cab without him – while McLaren completed the haul.

After the weekend, Jango came in for surgery at the WCVM. Fortunately, the break in Jango's jaw was the best possible scenario, says Dr. Erin Hilberry, a clinical associate in dentistry.

Jango had suffered a rostral mandibular fracture, which meant the tip of his bottom jaw had broken off. His lower right canine tooth – the long pointy one at the front – also came out because the bone around his tooth had broken off.

"He was really lucky. As far as jaw fractures go, it's the best one you can have," says Hilberry. "The easiest thing to do is to basically take off the broken piece of bone, so that's what we did."

Hilberry assisted Dr. Candace Lowe, a board-certified dental specialist at the WCVM, with the procedure. The team cut open Jango's lower gums, took out the broken piece of jaw, smoothed the bone down and then stitched him back up.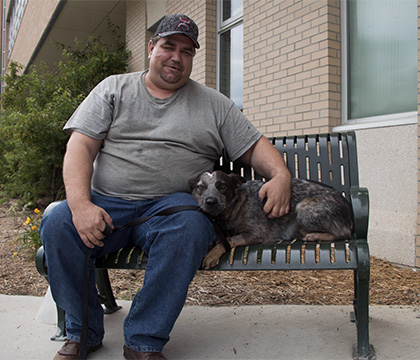 The surgery was successful, but unfortunately, Jango breathed in some vomit after the procedure and developed a lung infection. To ensure a full recovery, Jango had to stay two more days in the WCVM's intensive care unit. It was a difficult day for McLaren, who showed up at the hospital and was told Jango couldn't go home because of the infection.

"It was really hard when we came up to get him and he had to stay," he says. "They brought him out to see me and he couldn't come home. He was mad at me."

While McLaren had already paid for the dental surgery, the extra costs for Jango's extended hospital stay were too much to handle for the cattle hauler. Luckily, the WCVM's Good Samaritan Fund (GSF) covered the cost of Jango's extended hospital stay.

"It just seemed to be a good case that we thought would be a good prognosis, and people who had tried really hard and just needed a little help," says Dr. Robin MacRae, a small animal internal medicine resident at the WCVM. She looked after Jango while he recovered from pneumonia and recommended his case to the GSF.

"The owners were very willing to do what they could for him. However, cost-wise, they had spent a good amount of money on getting his jaw fixed."

The fund covers costs for ownerless animals, or for those pets whose owners aren't able to fully cover the cost of their care.

"It's a really good way we can help bridge that gap so we don't have to sacrifice patient care because we don't have exactly the amount of money that we need," says MacRae.

"It was really a relief. I didn't know where I'd be able to scrounge up the rest of the funds," says McLaren.

McLaren, who lives in Davidson, Sask., loves working with animals. He works alone hauling cattle, and needs a dog to help him load his truck. With Jango, he also gained a companion for the long drives. He's had Jango since he was a puppy, and since then, they've travelled together from Mexico to near the Alaska border.

"The longest we've been apart is when he was here [at the WCVM]," says McLaren.

Jango is a working dog, but he's also a friend. "He thinks he's people," says McLaren, who describes Jango sitting next to him in the cab with his paw on the armrest.

After a final check-up a week and a half after the surgery, WCVM clinicians gave Jango the all clear, and McLaren says he's now back to his old self and working without any fear.

"We wanted to be able to get him back to his job as soon as possible. He did great," says MacRae. "I think he's going to have a very normal life."

She hopes Jango's story inspires other people to donate to the GSF, which has helped save many animals' lives.

"I think cases like this are really great examples of where you can have a really successful outcome — you just need the ability and the time to treat an animal properly," says MacRae.

"If people wanted to donate money so that we could treat more patients like Jango, that would be awesome because every little bit helps."