Third-year Doctor of Veterinary Medicine student Taryn Roberts is the grand prize winner in the competition. Her photograph, titled "Two Pigs. Two Nations. One Health," was taken during her time working with Global Vets in Tanzania, where Roberts helped to provide low-cost care to livestock and pets.
"I was one of six WCVM students participating in Global Vets Africa, volunteering and learning from various veterinary and animal welfare organizations," says Roberts. "We had the opportunity to give back to vibrant communities whose health, livelihood and welfare are very much intertwined with that of their livestock."
This year's competition is part of the U of S Canada 150 Project and highlights the many ways students are making a difference for Canada through their research work. The U of S received 100 entries including 12 video research pitches.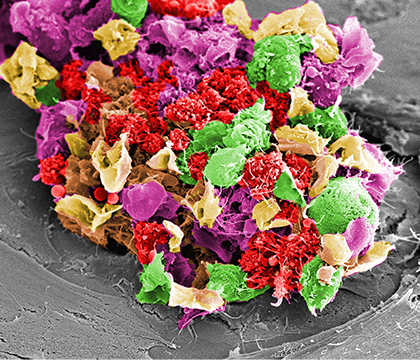 Entries included a mixture of traditional photography, electron microscopy and computer-generated imaging.
Awang Hazmi Awang Junaidi, a graduate student in the WCVM's Department of Veterinary Biomedical Sciences, won first place in the Viewer's Choice category for his photo, "Bloom where you are planted," which was taken using scanning electron microscopy. His image depicts a group of aggregating cells, specifically germ cells in the newborn testis that eventually give rise to sperm.
"This research will provide valuable insight into how male germline cells develop and has implications for preserving male fertility," Junaidi said in his artist statement.
He also won first place in the More than Meets the Eye category.
Multi-disciplinary judging panels chose the winners in six categories, and contest website visitors chose two images and one video as Viewer's Choice prize winners by voting. More than 40,000 people viewed the images during the voting period.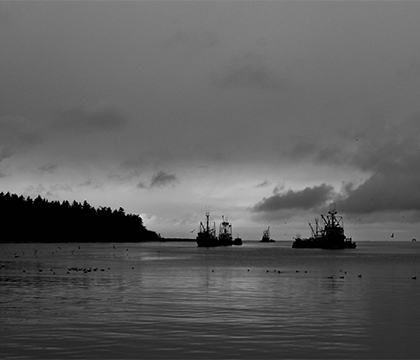 Julie Wittrock, a PhD candidate in veterinary microbiology at the WCVM, placed second with a black-and-white photo titled "The Herring Spawn," which depicts the spawning event on Vancouver Island.
"This spawning event, for me, exemplifies the complex, cumulative, and multi-factorial nature of wildlife health. As researchers and resource managers, how can we support and balance the demand and stress on herring populations, so that they can continue to exist and support various other wildlife (sea lions, sea birds, eagles, harbor seals, other fish etc.) and the humans who expect to harvest them? Health is about an ecosystem, not an individual," wrote Wittrock in her artist statement.
The winning images will be on display in the north concourse of Place Riel from April 11 to 18. Winners will receive cash prizes. Visit
http://research.usask.ca/images-of-research.php
to view all of the winning images.