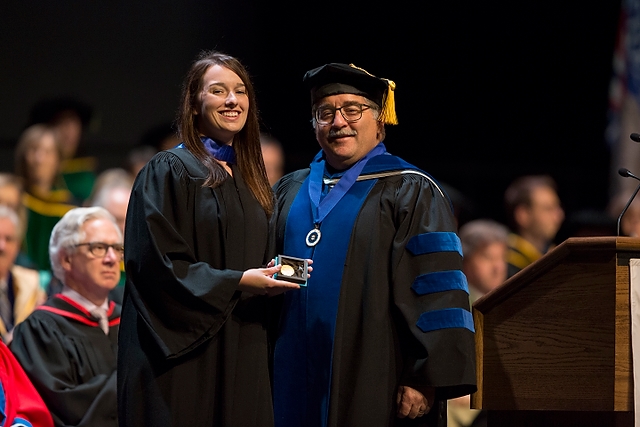 Among her prized possessions was the Western College of Veterinary Medicine's (WCVM) highest honour for graduating veterinarians — the WCVM Faculty Gold Medal.
Each year, the college's faculty awards this medal to the graduating student who has shown "the highest proficiency in the science and art of veterinary medicine during the four years of study toward the Doctor of Veterinary Medicine (DVM) degree."
Paravicini grew up in Qualicum Beach, B.C., where her family had an acreage with a variety of animals. Pursuing a career in veterinary medicine seemed like a perfect combination of her interest in medicine and her love of working with animals. Before coming to Saskatoon in 2014, Paravicini earned a Bachelor of Science degree in biology at Vancouver Island University.
Paravicini, who is now practising at a small animal clinic on Vancouver Island, may pursue a veterinary specialty in the future after spending a few years in general practice.
Paravicini received her commemorative medal during the university's convocation exercises on June 7 where she graduated from the WCVM with "Great Distinction." Later that same day during the college's graduation awards program, she received a $3,000 prize for her academic achievements along with a Zoetis General Proficiency Award worth $1,000.
Other highlights from the 2018 WCVM graduation awards evening were the two faculty awards: Dr. Kathleen Linn received the Stan Olson Clinical Professor of the Year Teaching Award while Dr. Kevin Cosford received the Boehringer Ingelheim Award of Excellence in Clinical Teaching.
The awards program also included several new awards: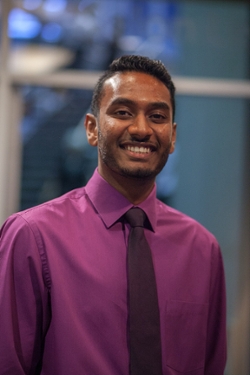 • Dr. Dhawala Abeywickrama of Saskatoon, Sask., received the Dr. Richard McLean Award in Large Animal Practice, which was established in memory of Dr. Rick McLean, who died in 2010. A 1967 graduate of the Ontario Veterinary College, McLean grew up in Gull Lake, Sask., and practised in Oxbow, Sask., for 10 years before joining Agriculture Canada's Food Inspection Agency. In 1995, he retired from public service and returned to private practice until his full retirement in 2003. McLean's exceptional work ethic and his ability to understand the needs and motivations of both clients and patients made him a much-liked and well-respected practitioner. This $3,000 award honours his memory by helping someone like himself achieve a future in the profession that he dearly loved.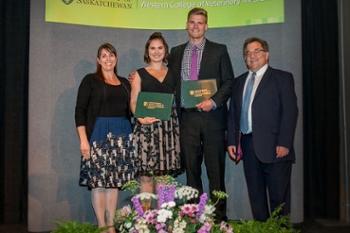 • Dr. Alexina Labrecque of Saskatoon, Sask., and Dr. Greg Ruus of Calgary, Alta., both received the Petplan Pet Insurance Award in Emergency and Critical Care along with a prize of $2,000 each. This award, which is sponsored by Petplan Pet Insurance, recognizes students who have shown effective communication in emergency situations during their fourth-year clinical rotations. The recipients were also quick to identify and prioritize critical issues, demonstrated excellence and care when performing technical emergency procedures, and showed a willingness to participate in emergency duties.
• Dr. Larissa Goldsmith of Baldur, Man., was the first recipient of the Dr. Garth Brown Award. The honour was created in memory of Dr. Garth Brown, a 1989 WCVM graduate who passed away on Jan. 15, 2018, at the age of 58 years. Brown owned and operated Monterey Veterinary Clinic in Calgary, Alta., for 20 years and was the first-licensed house call veterinarian in that city. As a reflection of Brown's own values, the new award recognizes a fourth-year student "who places high importance on compassion for both pet and client" and has demonstrated their compassion through medical competency and analytical thinking. The award also recognizes a student who is a leader in diagnosing medical issues while respecting the human-animal bond.
• Drs. Dawn Abbott and Arefeh Ravanbakhsh, both graduate students in the WCVM's Department of Veterinary Pathology, were the first recipients of the Dr. Ted Clark Award in Diagnostic Pathology. Created by Clark and his wife Lorna, this award honours Ted's long career as a diagnostic pathologist at the WCVM. The couple hopes the award, which comes along with a $2,000 prize, will encourage future pathologists to honour this important work. Recipients of this award are graduate students who have demonstrated interest and proficiency in diagnostic pathology during their first year of graduate studies at the WCVM. Abbott graduated from the Atlantic Veterinary College in 2012 while Ravanbakhsh is a 2016 graduate of the WCVM.
Click here to view the full list of award recipients at the 2018 WCVM Graduation Awards program on June 7, 2018. Click here to view award presention photos.