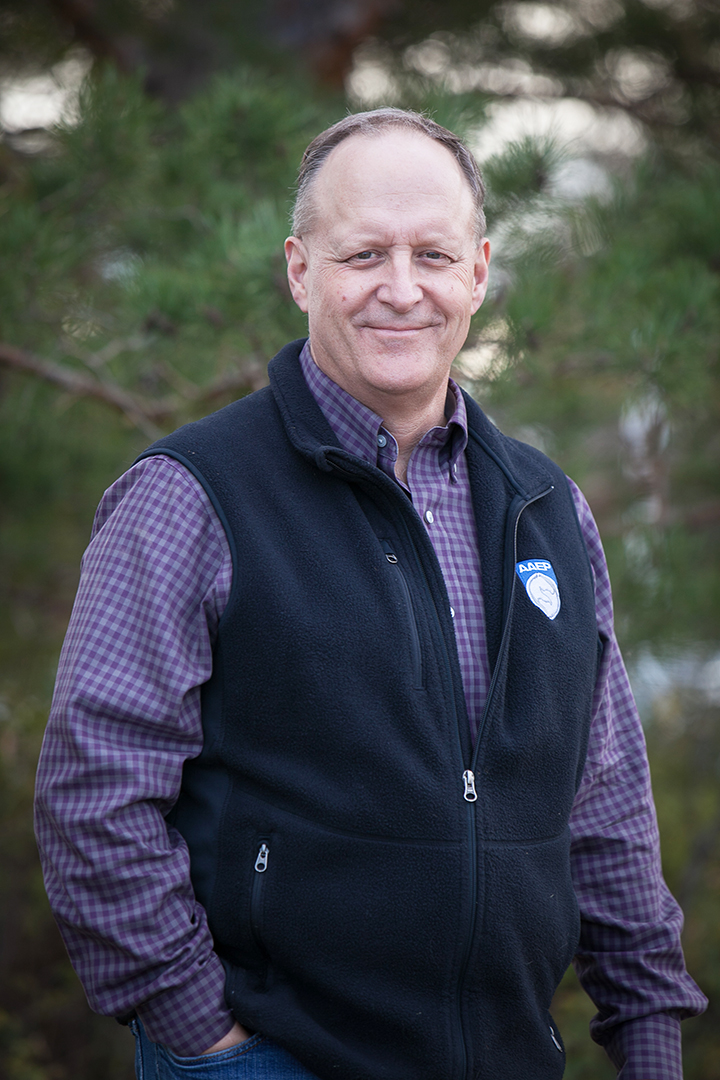 "I spent seven summers working in that clinic," recalls Manning, an associate professor in the Western College of Veterinary Medicine's (WCVM) Department of Large Animal Clinical Sciences. "The veterinarian sort of became my mentor, and he's the one who got me interested in veterinary medicine."
After graduating from the Ontario Veterinary College in 1991, Manning spent nearly five years in private practice before deciding to specialize in equine theriogenology. He headed west to the WCVM where he completed a residency and Master of Science degree in 1997. He also earned board certification with the American College of Theriogenologists in that same year.  
It was during his residency that Manning met his wife, Dr. Sheryl Gow, now a veterinary epidemiologist who works for the Public Health Agency of Canada. After a brief move to Calgary where they worked in private practices, the couple returned to the WCVM where Gow pursued a PhD degree in epidemiology and Manning joined the college's faculty.
For Manning, one of the most rewarding parts of his job is working with students. "It's nice to see them early on and then later in the DVM program," says Manning, who is also the WCVM's associate dean, clinical programs. "I get to watch their progress, and I get a lot of satisfaction thinking that I contributed to their becoming good veterinarians."
In addition to teaching theriogenology, Manning instructs courses in equine nutrition and management, and he lectures on equine acupuncture – a special interest to the certified veterinary acupuncturist. Manning, who describes himself as a "skeptical acupuncturist," offers equine acupuncture services to clients and has conducted research trials investigating acupuncture use to support reproduction and provide pain control.
Manning values his research experiences as a chance to collaborate with other people while staying current with horse health issues, and he's keen about supporting studies that have real practical and clinical applications in horses. That interest in research initially led Manning to join the Townsend Equine Health Research Fund (TEHRF) advisory board when he was a private practitioner in Alberta. Once he became a WCVM faculty member, Manning joined the fund's management committee and continues to be active in the fund's organization. 
In addition to teaching and research, Manning is the WCVM's acting associate dean, clinical programs. The new position was created in 2017 as part of a change in the leadership model for the WCVM's Veterinary Medical Centre (VMC), moving from a director to an associate dean. In his job, he's responsible for the VMC as well as the fourth-year veterinary students' clinical rotations and experiential learning.
Manning's extra duties prevent him from making as many field service calls with the VMC Field Service as he used to, but he still enjoys meeting with clients and working with their horses. He particularly relishes the community building aspect of ambulatory practice.
"We try pretty hard to make our ambulatory service run like any other equine practice. So we cultivate a relationship with our clients — we try to know them, we want them to be our friends as well as our clients. We try to participate in the equine community outside of just serving as veterinarians when they need us."
One way in which Manning has contributed to the local equine community is through his involvement with the Saskatchewan Equine Expo. Manning has helped to develop and plan the annual event that promotes and strengthens the Saskatchewan horse industry.
Manning appreciates the help of the WCVM student volunteers as well as the faculty volunteers who have provided horse health demonstrations and presentations at the event since 2012.
"We need to build a public profile so that people will identify positively with us," say Manning. "Being involved is a chance to get the message out to people that we're your veterinary college, your veterinary teaching hospital, and we can provide pretty much any level of care that you need for your animal."
Having a good relationship with horse owners is particularly critical during crises such as the outbreak of equine herpes virus (EHV) in 2008. Along with other WCVM clinicians, Manning provided owners with vital horse health and biosecurity information. He was also part of the team that managed the outbreak, treated the infected animals and minimized the spread of the disease.
In 2013, Manning's community efforts earned him the Award of Distinction for Equine Welfare Leadership — an annual honour sponsored by the SHF and Farm and Food Care Saskatchewan. As well, Manning's varied background and experience made him a natural choice for chairing the SHF Health and Wellness Committee during the past couple of years. While Manning is busy with his many roles, he still gets satisfaction from his work with breeding horses – the chances to work with stallions and mares as well as the newborn foals.
Manning and his wife even bred Canadian warmblood horses for a while. They're no longer active breeders, but Manning still enjoys accompanying his wife as she rides in dressage events. He appreciates those opportunities to meet with other people in the horse industry.
With such a busy professional life, Manning relishes the chance to work around their farm, tending to their horses and making hay in the summer.
"When the barn is full of hay, there's something to be said for that. I've found a lifestyle that works for me."
As Manning reflects on his career, he's particularly gratified to be working with a group of talented people in the equine field service practice. He also enjoys his teaching responsibilities and the opportunities he's had to serve the local horse industry.
"My career has been more than I expected. I've gotten to do a lot more things and learn a lot more things here than I would have in other places," says Manning. "I'm very grateful to be here, and I'm a big believer in this college. When my wife and I made the decision to move back here, it was a bit of a gamble, but it was the best move I ever made."
Dr. Steve Manning is one of the equine health-related speakers at the 2018 Veterinary Education Today conference in Toronto, Ont., from Sept. 27 to 29. His talks will focus on the problem broodmare and equine acupuncture. Visit the VET conference website to register.