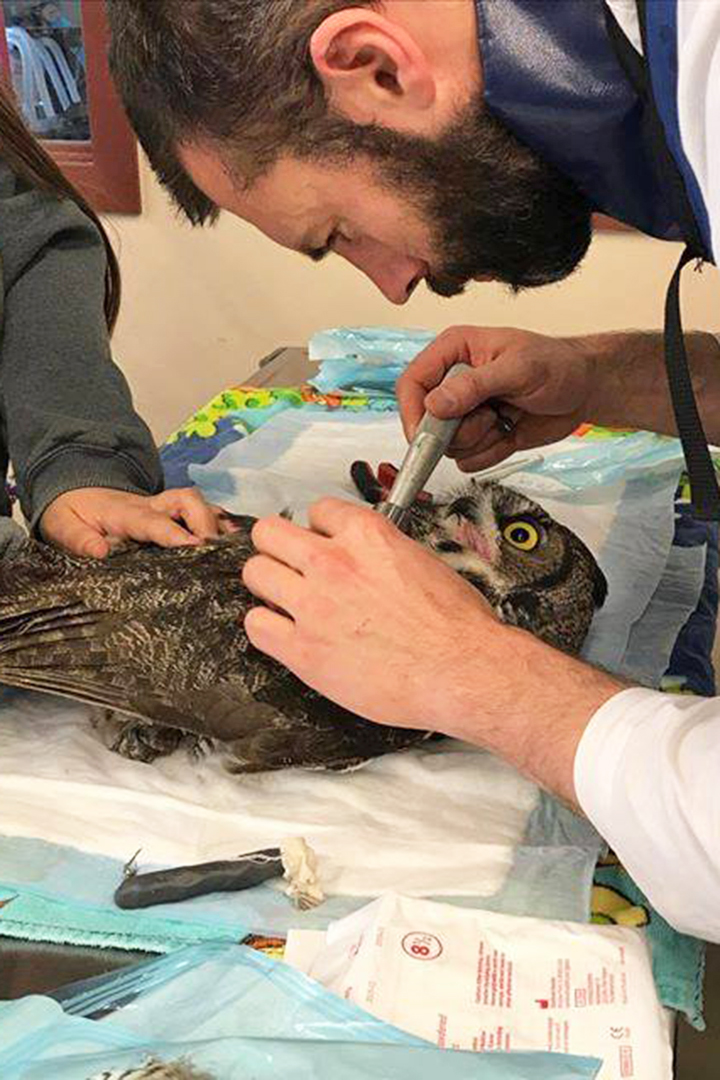 So, when they contacted me in mid-September about a great horned owl who had sustained a fractured wing through an unfortunate run-in with a car, I was pleased to have an opportunity to help out again — only a mere 10 years after my last days of volunteer work there!
The accident had occurred in Sparwood, where the owl was picked up by a kind volunteer and assessed locally by the Tanglefoot Veterinary Hospital in Fernie, B.C. They determined the owl had a humeral fracture that looked repairable. After Tanglefoot contacted OWL, the bird was kindly transported, free of charge, to the Lower Mainland by Pacific Coastal Airlines, then to the Boundary Bay Veterinary Specialty Hospital by volunteers with OWL.
Some may ask why we should bother treating a wild animal, instead of just letting nature take its course. I think there are multiple reasons, and everyone who helped probably has their own motivations. I enjoy both the challenge of an unusual situation, and the opportunity to practise skills that may be applicable in other scenarios. I think there is also an argument to be made that since this bird was hit by a car, and it may have been drawn to the road by rodents feeding on the refuse some people leave there, we owe it to the animal to try and repair the damage we have done. Others may simply feel that any animal in pain or distress should be helped in whatever best way we can.
Read the rest of the story in the December 2017 issue of West Coast Veterinarian Magazine (pages 30-34). Permission to reprint part of this story was provided by West Coast Veterinarian Magazine and Dr. Crawford. 
Dr. Evan Crawford is a 2011 graduate of the Western College of Veterinary Medicine.