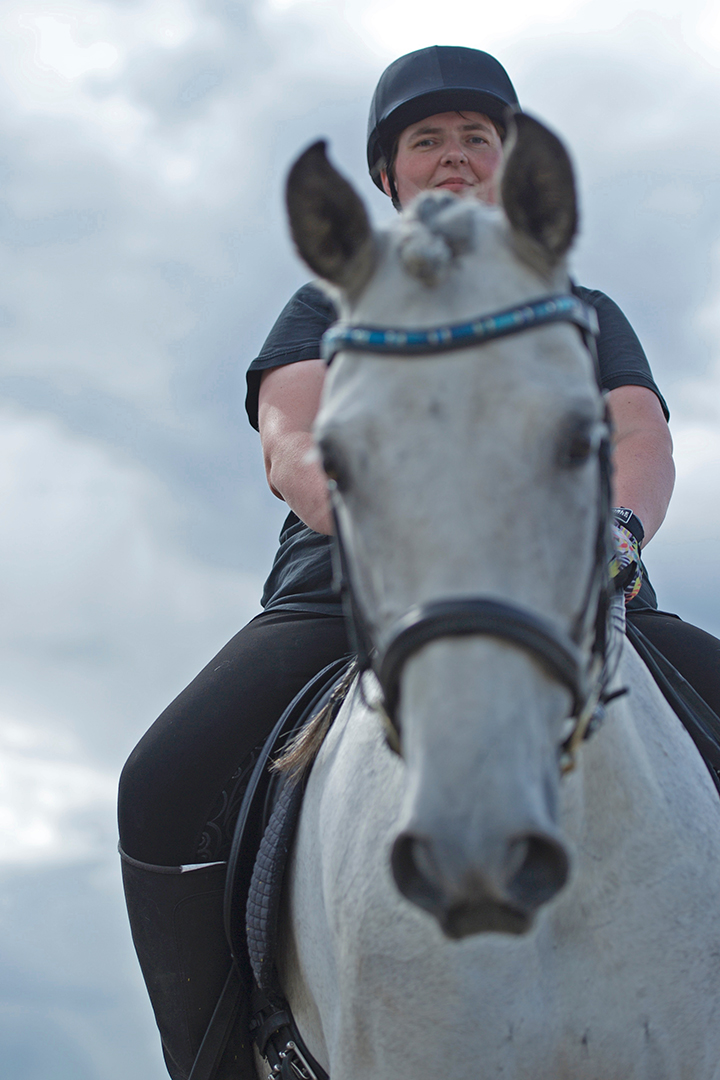 "If there's a horse and something you can do with it, I've probably tried it," says Ball, who grew up in Regina, Sask. "I've had horses and shown them to a high level competitively for most of my life. I showed on the quarter horse circuit, I've shown reining extensively, and I'm currently working on dressage."
Now an associate veterinarian at the Regina Humane Society Spay and Neuter Clinic, Ball enjoys being back in her home city and living just a few minutes away from Marley SHF, her grey Andalusian mare. While her work with horses has brought many hours of pleasure and satisfaction, Ball also credits them for helping her choose a fulfilling career.
"You see veterinarians a lot when you're dealing with horses," Ball explains. "So when I had to decide what to do with my life, veterinary medicine seemed like the natural option, given how much I liked working with horses."
After graduating from the WCVM in 2002, Ball put horses on hold as she began her veterinary career, first working at a mixed animal practice in Alberta and then at an equine and small animal practice in British Columbia.
In 2006, Ball returned to the WCVM and pursued another childhood passion — science and research. Ball's early interest in science had flourished in grade school when she won her way to the Canada-wide science fair twice, and she welcomed the chance to pursue that interest as a resident in veterinary clinical pharmacology.
Working with Drs. Trisha Dowling, Don Hamilton and Julie Thompson, Ball completed a PhD degree. Her research thesis focused on the use of a gallium compound for treating urinary tract infections (UTIs) in dogs and people.
Although Ball and her team concluded that the compound wasn't effective on its own for clearing up UTIs, they discovered a new method for microscopically tracking a drug within a target tissue. Using the synchrotron at the University of Saskatchewan (U of S), the researchers developed a methodology that scientists can now use to develop new drugs that will benefit animals and people.
When Ball looks back on her research experiences, she particularly remembers the sheer excitement of discovery. "It's absolutely thrilling when you get to see something that nobody else on the planet has seen before," says Ball.
She describes the WCVM as a springboard to connections with multiple departments that included geology, chemistry, the Canadian Light Source research group and the university's College of Pharmacy and Nutrition.
Ball points out the importance of the WCVM's overall research program which includes many studies similar to hers. Since most new drugs on the market begin with animal models, their development depends on research directed by veterinarians and biomedical scientists proficient in comparative anatomy and physiology.
Ball also emphasizes the college's value as a significant resource, a centre of clinical excellence and expertise that benefits Saskatchewan and Western Canada.
"The veterinary school is a big deal for producers and animal owners," says Ball. "If you didn't have relatively easy access to specialists and advanced diagnostics, you'd be dropping the level of animal care — it's an important resource for animal welfare. It's actually a big deal on the public health side too — that's vastly underappreciated."   
Animal welfare and public health concerns are significant issues for Ball now that she is one of three full-time veterinarians working for the Regina Humane Society. Since 2015 she has provided veterinary care for the shelter's animals as well as those picked up by animal protection officers. Her work also helps to minimize the public health risks posed by stray animals that may be aggressive or potentially exposed to rabies.
Ball also appreciates that the City of Regina subsidizes spay and neuter surgeries for pets belonging to families with lower income — a means to improve quality of life while preventing more stray animals populating the city.
"You go home feeling pretty good about yourself," says Ball. "You're definitely doing a service for society, and you're looking after animals that would otherwise be without proper care and safe living conditions."
The experiences and the skills that Ball developed during her graduate studies continue to serve her well at the humane society, a not-for-profit organization that's dependent on public donations. While filling in as director of veterinary care for a year, Ball's analytical skills helped her develop creative solutions to challenges such as how to best allocate resources. She also used her experiences working with scientists from multiple disciplines as she communicated with people from diverse backgrounds.
Ball anticipates that those skills will be even more important in the future as their organization faces additional economic and operational challenges.
"As economic uncertainty increases, people's inclination to donate drops, and that's a big challenge," Ball says. "We're also starting to see more and more animals with greater and greater needs, and that certainly taxes our resources."
Ball explains that the shelter sees a different animal population with greater medical and behavioural issues now that social media is used extensively by the public for advertising lost pets before they ever come to the shelter.
Ball is thankful that her profession allows her to have a rewarding job with enough personal time to revisit her childhood love of horses. Right now she's working with her horse five or six times a week as she aims for high-level dressage competitions.
"If the opportunity presented itself, I'd be happy to get back into research again," says Ball. "But I'm most likely going to stay in practice. It's an opportunity for me to turn my time and passion towards horses — and that's kind of where it's always been anyway."