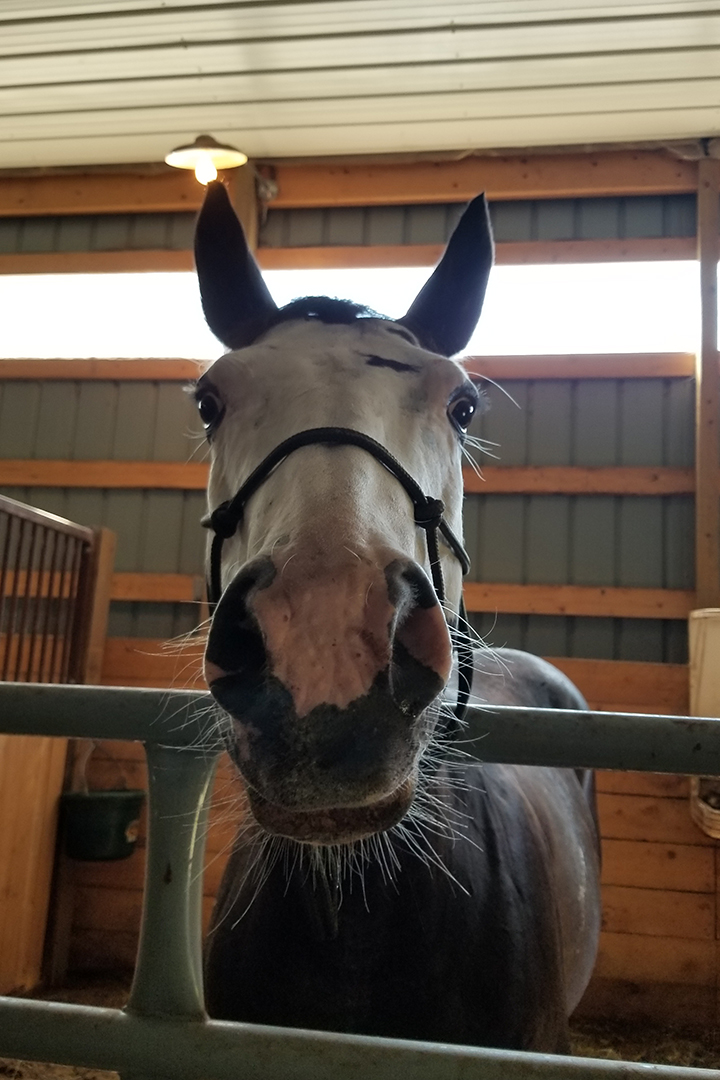 Dr. Julia Montgomery and her research team encountered surprising results while conducting a study aimed at finding biomarkers for equine metabolic syndrome (EMS), a metabolic and hormonal disorder in horses that's often compared to Type 2 diabetes in humans.
In particular, the researchers were puzzled by the high levels of D-lactate they found in the equine blood samples collected for their study.
"When we started running some of the samples initially, the numbers we got were all pretty close together, but they were a lot higher than physiologically makes sense," explains Montgomery, an assistant professor in the WCVM's Department of Large Animal Clinical Sciences.  
Since a previous pilot study had provided plausible outcomes that made physiological sense, Montgomery and her team set out to identify the reason behind their surprising results. They found one main difference between the two studies – the length of time that the blood samples had sat in the freezer.
As the researchers began investigating what had altered the stability of the D-lactate in their equine blood samples, they found their answer by looking at human medicine.
Deb Michel, a research technician in human pharmacology and nutrition who was assisting on the project, found an article describing how D-lactate levels can increase in human blood after it's placed into a tube.
Scientists had discovered that red blood cells in stored blood samples continue to metabolize glucose and produce D-lactate as a by-product of this reaction. Since this D-lactate can't be used by the red blood cells, it continues to build up, resulting in an elevated level of D-lactate – a value that's higher than physiologically possible.
Human studies had found that the key to preventing these artificially high lactate levels lay in the tube used to collect and store the blood. By using blood tubes with sodium fluoride, the scientists were able to decrease the amount of D-lactate in the human blood samples – sodium fluoride inhibits the enzyme that's essential to glucose metabolism and the resulting conversion of glucose to lactate.
Montgomery and her team set out to learn whether sodium fluoride has the same effect on glucose metabolism in blood samples taken from horses.
They collected blood samples from a random population of horses in Saskatoon and the surrounding area. Each horse had its blood drawn into two separate tubes – a tube to which sodium fluoride had been added and a normal blood tube with no additives.
In the lab, the samples were centrifuged, separated, and then stored in the freezer. To determine if the length of time in the freezer affects the stability of D-lactate, the researchers will assay the samples to measure their D-lactate levels after one month, two months and six months.
Initial results after one month and two months of storage show that the D-lactate levels in the normal blood tubes were significantly higher than those found in the sodium fluoride tubes. These results suggest that the sodium fluoride stops the metabolism of glucose in red blood cells and prevents the buildup of D-lactate – just as it does in human blood samples.
Although the concept behind this research is simple, the results will provide important information that expands our scientific knowledge about horses and could have implications in other equine studies.
For example, if Montgomery's investigation of EMS biomarkers shows that an increase in D-lactate levels is a significant indicator of the syndrome, then obtaining accurate measurements of D-lactate levels in blood samples will be critical for diagnosing EMS.
Even if D-lactate doesn't prove to be a useful biomarker for diagnosing EMS, the information learned from Montgomery's study will be important for future research.
"I think that it will help us learn some very basic things and that will lead to a lot more questions down the road," says Montgomery.
Nicole Sereda of Calgary, Alberta, is a second-year veterinary student who was part of the WCVM's Undergraduate Summer Research and Leadership program in 2017. Nicole's story is part of a series of articles written by WCVM summer research students. Nicole's poster won second place in the annual Undergraduate Research Poster Day competition in the clinical sciences category.