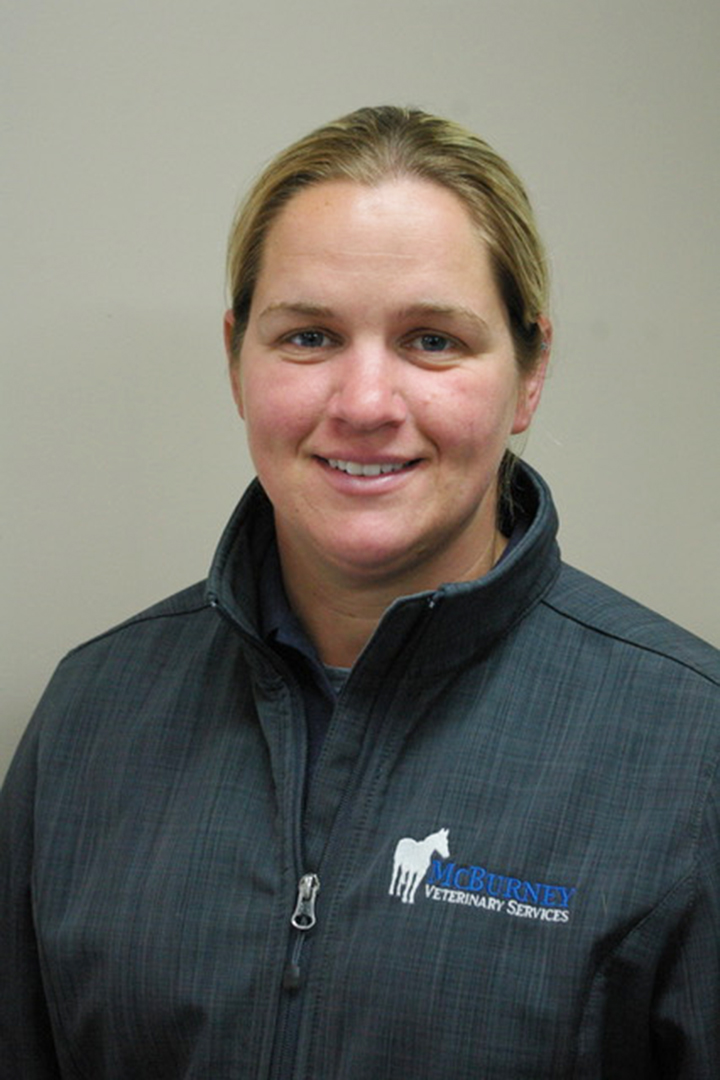 It's immediately clear that an outsize personality like hers could never comfortably squeeze into the clean-cut environment of a standard veterinary clinic. There's an affectionate timbre to Peats' voice, echoing a kind of nostalgia for her practice that's perceptible even through the phone line.
"I think for me it's the outdoors, getting out of the clinic and working with the horses outside," says Peats, owner-operator of McBurney Veterinary Services based out of Hartney, Man.
"That's a more fitting lifestyle for me than some of the other options. Hospitalization is definitely interesting, but my comfort zone is more tuned toward being out and about, getting to see lots of different people, exploring the space they work in and going from there."
When Peats graduated from the Western College of Veterinary Medicine (WCVM) in 2007, her compassion for equine patients during final-year clinical rotations earned her the "Dino and Dr. Ashburner Award in Equine Care" along with a $7,000 scholarship. She went on to complete a one-year equine internship at Edmonton Equine Veterinary Services and then joined Delaney Veterinary Services — a full-service equine hospital in Sherwood Park. In 2014, she returned home to Manitoba to get the wheels moving on her own practice.
The goal at the time was simply to return to the province she'd been born and raised in, get back to her roots and raise her two young boys close to her family's farm near Deleau, Man. But in the process, Peats says her travelling ambulatory practice — which is capable of delivering full medical services right to the front doors of the horses and other animals that are her patients — has opened up new healthcare avenues in Manitoba's rural regions.
"I think my work provides these communities with someone who can come from a distance that they wouldn't be able to haul out to or they don't have the capability to get to," Peats says. She explains that lack of mobility in sickly foals and horses with injured limbs or simply the lack of an available trailer are just a few common reasons why horse owners may be unable to travel with their animals.
"It's a quality of service that they wouldn't be able to get otherwise, both for them and for their horses."
Peats has held a strong love for horses throughout her life, stretching all the way back to a youth spent riding on the family farm with her two sisters. But she credits the WCVM with helping to solidify that interest in horses into a call to action.
"A lot of the professors and the field service department at the time when I went through school were instrumental in my learning experience," Peats says, describing Drs. Stephen Manning and Sue Ashburner as two WCVM instructors who were "phenomenal mentors" during her academic career.
"They really grabbed my attention and brought it toward the horses, and toward the ambulatory side of things in particular."
She may have come to Manitoba for family purposes, but the decision is one that Peats says has offered her the opportunity to make new discoveries each day — not just in regards to what paths her mobile practice will travel down, but also in the endless variety of her patients and their owners.
"I see a diversity of patients, everything from your backyard pony to your top-end athlete," says Peats. "That probably exists in a lot of areas, but I really feel like in rural Manitoba that diversity is probably stretched even farther than everywhere else."
HenryTye Glazebrook is a freelance writer based in Vancouver, B.C.