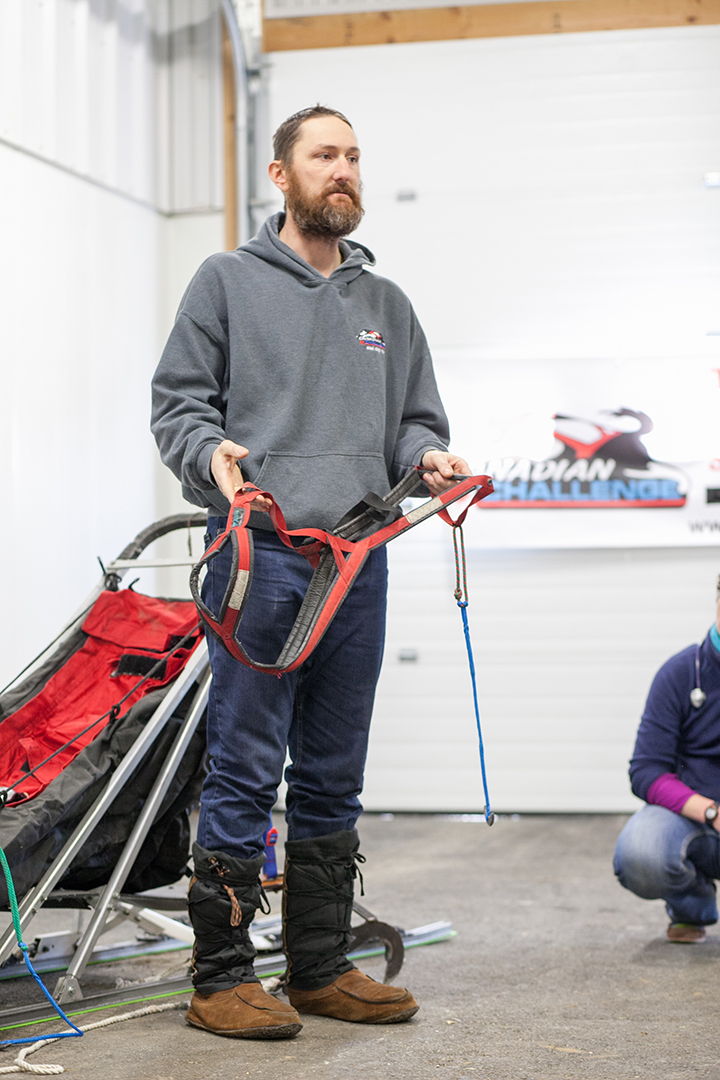 The Western College of Veterinary Medicine (WCVM) students are participating in an optional clinical rotation that builds on the long-term relationship between the regional veterinary college and the annual sled dog race. A similar clinical rotation was offered about 15 years ago, and since WCVM staff and students are regular volunteers with the race, the decision was made to rejuvenate this unique veterinary experience.
Each student will function as an assistant to one of the team's three veterinarians: Drs. Kate Robinson and Romany Pinto of the WCVM, and Dr. Julianne Wilson from Ponoka, Alta. A 2018 graduate of the WCVM, Wilson comes from a background of sled dog and racing experience.
Before the race begins, members of the veterinary team examine all of the teams' sled dogs to ensure that all of the canine competitors are in good health. As well, veterinarians continue to monitor the dogs' health at designated checkpoints throughout the five-day race. The veterinary team are also there in case any dog team has a health emergency or accident.
Robinson, who has been volunteering with the Canadian Challenge as a race veterinarian since 2010, is this year's head veterinarian — taking over the role from Dr. Ruth Sims. Robinson says her priority is to ensure the health of participating dogs, while maintaining the unique relationship between mushers and veterinarians that was established during Sims' 11-year tenure.
A large part of this is due to the special efforts made toward education, and the fact that Canadian Challenge competitors aren't charged for veterinary time or materials during the race.
"[Dr. Sims] helped forge a unique relationship with the mushers. It's part of what I love about this race, is that it's quite collegial – it's like going to a family reunion every year, to be honest. All my crazy sled dog family in the bush," says Robinson, laughing.
She adds that the WCVM's new clinical rotation gives students the opportunity to learn more about a different type of animal ownership. Sled dogs are working animals that are bred for a specific purpose and their health is minutely managed by their owners.
"Even if they never see another sled dog in their career, I think it gives [students] a better appreciation for the working animal outside of the typical production animals that they learn about in vet school," explains Robinson.
"You might even equate [sled dogs] to hunting dogs, or police dogs … where they have a very specific job, are highly trained for that job, and are managed vastly differently than our pet dogs are. But by no means does that mean that their management is sub-par, and in a lot of cases, it's actually probably better than our pet dogs."
Paige Borrett, a fourth-year veterinary student at the WCVM, volunteered with the veterinary team during the Canadian Challenge in 2018. She notes that one big difference between regular companion animal health and sled dog medicine is in the way veterinarians assess these canine athletes. 
"You're looking at them in a way that's very thorough, you're trying to help them be the best they can be. You're going over them with a fine-toothed comb. With a companion animal, you're basically just [taking care of] routine health issues," says Borrett.
"With these dogs … you're looking for subtle differences from a performance standpoint. It's like doing sports medicine versus general practice."
Borrett says the chance to be part of the Canadian Challenge was a very positive experience. "When you go on the first day, it's very obvious that those dogs want to run — it's what they're bred to do."
Volunteering for such a fast-paced event is also an exercise in thinking on your feet, adds Borrett.
"Different checkpoints will have different facilities – some may have full heated buildings in which dogs can be examined and treated, some may only have a small tent. There's only so much heated space and certain things don't work when it's -30."
Stefaan de Marie, president of the Canadian Challenge, hopes the partnership between the race and the WCVM will open up new opportunities for veterinarians to volunteer at sled dog races in the future. He took over as president last year and has worked hard to ensure the veterinary team continues to be a vital, integral part of the race's operations team.
"That's always [our] goal, to improve the race … I think we succeeded in our first year to do that – I heard from a lot of people that it was a really good race, and we'll just have to work hard to keep improving it. And one aspect of that was the veterinary care. If we can improve that, it shows that dog care is very important for us as mushers.," says de Marie.  
"The neat thing about this program [is that] we're educating these students who are becoming vets [about] what a sled dog is all about. These guys love to run. If you treat them with respect they'll give you their 100 per cent."
This year's race consists of three concurrent races for six-dog, eight-dog and 12-dog teams. The 12-dog event is a qualifying race for the Iditarod and the Yukon Quest and draws some of the best mushers in North America. The race starts at Elk Ridge resort near Waskesiu, Sask., with the 12-dog race doing a north loop to Grandmother's Bay and finishing back at La Ronge, Sask.
Borrett says she had a fantastic volunteer experience, although she admits it's not for everyone. "People who are into sled dog racing devote their life to it, to train their team, so to volunteer was a fantastic experience — getting introduced to this niche sport that not many people get to be part of. We were fully welcomed into the club."
What advice does Borrett have for this year's students? "Go into it with an open mind and prepare to not sleep!" she says. "Make the most of the experience to be part of such a unique team of super-passionate people. Be ready for an adventure."