The final value of Powell's gift is estimated to be over $800,000.
"Words are just not adequate to really express our gratitude and appreciation for Dr. Powell's gift to the CAHF," says Dr. Elisabeth Snead, associate dean of research at the Western College of Veterinary Medicine (WCVM).
"This was incredibly generous and will help sustain the CAHF's programs. It ensures that cutting-edge research, which has a positive impact on the lives of pets, continues to be possible here at the WCVM. We are truly honoured by Dr. Powell's choice."
The WCVM research fund, which reached its 40-year anniversary in 2018, supports pet health research, specialized training for veterinarians and pet owner awareness at the regional veterinary college.
During its history, the CAHF has supported numerous pet health research studies focusing on a range of topics including canine cancer, eye diseases, antimicrobial resistance in pets, orthopedic surgeries and kidney disease. In many cases, the CAHF has helped veterinary scientists complete pilot research projects that have aided them in attracting additional funding for larger research trials targeting key pet health problems.
Powell was born and raised in South Bend, Ind., and received his Doctor of Veterinary Medicine degree with honours from Purdue University in West Lafayette, Ind., In 1981 he moved to Saskatoon, Sask., to complete a small animal clinical internship at the WCVM.
After completing his one-year internship, Powell applied for a job at Saskatoon's Central Animal Hospital, where he would practise for the next 34 years.  
One of Powell's long-time colleagues was Dr. Brian Gibbs, owner of the busy and well-known small animal veterinary clinic: "People adored him," he recalls. "One of our newer veterinarians commented that 'Michael didn't have clients — he had fans.'"
Gibbs adds that Powell treated the clinic's staff like family and developed lifelong relationships with many of his clients.
"We've had many veterinarians work at the clinic over the years — many think being a veterinarian means focusing on the medical-surgical part of things. Michael focused on the human part of it. Clients don't come to you because you do a better spay or neuter, they come because they feel you care.
"Michael was so good about that — he really cared about owners and their pets, delving into their lives and getting to know them."
Peter Lehman is just one of the many clients with whom Powell had a strong connection. About 25 years ago Lehman's cat Sammy was hit by a car, and because of its injury, the animal lost its ability to urinate.
"Peter brought the cat in twice a day to empty this cat's bladder out — either myself or Michael would do it," recalls Gibbs. "We kept telling Peter he could do this at home, but he kept bringing that cat in twice a day, every day — Christmas, New Year's, July 1 — for about three years."
It was around this time that Powell began to suffer from a rare immune-mediated inflammatory disease, a painful condition similar to rheumatoid arthritis. The pain landed him in the hospital on more than one occasion, but his condition was rare enough that he was unable to get a diagnosis for it in Saskatoon.
It was Lehman who drove Powell to the Mayo Clinic in Rochester, Minn., 1,500 kilometres away, where specialists finally diagnosed his condition.
"When Michael got sick, Peter just said one day, 'I'm taking you to the Mayo Clinic.' He drove over to [Michael's] house, packed some bags, and drove him to the U.S. So that shows you the kind of personality he [Michael] had, with clients who would do that," says Gibbs.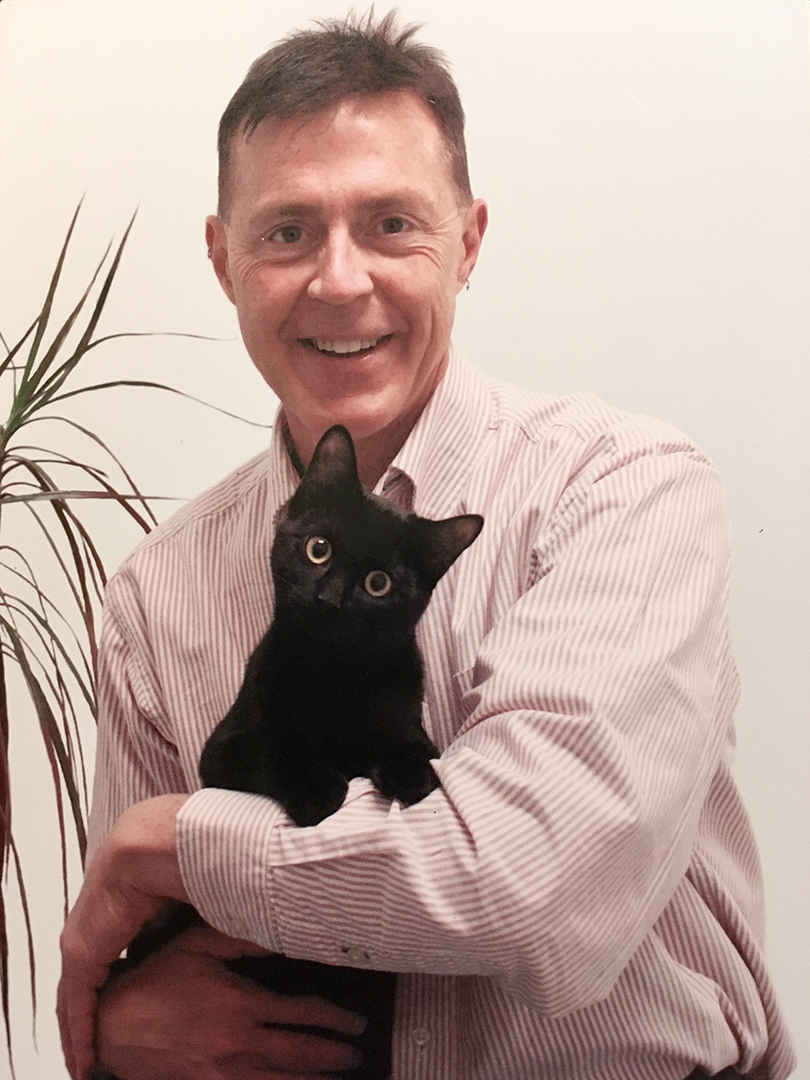 Blaine Nazarenko describes his friend and travelling companion as someone who had made many friends from all walks of life. He was also "an absolute cat lover" who rescued a number of cats that were disabled or handicapped.
Gibbs adds that Powell served as the local veterinary academy's representative on the City of Saskatoon's animal control and advisory committee for many years. Powell also gave lectures on practical veterinary practice concerns and techniques at the WCVM and was a mentor to his students — some of whom went on to work as summer students or as veterinarians at Central Animal Hospital.
One of Powell's clinical interests was veterinary dermatology. "He was really good at it," says Gibbs. "He was able to look at things that some of us would [not] look at … the same way he did, and determine what tests to use or what treatments might work."
When he wasn't taking care of his patients, Nazarenko says Powell kept busy in numerous other ways. The veterinarian played the cello and was a member of the Saskatoon Philharmonic Orchestra. He baked, cooked, read, refinished furniture, renovated his house and enjoyed gardening — Powell had about a dozen different fruit trees in his yard. His love for cacti was also evident with dozens of plants throughout his home.
"He canned. He sewed. He made clothes, bedding, comforters. He was, in his younger years, an avid model train hobbyist. He had a wine collection. And he was a traveller. We travelled to many countries – Mexico, South America, the U.S., east Asia, and throughout Canada," says Nazarenko.
"He was a very interesting, inquisitive individual."
Nazarenko says Powell would allude that the animals and "the kitties" were going to be taken care of — a reference to his plans for supporting the WCVM's research fund.
"His love for cats – for pets, for what they do, and what they've done for people – was beyond affection. The cats Michael adopted meant the world to him. And that love is what compelled him to leave such a generous contribution [to the CAHF]," says Nazarenko.
"More than anything, he wanted to leave a legacy of that for people."
This article first appeared in the Spring 2019 Vet Topics, the official publication of the Companion Animal Health Fund at the Western College of Veterinary Medicine.