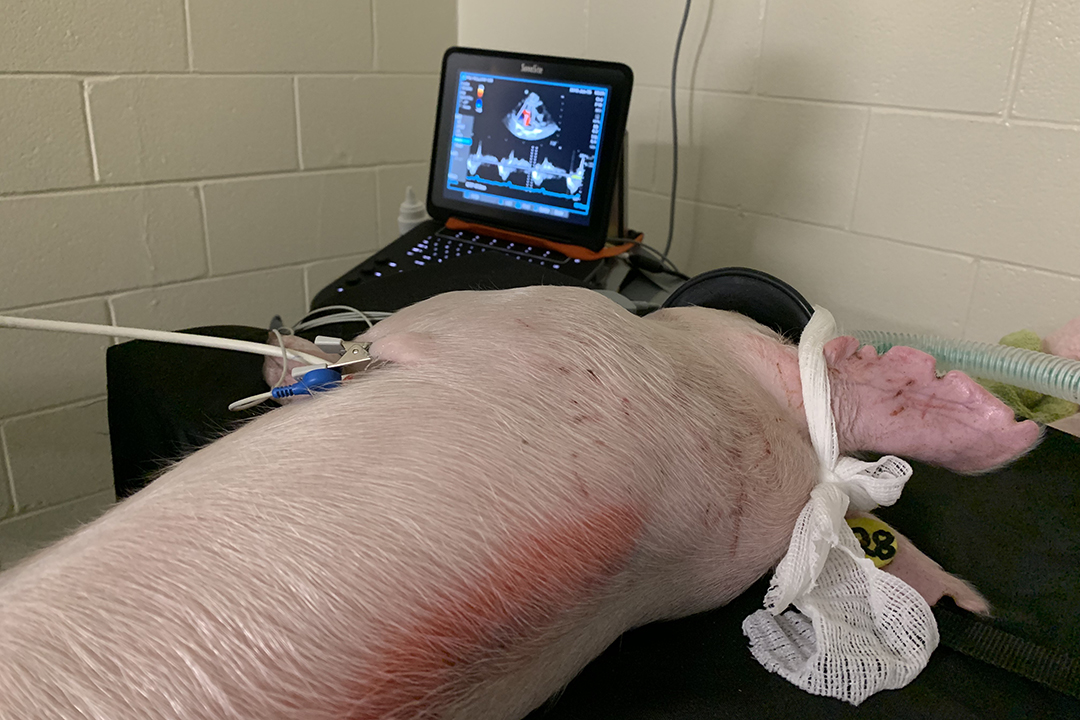 Dr. Daniel Columbus, an adjunct professor at the University of Saskatchewan's (USask) College of Agriculture and Bioresources, is looking at the effects of early life nutrition and associated long-term health outcomes in people and animals.
"We are learning more and more that in agriculture as well as in humans, early-life nutrition really sets them up for [long-term health] success or failure," says Columbus, who is also a research scientist at the Prairie Swine Centre near Saskatoon, Sask.
Heart disease is the second leading cause of death in Canadians, according to the Public Health Agency of Canada. One in 12 adults over the age of 20 are diagnosed and living with this chronic condition.
Columbus and a team of USask researchers are looking at cardiac development during the period immediately after birth when many organs are still maturing — a stage of development that hasn't been thoroughly studied before.
Columbus, along with Western College of Veterinary Medicine (WCVM) researcher Dr. Lynn Weber, have created a team of human and animal health researchers to look at how poor nutrition affects this critical period of heart development. Using pigs as models, the team is investigating how this study of early-life malnutrition could translate to human health.
Columbus explains that if a newborn animal or human isn't getting enough nutrition, it will use the energy it does have to protect organ development at the cost of building up muscle. What scientists are discovering is that it's not just skeletal muscle that's lost when under-nutrition occurs — it's also cardiac muscle.
But can a healthy diet and lifestyle allow a pig or a human to recover from this early period of under-nutrition? That's another important mystery the USask team is working to solve.
Previous research using mice models showed that poor nutrition in the first weeks of life resulted in impaired heart development. Mice that had poor nutrition as infants performed poorly compared to their normally-fed counterparts, even after being fed a healthy diet later in life.
For this study, USask researchers are working with pigs — an animal model that's closer to humans in anatomy and physiology than mice. Piglets also have a similar period of organ development in early infancy as humans.
The USask researchers are comparing the cardiovascular health and development in piglets that have had access to adequate nutrition to piglets that have had poor nutrition. As well, they're investigating whether the changes seen from poor nutrition are reversible by examining piglets that have been fed a proper diet after a certain amount of time on the low-nutrition diet.
To make these comparisons, the researchers are using echocardiography to analyze the piglets' cardiovascular health, along with exams of the animals' hearts and other organs. 
The team's work will help to fill some gaps in researchers' understanding about how cardiovascular diseases develop and how they can be prevented in people. More information about the diseases' origin can also help scientists investigate the effects of nutritional deficits and create a push for better public health programs to educate and guide new parents about the importance of early infant nutrition.
"Eventually, we would look in to bringing in human health experts [such as] dietitians, and use this information to develop those protocols and resources," says Columbus. "And those programs are already out there. We know that good food is essential, but we know that it can be a problem even in regular birth-weight infants. And so how do we promote that even more"?
The study's results will also give Canadian swine producers insight about whether young piglets that are less competitive at nursing and receive less nutrition from their mothers will be able to respond to nutritional therapies later in life and recover — maturing to fully-grown healthy animals. 
As Columbus explains, the analysis could show whether these pigs benefit from extra management and feed, and whether they need a better diet once they are weaned.
"Or is it just they will always be small so we just have to accept that and then incorporate that into the [pigs'] production and management?" he adds.
In addition to the research being done by Columbus and Weber, several other USask and Michigan State University researchers are working with the same group of piglets to optimize their use and the amount of knowledge gained from the project — a One Health approach to research that's a critical part of the university's research program.
"We brought in so many researchers on this one study," says Columbus. "[We] are trying to get as many samples and analyses done as possible because then it gives all these people ideas as to what can we pursue in the future — beyond the cardiovascular, beyond the muscle development."
The Natural Sciences and Engineering Research Council of Canada (NSERC) provided financial support for this USask research study.
Breanna Patton of Calgary, Alta., is a second-year veterinary student at the WCVM. Her story is part of a series of articles written by WCVM summer research students.