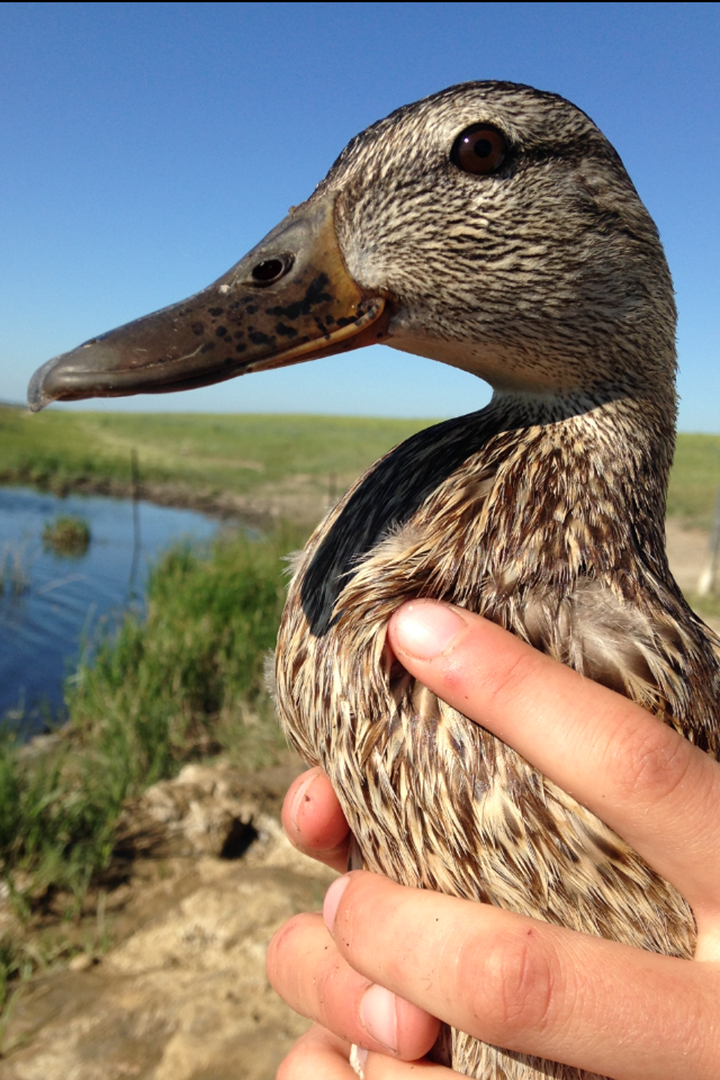 In particular, wild birds such as ducks and geese are known to carry avian influenza type A (AIV), a virus that often shows no signs in a natural carrier but can cause severe disease or even death in domestic birds.
"AIV is an important disease for domestic producers because it can cause mass die offs and trade issues," says Marnie Zimmer, a wildlife biologist with the Canadian Wildlife Health Cooperative (CWHC). She's part of an ongoing national AIV surveillance program at the CWHC's Western/Northern centre in the Western College of Veterinary Medicine (WCVM).
"Our goal is early detection of AIV in migratory birds, and the program provides assurances to our sponsors that the CWHC is out there looking," says Zimmer.
Since an AIV outbreak can lead to disastrous economic effects on the poultry industry, the stakes are high. But how do you monitor the movement of a virus in healthy looking wild birds and prevent it from making a catastrophic jump to domestic species?
That's the important mission for Zimmer and the local surveillance team members who set out to catch as many water fowl as possible in various Saskatchewan locations throughout the summer.
Once the birds are trapped live, the team members band and swab them for testing before releasing them back into their habitat.
While the live traps are located according to variables such as the size of the body of water, the water depth along the shore and the accessibility to the area, the primary reason for the surveillance is not forgotten.
"We aim for at least a thousand birds, and the sites are chosen due to their access to migratory water birds like ducks and geese" says Zimmer. "We also look at proximity to poultry operations. We must be at least five kilometres from a domestic poultry operation."
In addition to swabbing birds in the field, the scientists take samples from any dead birds of the targeted species that are brought to the WCVM for diagnosis. This includes birds of prey and corvids such as crows, ravens and magpies.
All samples are submitted to Prairie Diagnostic Services for PCR (polymerase chain reaction) testing, and any of these that indicate AIV are tested further for the H5 and H7 types of the virus — two types that are more concerning for domestic species.
The H5- or H7-positive samples are sent on to the Canadian Food Inspection Agency's (CFIA) National Microbiology Lab in Winnipeg where they are analyzed further to determine if the AIV is a high-pathogenic strain, meaning one that is capable of causing more serious disease and larger domestic flock losses.
So far these measures have been precautionary only, and the CFIA has declared Saskatchewan free of high-pathogenic AIV since 2007 when one farm tested positive for the disease.
By maintaining this important surveillance program, scientists hope to detect the AIV virus early enough that they are able to prevent its transmission from a migratory bird carrier to a domestic flock.
In addition to their national AIV surveillance program, which has been in operation for 13 years, the CWHC has other initiatives aimed at diagnosing avian diseases.
"We also work closely with other agencies like Ducks Unlimited, ECCC [Environment and Climate Change Canada] and Ministry of Environment if there are any wild bird die-offs, says Zimmer.
Although there may be many diseases lurking in wild bird populations, AIV remains one of the most important. Luckily it's preventable with good management and careful surveillance by agencies such as the CWHC.
Dr. Véronique Dufour is a graduate of the Atlantic Veterinary College, and is pursuing a master's degree and residency in veterinary pathology at the WCVM.