"I think that deep down inside of me I'd always wanted to be a veterinarian," says Stevens who had moved to Canada from South Africa in 2008. "Cola just kind of sparked the fire inside me again, and so I started taking undergraduate classes so I could apply for veterinary medicine."
By the time Stevens had graduated from the Western College of Veterinary Medicine (WCVM) in 2018, he'd developed a keen interest in large animals, particularly dairy cattle and theriogenology (reproduction). He decided to apply for a one-year ruminant field service internship at the WCVM — an opportunity for him to determine whether large animal medicine was the best fit.
Since Stevens had grown up in a South African city, he lacked the experience of many of his Canadian classmates who came from farms. He hoped the internship would allow him to learn more about the veterinary care of production animals while working with local producers and learning the small but important aspects of large animal medicine that aren't taught in veterinary school.
He wasn't disappointed. As a member of the WCVM Veterinary Medical Centre's Ruminant Field Service team, Stevens spent most of his days driving to local farms and providing a range of services that included pregnancy diagnoses, estrus synchronizations, bull breeding soundness evaluations, calving and treatment of sick animals.
Although Stevens and his team worked mainly with beef and dairy cattle, they also provided care for sheep and goats as well as the odd llama or alpaca. He particularly enjoyed the dairy herd health.
"I enjoy having an ultrasound in my hand and using my hands to diagnose pregnancies from as early as 30 days on," says Stevens. "Calving is also fun. Correcting a dystocia [difficult calving] or doing a C-section right there in the barn – it's a surgery where you're basically the technician, surgeon and anaesthesiologist all in one, and getting a live animal out after is extremely rewarding."
In addition to his field service duties, Stevens participated in a research project that explored the possibility of reusing costly progesterone inserts. He also helped investigate a commercial beef farm's high incidence of respiratory disease in calves to determine if the issue was caused by insufficient immunoglobulin in the cows' colostrum (first milk).
Stevens valued the chance to work with and learn from the other members of the field service team, including Drs. Fritz Schumann, Kamal Gabadage, Nathan Erickson and Chris Luby.
"They taught me some wonderful things – different ways of seeing and approaching cases," Stevens says. "They have a wealth of knowledge and experience, and they would help me and give me advice when I needed it. I had some really good mentorship during this past year."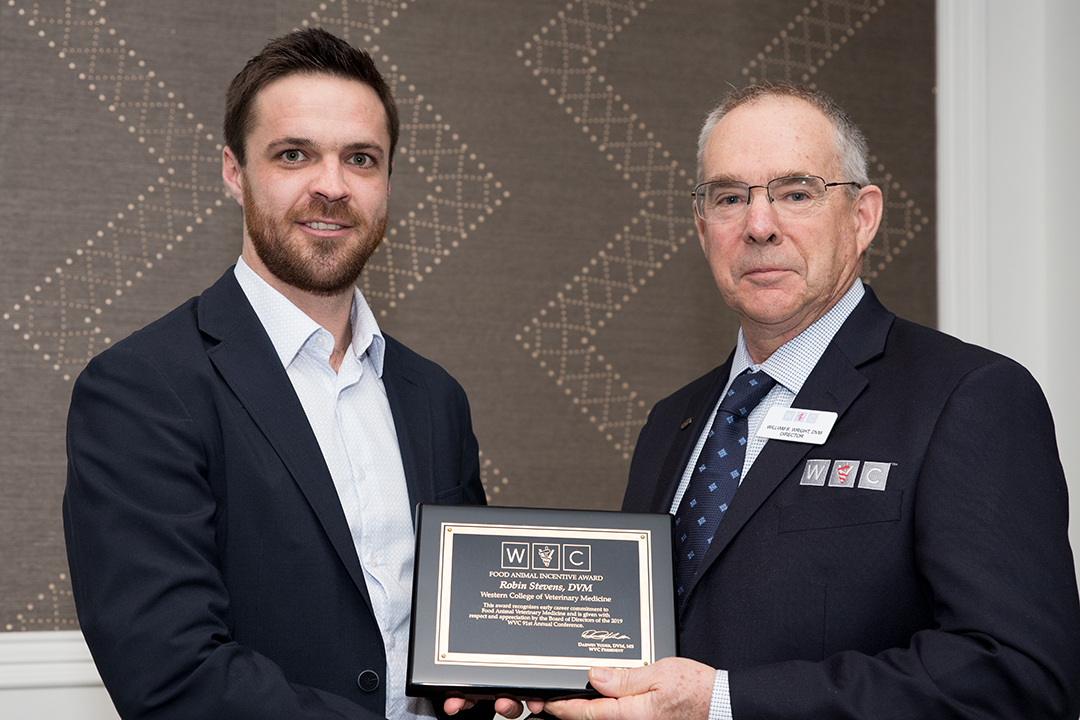 In February 2019, Stevens was rewarded for his commitment when he received the Dr. W. Bruce Wren Food Animal Incentive Award – an honour that's given during the Western Veterinary Conference (WVC), held each year in Las Vegas, Nev.
Stevens was one of five North American postgraduate students who were recognized for demonstrating excellence in the food animal practice area. As one of the award recipients, Stevens' expenses were paid to attend the entire international conference. He benefited from the chance to attend lectures given by prestigious veterinary specialists and to meet people from other educational institutions all over North America.
"The connections that I made were the most valuable part," says Stevens. "I've actually sent a couple of emails with questions for people that I met at the conference. Just attending those lectures and making those connections was very valuable for my career and education."
Now that Stevens has completed the one-year field-service internship, he's moved to Smithers, B.C., where he's working with Dr. Mike Des Harnais (WCVM '00) at his practices, Babine Animal Hospital and Driftwood Veterinary Services.
Since the Smithers area has no regular veterinarian for routine bovine work, Stevens will focus on the ambulatory large animal services and hopes to expand the large animal field service side of the practices.
"I'm looking forward to building a practice where you have people who trust you and your opinion and value the hard work and effort that you put in and the friendships that you create," says Stevens. "I learned a lot about that from Dr. Schumann — if I could be half the doctor as someone like Dr. Schumann, then I'd consider myself to be a success."
In addition to working as a clinician, Stevens is hopeful that there will be a teaching role for him in the future, perhaps through setting up clinical rotations for fourth-year WCVM students at his practice.
When Stevens looks back on his year as a clinical intern at the WCVM, he appreciates the education and the knowledge he gained and recommends that anyone considering an internship should be prepared for hard work but great value.
"The level of experience and the mentorship and the value that you get in terms of your academic advancement is second to none," says Stevens. "I've met a lot of wonderful people here, and I've made a lot of good friendships. There's a team aspect here at the WCVM, and that's probably the most important part. It's been a wonderful team."