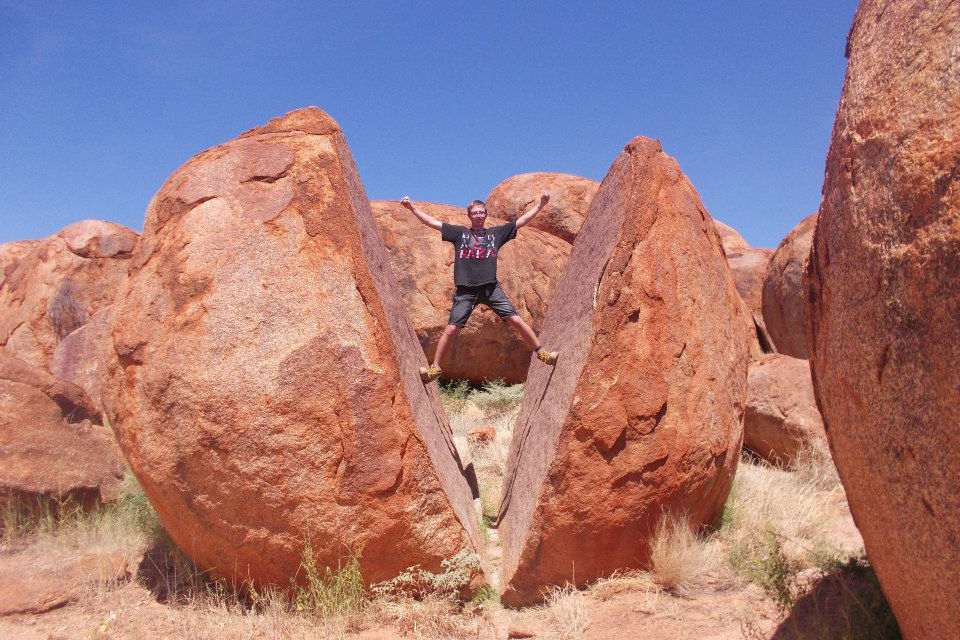 "I'd been on tenterhooks because my friend in the lab next door had just got the phone call from [Dr.] Chris Clark (WCVM's associate dean academic)," recalls Krone.
"I'm not ashamed to say I think I squealed when I got the news."
Krone began his first year of the WCVM's Doctor of Veterinary Medicine's four-year program in August 2019. Ironically, he had never even heard of the WCVM —let alone Saskatchewan — until 2013 when he was introduced to a young woman from Saskatoon. She was a fellow participant in Agriventure, a program aimed at encouraging youth to travel and see the world of agriculture.
"I met Megan in Australia when she turned up on my farm in the middle of nowhere," says Krone.
"I was smitten, and in 2015 I moved to Saskatoon to be with her. I'm very grateful that the University of Saskatchewan (USask) happened to be here as it allowed me a student visa so I could follow my heart and justify it by expanding my brain."
Krone grew up in rural England and remembers enjoying every minute spent with the family animals, a Jack Russell terrier named Patch and an assortment of cats and chickens. He also has fond memories of helping his grandparents with their herd of purebred beef cattle on Hatchmoor Farm, located in England's South Downs National Park.
Although he'd always believed that veterinary medicine was the right career for him, Krone wanted to take a break from classes once he'd finished secondary school. He decided to do some travelling and enhance his work ethic at the same time — Agriventure was just the program for him.
After nine months spent milking a herd of 700 dairy cattle in New Zealand, Krone moved on to Australia where he worked on a sheep, cattle and grain ranch and then at a piggery that housed 330 sows. It was an amazing opportunity to learn specific skills while expanding his world view and improving himself personally.
"Southland New Zealand was beautiful; watching the sunrise over the pasture and mountains whilst surrounded by cows was easily one of my favourite experiences," says Krone. "Most importantly, I learned to work hard and communicate well with people that I've never met before, and Australia taught me to deal with adverse conditions — such as hot weather — and to stand up for myself."
By the time Krone arrived in Saskatoon to join Megan, he was ready to go back to school and obtain the academic prerequisites he needed for veterinary medicine. While completing a Bachelor of Science (animal bioscience) degree at the USask College of Agriculture and Bioresources, he spent a summer working at the Rayner Dairy Research and Teaching Facility and two summers as a student researcher at PSC.
Krone particularly appreciated the opportunity to work at USask and observe the extensive technology available at the WCVM and the level of individual care that could be available for production animals. He also enjoyed designing and overseeing the care of the animals in his own research study at PSC.
To further enhance his skills and experience, Krone also volunteered at Corman Park Veterinary Services and at Saskatoon Waterpaws, an indoor dog pool that offers recreational swims as well as hydrotherapy.
"The best part is meeting new dogs (and people)," says Krone, who hopes to continue working at Waterpaws while he's in school. "My favourite thing is watching the excitement of owners when they see their dog starting to master swimming."
At the WCVM, Krone particularly enjoys the anatomy labs — a chance "to see how stuff works." When he considers what his life will look like after graduation, he pictures working as a large animal practitioner on the Canadian Prairies.
"I'd like to be a food animal clinician, either swine or bovine — I'm not sure which yet," says Krone. "I have always wanted to help farmers get the most out of their animals and [help] animals get the most out of their farmers."
As Krone looks ahead to the next four years, he's grateful for the random set of circumstances that brought him to Saskatchewan.
"Megan is certainly the reason I'm here," says Krone. "Both because she introduced me to Canada and because she supported me through the whole process of undergraduate university. I'm very fortunate to be part of two wonderful families on either side of the Atlantic Ocean. I wouldn't be where I am today without either of them."