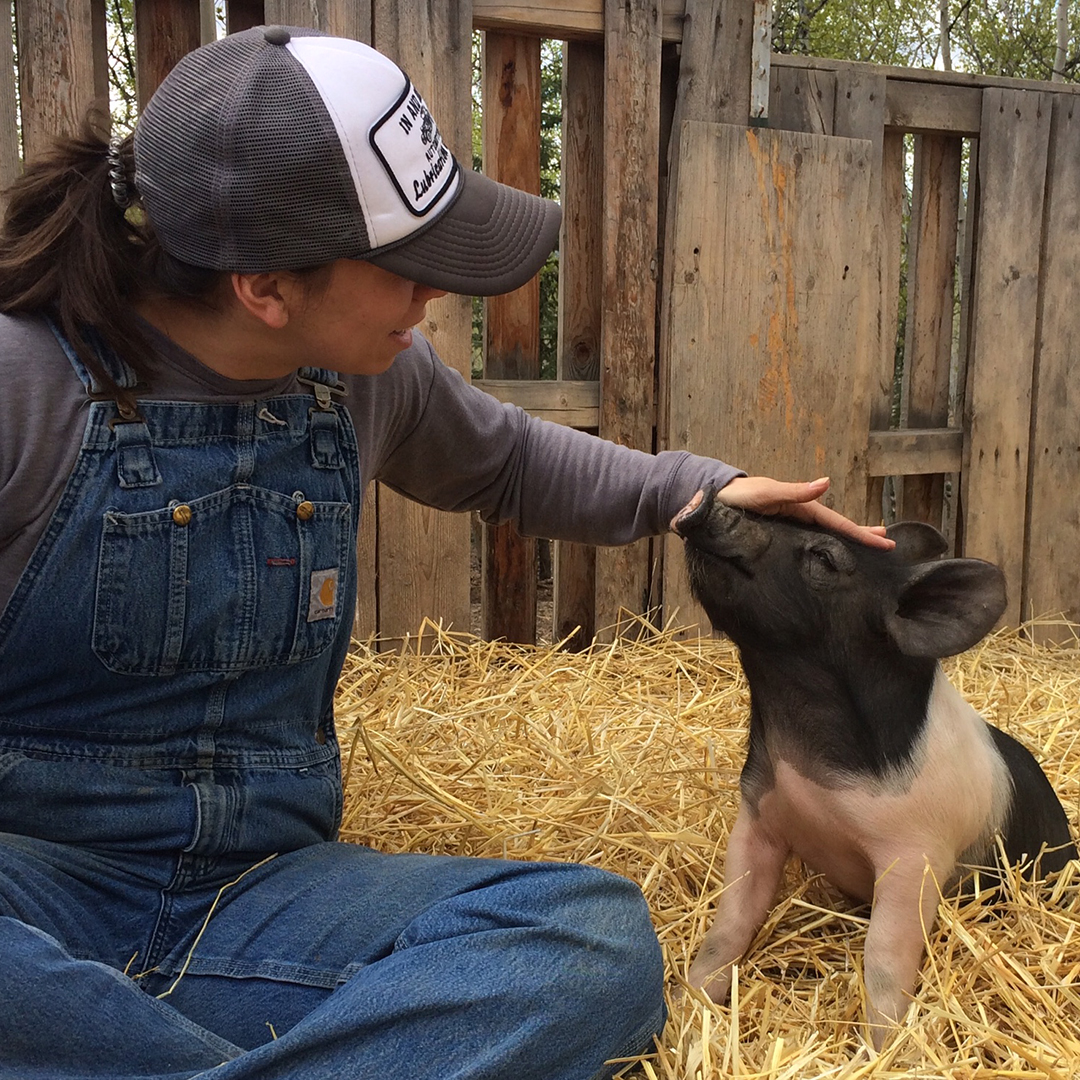 "I don't think I would be the same person if I hadn't grown up there," says Fuller, a first-year student at the Western College of Veterinary Medicine (WCVM). "I was given so many opportunities and experiences living in a small rural town. The connectedness of the community played a large role in where I am today. Everyone has connections everywhere."
While Fuller was still in high school, one of those connections turned out to be life changing when a babysitting job for Dr. Candace Stuart, the local veterinarian, turned into a part-time receptionist position at Stuart's clinic, All Paws Veterinary Clinic.
Fuller fit right in and loved her job at the clinic. She ended up working there for several years – even after she finished high school and started working toward a career as an automotive mechanic.
After Fuller completed a two-year diploma in automotive service technology at the Southern Alberta Institute of Technology (SAIT), she began full-time work as a mechanic. She loved her job, but as time went on, she began to realize it wasn't a "forever" career for her.
Fate stepped in when Fuller was asked to switch from part-time to full-time hours at the veterinary clinic – suddenly everything came into focus.
"It was an 'Oh yeah! That's what I should be doing' moment," recalls Fuller. "I felt like everyone knew I was going to be a veterinarian before I did. I went nose-to-the-grindstone right away, and I never looked back. Vet med here I come!"
With the support of her co-workers, Fuller juggled work hours so she could attend part-time classes for eight months before moving to Victoria, B.C., where she completed two years at Camosun College.
When people question her giant leap from auto mechanic to veterinarian, Fuller points out that the two occupations have a lot in common. For example, both require diagnostics — someone to look at the different systems, to see how they behave normally and abnormally, and to consider how they react to one another.
"I'm working with soft tissue now and not metal," says Fuller.
"Dealing with clients is also a big part of both the automotive and veterinary world," she adds. "It's important to treat clients like friends. If you're real and honest with them, they'll treat you with respect and trust."
Fuller values her experiences at All Paws Veterinary Clinic and appreciates that working in a relatively rural area gave her the chance to see a bit of everything. She enjoyed the busy pace and feels fortunate that she had some great experiences and met some wonderful mentors and friends.
"Some of my best learning experiences happened after hours," she says. "I lived in an apartment above the clinic for about three years, so I was often called in after hours to help the vets with emergency cases."
Now that she's one step closer to a veterinary career, Fuller is excited about all of the opportunities that lie ahead of her at the WCVM. She's open to learning about all the different disciplines that extend beyond her experiences and is interested in seeing what piques her interest over the next four years.
While Fuller plans to return to the Yukon, she speculates that she might spend some time working in a larger mixed practice after graduation to ensure she's well prepared before she takes on the diverse caseload in the North.
Fuller appreciates all of the support she received from family, friends, coworkers and clients, and she's especially grateful to Stuart for reaching out to her in the first place — for helping her to believe in herself.
"I think that my experiences and the people who surrounded me growing up really helped shape who I am as a person," says Fuller. "Being a veterinarian is not an easy profession, and if I'd taken a different life path, I don't know that I would be a person who could handle the pressures and demands.
"I feel like I'm ready for the challenge."