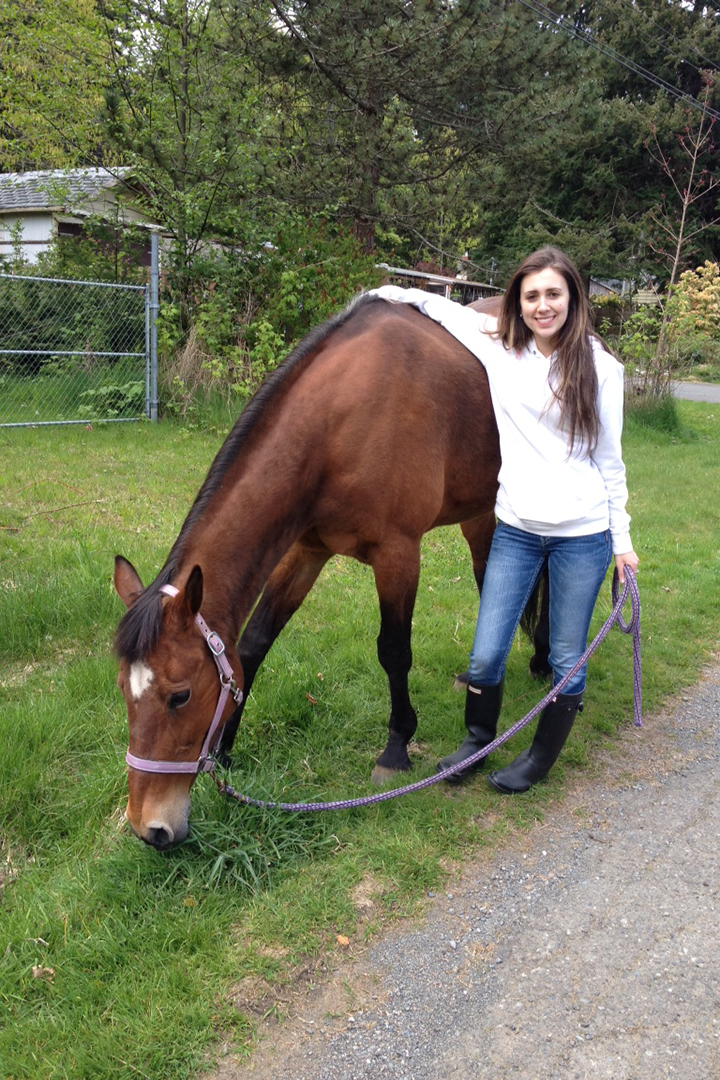 Vickers learned about the routines and challenges involved in caring for a water buffalo herd while volunteering at a berry and water buffalo dairy farm in Courtenay, B.C.
"The McClintocks (the farm's owners) really treated me like family while I was there," says Vickers, a first-year student at the Western College of Veterinary Medicine (WCVM). "I loved learning how to milk the water buffalo, and they answered any and all of my questions about the dairy industry and farming in general."
For as long as she can remember, Vickers has loved being around animals. She was nine years old when her family moved to an acreage just outside of Campbell River, B.C. They soon accumulated a mini hobby farm of animals — a pot-bellied pig, a miniature pony, a turtle, cockatiels, cats, dogs, chickens, frogs and horses.
"Growing up with animals and with parents that fostered my love for animals piqued my interest in veterinary medicine from a young age," says Vickers. "Doesn't every little girl want to be a vet when she grows up?"
By the time she was 15, Vickers was working at Coastland Veterinary Hospital after school, and she would spend almost a decade working at the clinic — an opportunity to experience a variety of roles at the practice while working with a group of women who became her mentors.
While Vickers loved working at the clinic, she was apprehensive about handling the rigors of veterinary school. But once she'd completed her first year of university classes at North Island College (NIC), she knew she was up for the challenge. After taking her first three years of post-secondary education at NIC, Vickers transferred to Vancouver Island University where she completed the final two years of her Bachelor of Arts degree (double minor in psychology and sociology).
While she was at VIU, she began volunteering with various groups in the community — both animal and human-related. Vickers assisted elderly residents with grocery shopping and errands so they could continue to live in their own homes, and she spent time with developmentally disabled adults, accompanying them on outings around the community and helping them with educational activities.
She also arranged therapy dog certification for Martin, her family's dog. Together they made regular visits to an assisted living facility where he was a popular visitor with many of the elderly residents.
"Martin brought them a lot of joy," says Vickers. "They would hug and pet him all day if they could. It clearly uplifted their days, and if I had free time, why not spend it uplifting someone's day?"
Vickers also volunteered with the Canadian Animal Assistance Team and participated in several spay-neuter, vaccination and education trips to remote Canadian communities that had limited access to veterinary care.
Plus she offered her services at Mountainaire Avian Rescue Society and assisted Dr. Helen Schwantje (WCVM '81), wildlife veterinarian for the B.C. Ministry of Forests, with a research project involving caribou.
"I enjoyed stepping out of my comfort zone," says Vickers. "It was great exposure to the types of treatment that are given to wildlife species as well as the research that surrounds wildlife, and I learned a great deal about the government's role in wildlife management."
As Vickers volunteered and worked with animals in various settings, she became skilled at handling many different species while working as part of a team. She also learned to multi-task, a skill that will serve her well as a student and as a veterinarian.
Now that Vickers is studying at the WCVM, she's looking forward to broadening her range of knowledge by testing the waters in different areas of veterinary medicine.
While she plans to return to Vancouver Island after graduation, most likely working in a small animal or mixed practice, Vickers hopes to continue volunteering with organizations such as the Canadian Animal Assistance Team — a chance to make a difference in her community through the compassionate care of people's companions.
Vickers appreciates all of the circumstances that led her to the WCVM, and she's particularly grateful for her experiences at Coastland Veterinary Hospital and for the encouragement and support of all of the staff.  
"A few of the veterinarians and support staff have seen me grow up," says Vickers. "They've been surrogate mothers to me as I navigated into adulthood and ultimately into veterinary medicine.
"Everyone needs someone in their corner to reassure and guide them, and I've been lucky to have had so many people helping me."