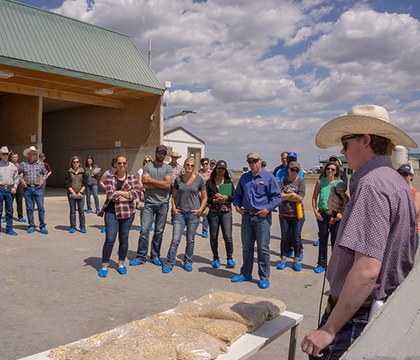 The funding partnership, announced in Regina during the week-long agricultural event, will see Agribition sponsor the annual field day for producers at the new research facility in Clavet, Sask., as well as contribute to the capital campaign.
"The future of the livestock industry in Saskatchewan and Canada is the core of what makes Agribition successful," says CWA president Chris Lees.
"It's important that CWA contributes to the industry and ensures producers here are benefitting from the best research and science being done anywhere in the world."
The research facility, located southeast of Saskatoon, is a partnership between the University of Saskatchewan, the governments of Canada and Saskatchewan, and the Canadian and Saskatchewan forage and livestock sectors.
"With Agribition's financial contribution, we continue to build on our foundation of partnerships with the livestock and forage industries. Because of these partnerships, we are better positioned to fulfill our mission," says Dr. Kris Ringwall (PhD), director of the LFCE.
"Our centre of excellence is a place of discovery for new ideas and production methods that will ensure the profitability and sustainability of the livestock and forage sectors, not only for today's producers but for generations to come."
In its second year of operation, the LFCE includes a 1,500-head feedlot, a forage-cow calf facility, a livestock research unit, a production cow herd with more than 400 breeding animals, and 39 quarters of land.  It also features a true-to-life environment for raising livestock on the Canadian Prairies. 
CWA's partnership with the LFCE will also see the two organizations cooperate on advocacy and promotion of the beef sector, including a tour of the facility by CWA international guests on Sat., Nov. 30.