Canadian Western Agnes (Agnes for short) — a full-sized Hereford cow complete with a uterus, a working udder and a newborn calf — is a product of the partnership between the two agriculture-focused organizations. Now approaching her third Agribition season, Agnes has been through countless calving demonstrations for thousands of onlookers.
"We went looking to 'up the game' with our education program at Agribition," says Christopher Lane, CEO of CWA and initiator of the Agnes project. "We approached the vet college about a partnership that would help them as a teaching institution and would help us as a public platform for education."
Dr. Chris Clark, WCVM's associate dean (academic), says the idea for Agnes was "genius."
"I just thought that being able to truly demonstrate to someone the process of a calf being born, I think just would really ignite people's interest. Then to actually have someone talk through the roles and responsibilities of the producer and the veterinarian — it just added to it," says Clark.
"As it turns out, we could not have anticipated just how much Agnes caught people's attention."
Agnes is the first of her kind in Saskatchewan. Worth more than $50,000, she and her calf purchased by CWA with financial support from the Government of Saskatchewan and the WCVM. Veterinary Simulator Industries, a Calgary-based firm, built the cow-calf pair.
During her event off-season, Agnes lives in the BJ Hughes Centre for Clinical Learning — the veterinary college's simulation centre — helping third- and fourth-year veterinary students learn more about bovine reproduction and calving.
Then, during events such as Agribition, Saskatoon's Ag in the City, Regina's Queen City Exhibition and Vetavision (WCVM's public open house), Agnes and her calf become bovine ambassadors for agriculture education. Veterinarians and students use the pair to give calving and milking demonstrations and to answer the public's questions about everything from Agnes' specific breed and age to more detailed queries about cattle breeding, nutrition and animal welfare.
"We were pretty excited to not only bring the first-of-its-kind teaching tool to the university, but then to also make sure that we got the very best outreach educational tool around at Agribition," says Lane.
"[The WCVM] have been fantastic partners. They're dedicated, enthusiastic, and we find when it comes time to invite the public into the world of agriculture, that enthusiasm is probably the number one thing that makes a difference."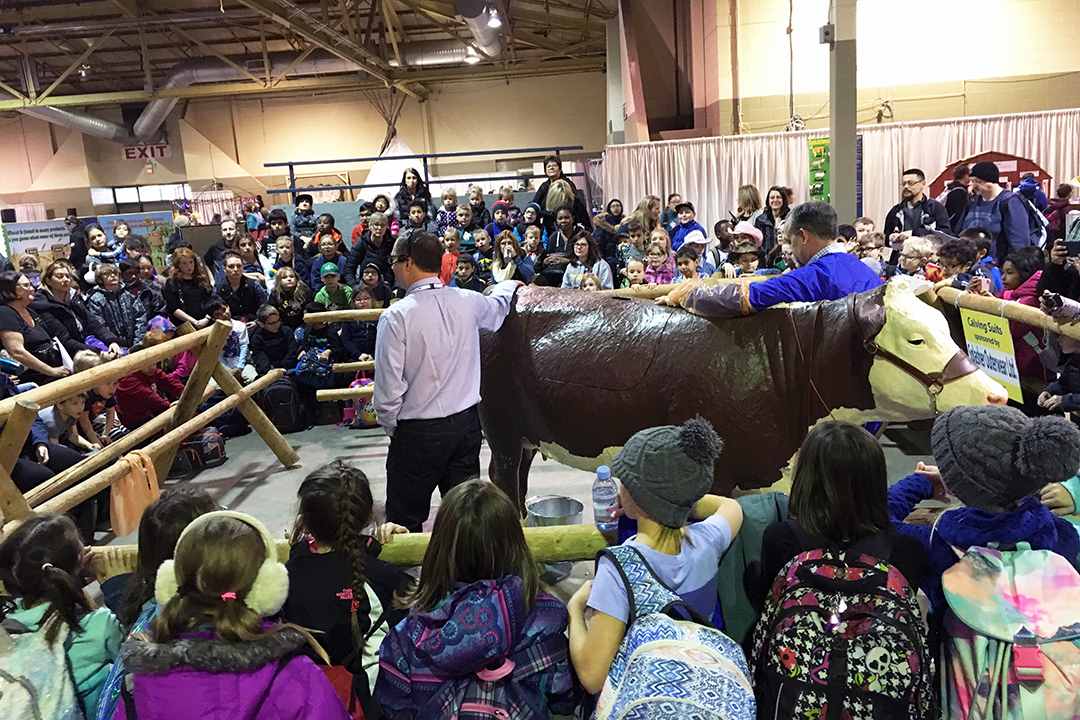 Agnes' calf is "really realistic," says Clark. Weighing in at about 50 pounds, the calf has an internal skeleton and lifelike, unidirectional joints. By opening a panel in Agnes' back, WCVM team members can position her calf in any of the common —or uncommon — birthing presentations. They can then go on to demonstrate how cattle producers and veterinarians help a cow deliver her calf in different situations.
Along with showing the steps involved in calving and how to milk a cow for a critical supply of antibody-rich colostrum (first milk), WCVM faculty can also use Agnes to clear up misconceptions about common, necessary practices such as using metal chains to assist in a calf's delivery.
For people who have never witnessed a calving, the sight of metal chains linked around a calf's legs can be worrisome at first.
"When people don't know anything about a subject, they either assume the worst, or they're very, very susceptible to misinformation," says Clark. "But then you start talking to people about the hygiene of [using] chains versus rope, and then actually, I'll put the chain around anybody's wrist and pull … they're shocked to discover that it doesn't bite down.
"To hook people in and have them sit there for 15 minutes and listen to a presentation and actually learn about the process puts their mind at ease a lot."
Clark says Agnes isn't only a hit with the public, but with livestock producers as well.
"The producers who come by and see the crowds watching someone talking about calving —they just love to see that," says Clark.
This fall marks a new venture for the partnership as two senior veterinary students will participate in an Agribition-focused clinical rotation as part of their veterinary training. The students will have the chance to work alongside Agribition's veterinary team and learn more about the critical role of show veterinarians during major livestock events.
They will also pitch in with the "ThinkAG" agriculture awareness program that targets Saskatchewan high school students. Spending time with Agnes, her calf and the crowds of people at the Family Ag Pavilion will be another key part of their Agribition experience.
"That's [the rotation] something that's never been done before, and I think Agnes was a great way of kicking that program off," says Clark.
Both partners are confident that the partnership will only continue to grow in the years to come.
"You've got two of the best brands in agriculture aligned on a lot of things and that's pretty powerful," says Lane.
"I think there's a lot of opportunities that probably haven't even been figured out yet. But we've got a fantastic relationship and open communication so when either organization comes up with an interesting or challenging opportunity, we know the other one is right there with us."
Rigel Smith is a fourth-year student at the University of Regina's School of Journalism. She was the 2019 summer research communications intern at the WCVM.
Visit the Canadian Western Agribition website for more details about the 2019 show, which runs from Nov. 25-30, 2019, in Regina, Sask.