"My passion for horses stuck with me as I grew up," says Streeter, a first-year student at the Western College of Veterinary Medicine (WCVM). "I'm an avid horse person who loves to ride, and my two major riding interests are working cattle on horseback and playing polo."
Streeter's interest in polo began when she was in high school and tagged along to help her older sister who was a groom for a patron (a player who sponsors a polo team). When the patron offered Streeter a chance to learn the game on one of his older retired horses, she jumped at the chance and soon fell in love with the sport.
The following year Streeter was offered two more retired horses to ride, and she paid the patron for the use of his animals and equipment by working for him — exercising horses, mowing lawns and painting fences. She eventually became his head groom and would continue to work for him while playing polo for the next four years.
"I enjoyed the competitiveness and speed of the sport and was committed to becoming the best player I could be," says Streeter who eventually bought a couple of her own horses and took a job with another patron – an ex-Polo Canada coach – at his polo training facility in Ontario.
"I rode six to 10 horses a day and played five days a week at many clubs across Ontario."
For seven years Streeter played competitive polo, enjoying the friendliness of the polo community as well as the chance to travel and meet people across Canada. Although she sold her horses and has only played occasionally over the last few years, Streeter has plans to return to the game soon.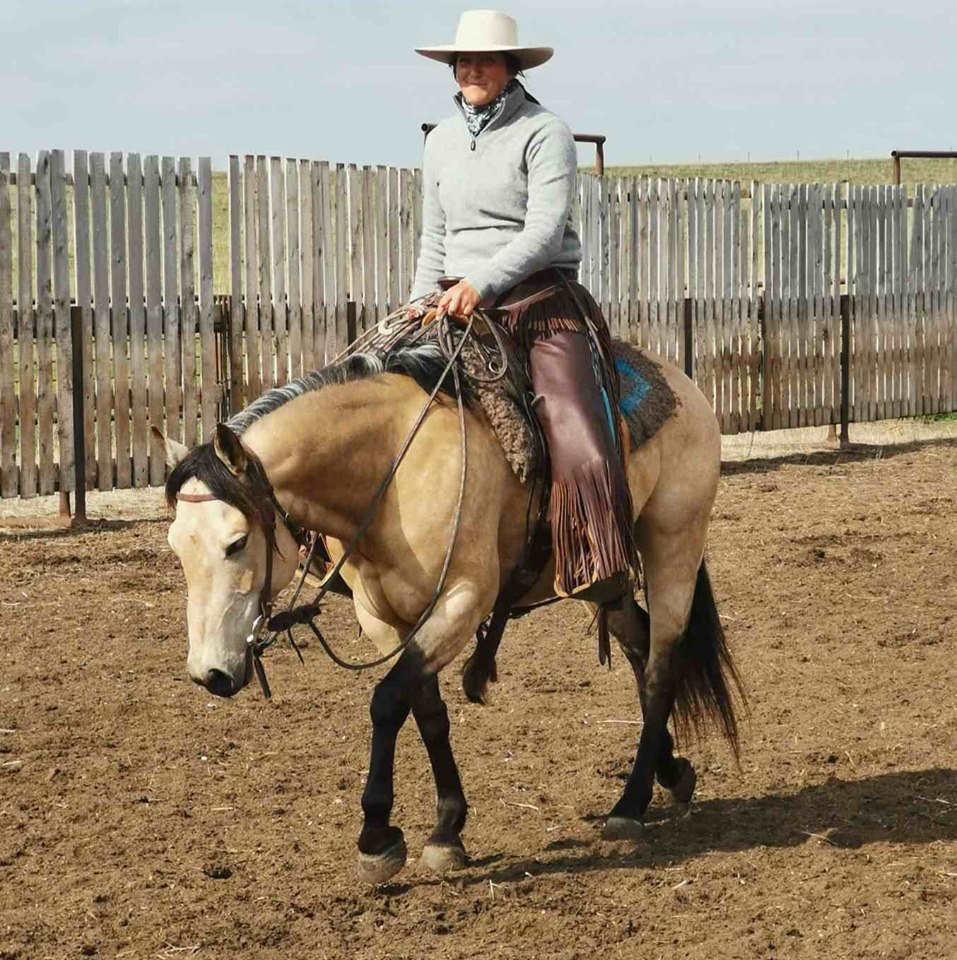 In addition to playing polo, Streeter worked at other horse-related jobs over the years. She likes working with cattle and especially enjoyed riding pasture and pen riding — a chance to combine her passion for horses and cattle.
"Many horses have a natural way of reading cattle and nothing is more fun to me than working cattle on horseback, especially on a 'cowy' horse," says Streeter. "It's also a great way to implement and execute low-stress cattle handling."
While working on feedlots and ranches, Streeter learned to identify and treat sick cattle. She learned how to do procedures such as suturing up prolapsed uteruses and rectums in cows, using a stomach tube or trocar to treat bloat in cattle, and pulling mal-positioned calves. Over the years, she worked with and learned from a variety of skilled and passionate veterinarians who willingly shared their knowledge with her.
Streeter greatly appreciated the help she received from Dr. Cody Creelman (WCVM '11) whose positive attitude and genuine love for his career inspired her to think about veterinary medicine for herself.
"I was driving home from work one day, and I realized that everything I loved doing and wanted to continue doing for the rest of my life basically encompasses what a veterinarian does," says Streeter. "I wanted to work with my hands, work with animals, work with farmers and producers, and continue to learn about the science of animal health and how to problem-solve issues."
Once Streeter realized that all of her experiences up to that point had prepared her for a veterinary career, she enrolled in the University of Saskatchewan's College of Agriculture and Bioresources.
To supplement her experience, Streeter volunteered at Watrous Animal Hospital, a mixed animal practice. Over several years of helping in the clinic and on farm calls, Streeter learned the importance of teamwork and adaptability, and she greatly valued the mentorship of Dr. Allison Bartel (WCVM '05).
In addition to loving everything related to horses, Streeter enjoys drawing and supplements her income by commissioning portraits for others. Her favourite subjects are horses, of course, but she's also made portraits of cattle, dogs, elk and even bison.
"Art is a way for me to have a creative outlet," says Streeter. "And often these drawings are of animals that someone has recently lost. So it's a way to help people cope with a loss, and it's a wonderful memento of their animals for them."
Streeter, who started classes at the WCVM in mid-August, is particularly enjoying the hands-on aspect of anatomy class and production animal labs and is impressed by the feeling of community at the college.
Her plans include working at a rural mixed animal practice and owning a few cows and horses with her partner, Lawrence Gareau. She greatly values the support she's received from Gareau who was always there to encourage her when she was feeling defeated by a bad grade or a bad day.
Streeter clearly remembers the moment she found out she'd been accepted to the WCVM. She was riding in a truck heading out to pasture, and the tension was high as she waited for the decision page on the WCVM website to load.
"When the page finally loaded, I was so ecstatic that I burst into tears," says Streeter. "I called Lawrence immediately and gave him the news. It was a really emotional moment. Then I got to get on my horse and move some cows — it was a really great day overall."