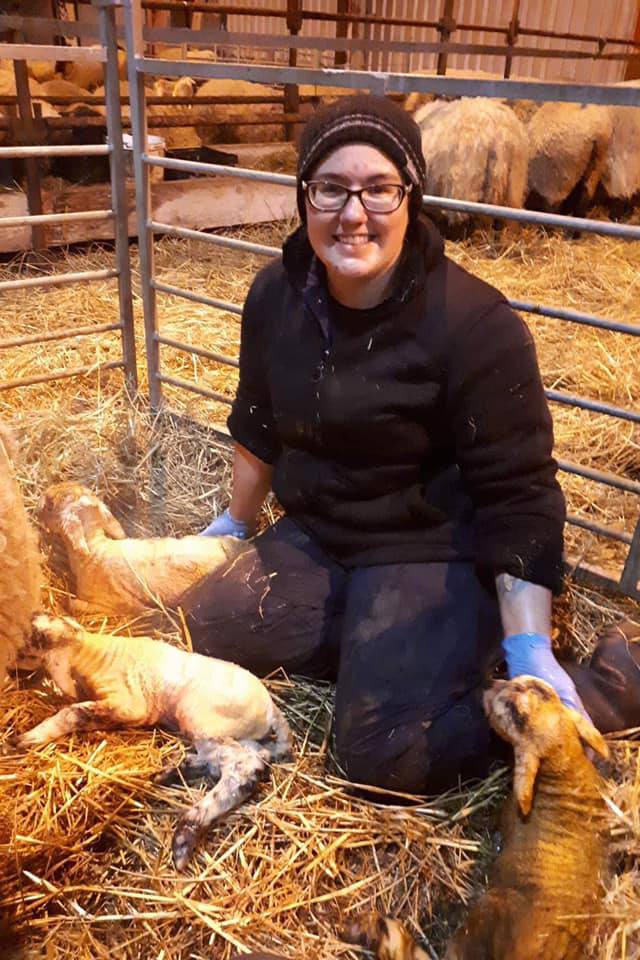 "I knew from about the age of six that I wanted to have a career helping animals," says Murray, who is now a first-year student at the Western College of Veterinary Medicine (WCVM). "As I grew up, my passion for veterinary medicine only grew stronger, and I dedicated myself to maintaining a high academic standard so I could get the grades I needed."
By the time Murray was in junior high school, she was volunteering at veterinary clinics and helping out at community agencies, particularly those that offered a chance for her to work with children.
After high school, Murray enrolled in the Bachelor of Science program at the University of Calgary (U of C). She also began job shadowing Dr. Kristine McLean (WCVM '90) at Gateway Companion Animal Clinic in Rocky Mountain House, Alta., and she spent several years volunteering with the Alberta Animal Rescue Crew Society (AARCS), a Calgary-based organization that's dedicated to helping homeless animals.
"AARCS filled a void that existed within animal rescue," says Murray. "There's an ongoing problem with stray animals in rural areas and First Nations communities, and this organization does an amazing job at spreading awareness and actively contributing to a solution."
After four years of attending U of C, Murray decided to supplement her volunteer experience by working full time at a veterinary clinic. She moved to Prince Albert, Sask., where she worked as a receptionist and assistant at South Hill Animal Clinic — an experience that taught her a great deal about small animals as well as the ups and downs of a veterinary career.
Murray particularly appreciated the guidance and advice she received from two of the clinic's veterinarians at the time, Drs. Breanne Couperthwaite (WCVM '11) and Stephanie Osinchuk (WCVM '12), who became her good friends and mentors.
"They taught me how to interact with clients, how to be compassionate and empathetic, and they were always so encouraging of me and my veterinary pursuits," says Murray. "They were beacons of good decision making and work-life balance, and they taught me how to deal with difficult decisions while staying positive." 
After two years of full-time work, Murray returned to school, this time at the University of Saskatchewan (USask). With her credits transferred from U of C, she set out to complete both a Bachelor of Science (Honours) degree in biology and a Bachelor of Arts degree in anthropology.
Murray joined USask's Biology Cub and helped to organize BioScan, an event for school-age children that encourages their understanding of biology by providing a weekend of activities, talks, presentations and hands-on learning experiences.
She also began volunteering at Living Sky Wildlife Rehabilitation and eventually spent a summer working full time at the facility. In addition to caring for a variety of wild species, she educated the public on proper wildlife protocol.
In 2018 Murray was hired to plan and instruct the annual veterinary medicine camps, just one option of several science-related camps available through USask's SCI-FI summer camp program.
"We planned activities that were interesting and fun for kids between the ages of 10 and 14," says Murray who worked for the program during the summer of 2019 as well. "I've always loved working with kids, and with SCI-FI, I was able to open up the amazing world of veterinary medicine to them and allow them to see just how diverse the career is."
When Murray was placed on the WCVM wait list in 2018, she decided to enrol in veterinary school at University College Dublin — a chance for her to travel and acquire some unique experience while reconnecting with the family her parents had left behind when they emigrated to Canada in the 1970s.
"I thoroughly enjoyed my year in Ireland. At vet school, I learned a lot and got some amazing hands-on experience with animal species I'd never worked with before," says Murray.
While she lived in Ireland, she volunteered at a veterinary clinic and helped on a family-owned sheep farm: "I also became more independent and self-sufficient, and I gained confidence in myself and my academic abilities."
Murray began classes at the WCVM in mid-August, and she's excited to learn more about the different animal species and the vast number of career options. Although Murray has always been drawn to small animal medicine, her exposure to production and large animals over the past few years has made her think of mixed animal practice as an intriguing option.
Looking back at all of the experiences and the people who helped her to reach veterinary school, Murray is particularly grateful for the love and support of her mother, her siblings — and her dog Zelda.
"This is something I've been working towards for two decades," says Murray. "The road to the WCVM was longer and more complicated than I could have ever imagined. I'm grateful for every experience I had, and I'm beyond excited to be here."