Experiential learning is a critical component in the student veterinarians' journey. A hands-on, student-centred approach is key to building student confidence and competence.
At the OVC, student veterinarians have the opportunity to enhance their skill set in all aspects of companion animal primary healthcare at the Hill's Pet Nutrition PHC on the OVC campus. 
Every OVC student veterinarian spends time at the Hill's PHC each year throughout their studies, culminating with a three-week small animal primary care rotation in their fourth and final year. 
This immersive experience allows students in their final year of training to experience all aspects of companion animal primary care practice, says Dr. Deep Khosa, a veterinarian and professor in OVC's department of Population Medicine and Academic Coordinator at the Hill's PHC. "Our entire clinical and faculty team provide students with support, encouragement and expertise in helping them build their confidence and competence in all components, including: conducting an appointment, nutrition, communication, animal behaviour and handling, preventative and wellness care and the medical knowledge required for a range of commonly presenting conditions." 
During the rotation, DVM students also meet weekly for review sessions with communication, primary healthcare, nutrition and animal welfare faculty.
Non-OVC students now have the unique opportunity to participate in this primary healthcare rotation. OVC has joined hands with Hill's Pet Nutrition to create an experiential learning opportunity for Canadian veterinary students outside OVC's Doctor of Veterinary Medicine program and in the final year of their DVM program. 
"We are excited to provide this unique experiential learning opportunity for Canadian veterinary students in the final year of their DVM program. As a long-time supporter of the Ontario Veterinary College and the Hill's Pet Nutrition Primary Healthcare Centre, we are confident that each Hill's Scholar will learn invaluable skills during their three-week rotation. They will have the opportunity to work with pet parents and their pets to provide primary care, including nutritional assessments and recommendations. They will also have the opportunity to network with other students and learn about each other's experiences," says Dr. Jill Zigomanis, Professional Veterinary Affairs Manager of Hill's Canada.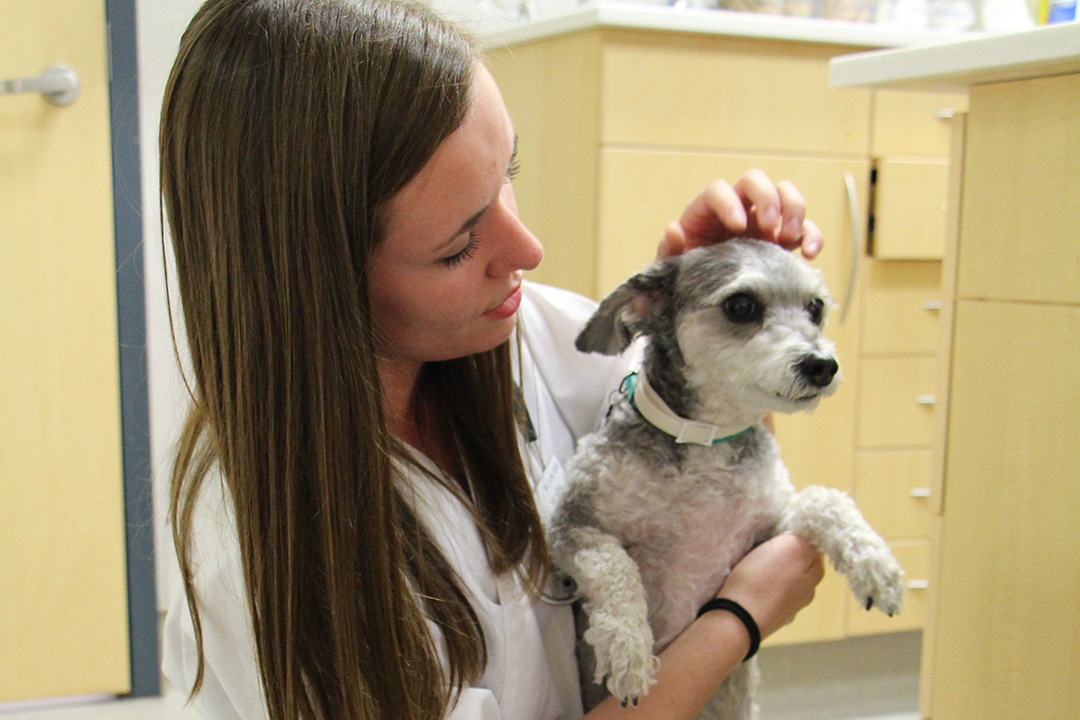 The Hill's Scholar program kicked off in the 2019-2020 academic year. For Michaud, a fourth year veterinary student at the Western College of Veterinary Medicine, in Saskatoon, Saskatchewan and the first Hill's Scholar to complete this experience, the rotation offered an opportunity to see different perspectives within veterinary medicine and become more comfortable and confident during appointments common to primary healthcare practice. 
The rotation's strong emphasis on all aspects of primary care, including communications skills and the opportunity to engage with clients and conduct appointments from start to finish, also caught her eye. "I like problem solving, putting the pieces together and seeing the big picture," she says. "I like teaching clients too, helping them understand what's going on with their pet." 
Nutrition information gained during the rotation will help facilitate some of those conversations, including a focus on calculating ideal body weight and how to calculate the ideal number of calories for pets. 
"There is a nice template you can use to make a nutrition plan for pet owners, and support staff at the Primary Healthcare Centre help guide you and the pet owner," she adds.
Being in a different province also allowed her to see different areas of preventative medicine. While Lyme disease, heartworm and leptospirosis are not prevalent in Saskatoon, notes Michaud, they are often seen in southeastern Manitoba, where she is from, and are even more prevalent in southern Ontario. 
"These experiential opportunities in primary healthcare help to build both confidence and competence in our student veterinarians, providing skills they will use throughout their veterinary career," adds Khosa. 
Two Hill's Scholars are participating in the 2019-2020 program. If you are a non-OVC veterinary student studying at one of the four other veterinary colleges in Canada, (Western College of Veterinary Medicine (WCVM), University of Saskatchewan; Faculty of Veterinary Medicine (UCVM), University of Calgary; Faculty of Veterinary Medicine, University of Montreal; Atlantic Veterinary College, University of Prince Edward Island) or a Canadian resident entering the fourth year of an accredited veterinary college, you can apply for the Hill's Scholar $5,000 travel grant to come to OVC for this rotation. 
Applications are now being accepted for the 2020-2021 academic year.
Learn more at https://ovc.uoguelph.ca/hills-scholar
This article was originally published on the OVC website: http://ovc.uoguelph.ca/news/student-veterinarians-gain-hands-learning-primary-healthcare